When I was little, it sometimes felt like my summers revolved around making homemade strawberry jam! But I'm not complaining. The exact opposite, in fact. Making homemade strawberry jam with my mom will forever hold some of my favorite memories.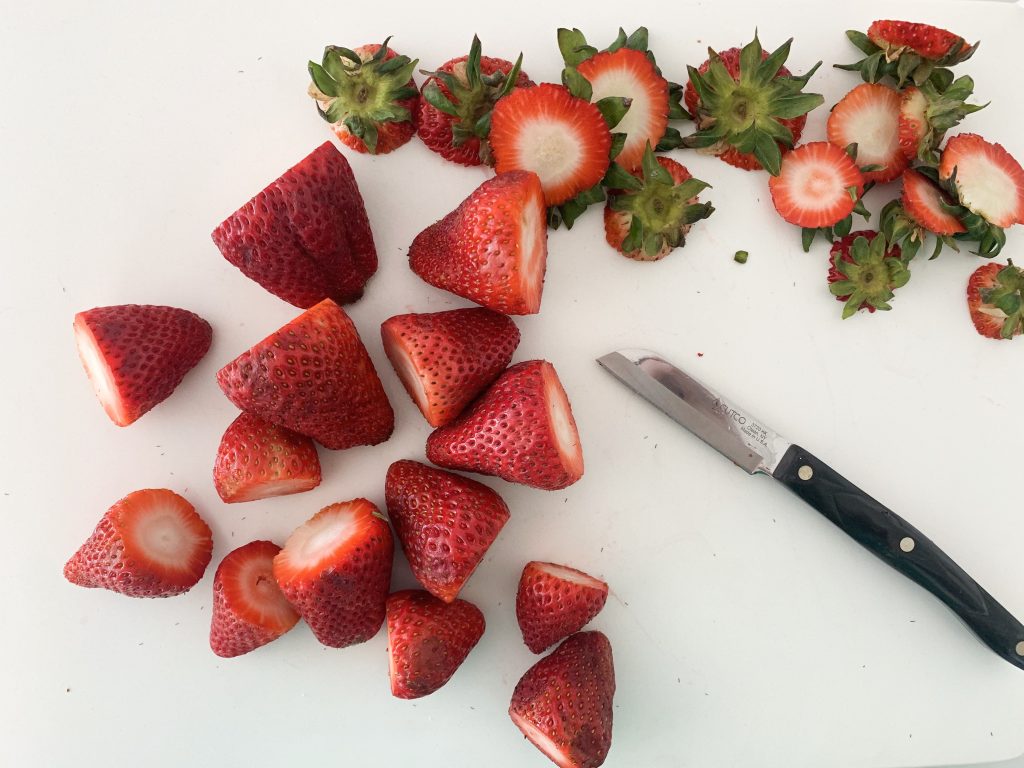 Growing up, we had 10 kids in our family. Needless to say, we pretty much survived on bread and homemade jam! Every summer we would go to my Grandpa's garden and pick strawberries and raspberries, and then go home and make batch after batch of jam using the fresh berries. Because homemade strawberry jam was such a staple for our family, my dad would have to rent freezer space from a local butcher just to hold it all! We would then use those batches of homemade jam to make the classic peanut butter and jam sandwiches for our school lunches each day during the school year.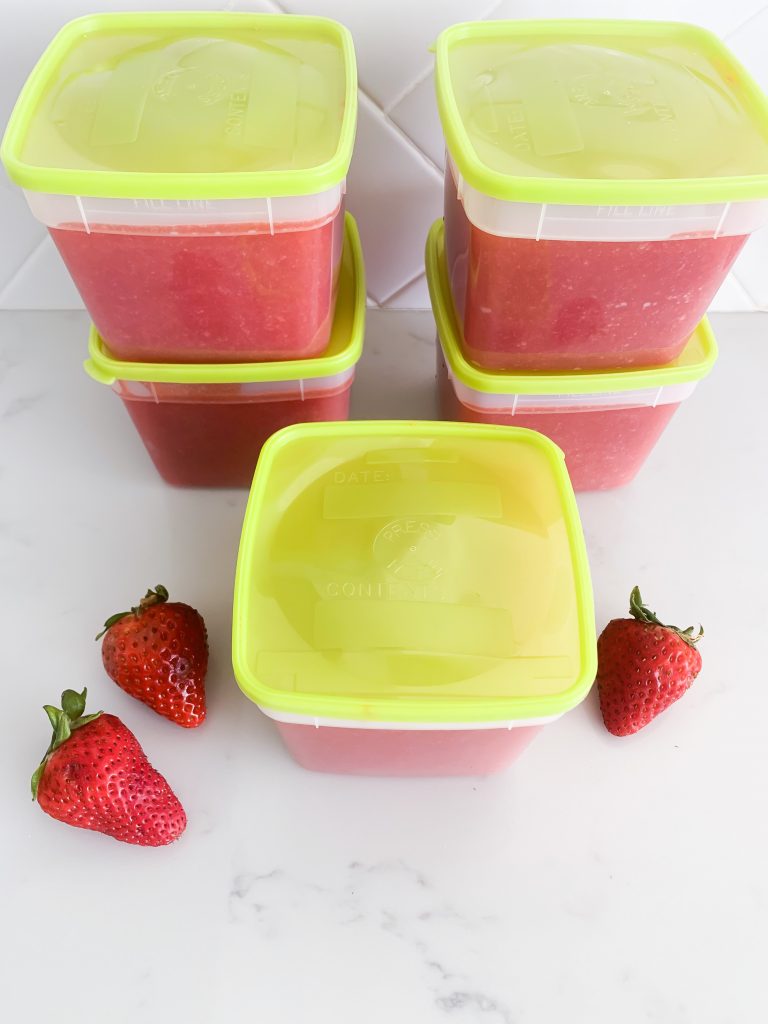 To this day, I still make multiple batches of homemade strawberry jam every year so we can have a jar on hand at all times. Because let's be honest, peanut butter and jam just isn't the same without it.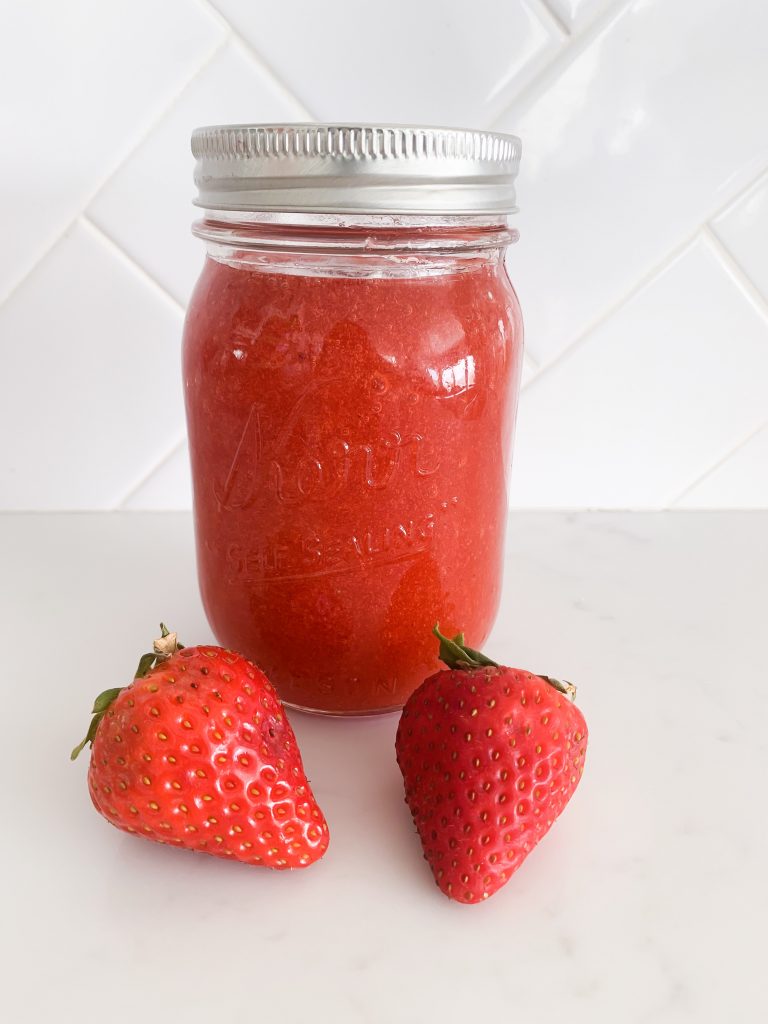 Here's our tried and true homemade strawberry jam recipe. I hope you love it as much as we do!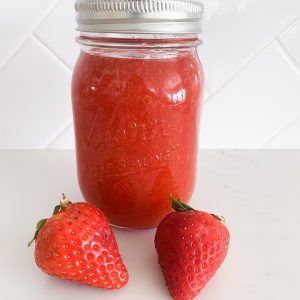 Homemade Strawberry Jam
Simple and Easy Homemade Strawberry Jam!
Ingredients
8

cups

fresh strawberries

(3 1/4 cups once blended)

1/4

cup

fresh lemon juice

4.5

cups

sugar

1

cup

light karo syrup

**optional

1

package

MCP pectin

(the MCP brand is a crucial to this recipe)
Instructions
Blend berries. I like to use my Blendtec and purify the strawberries. However, if you prefer having your jam a little chunkier, just pulsate the berries so that they aren't completely pureed.

Mix blended berries and lemon juice together in a large mixing bowl. You can also add in the Karo syrup at this point too, although Karo syrup is optional.

Slowly add in MCP Pectic, and stir constantly to make sure it is completely dissolved. Then let it sit for 30 minutes, stirring every 5 minutes.

After 30 minutes, add sugar and mix thoroughly till it is no longer grainy.

Pour into containers leaving about a ½ inch or so at top for expansion when frozen. Cover with lid.

Leave out for 24 hours. After 24 hours, you can then refrigerate it. Once in the fridge, it will last 3 week. Although, if I am being honest, I always go longer, and it is always just fine. And of course you can freeze it as well and make it last all year!

**Karo syrup used to be included in the original recipe as a way to help prevent the sugar from crystalizing. It is no longer part of the recipe, but I still add it in since it is how we always have made it.
This recipe can also be made with raspberries, and trust me, it is heavenly! I always loved it when my mom would make homemade raspberry jam because it didn't happen as often. When she made it, we were always sure to make homemade bread with it, because there is nothing like homemade raspberry jam on a piece of toasted homemade bread. I'm pretty confident it is what they eat in Heaven. That and chocolate, of course. Always chocolate!