I have been an artist with Seint since the summer of 2017. However, before signing up as an artist, I was a customer of Seint's first. When I tried this makeup for the first time, it changed everything for me. Not only did it make me feel beautiful, but it accommodated my busy lifestyle. It gave me confidence in my appearance. It made me happy. And it made me want to share it with others. I wanted to be able to help other women feel beautiful too. Because they are, and they deserve to know it! And so for that reason, I decided to sign up as an artist with this company. And my love for Seint, both the makeup and the company, has only continued to grow since my first introduction to the brand back in 2017.
While this is an honest Seint makeup review, to further add to my own testimonial about Seint, I wanted to share just a handful of messages that I have received from a sprinking of my customers. I get messages like this daily through my instagram messages and emails, and it makes my day every single time just knowing how much this makeup is doing for these women! Seint is most definitely more than just makeup. It is a lifestyle. A confidence builder. A time saver. An energy preserver. A true game changer, and so much more.
So what are you waiting for? Purchase your Seint makeup today, and become a part of our incredible community! We're ready for you!
Still need need some convincing? Check out these honest Seint reviews and Seint customer feedback below.
Seint Makeup Reviews from Real Customers
I love the product. It is easy to use and makes my skin look flawless. Thank you! – Cathy B.
I had to tell you how much I love my new makeup. Thanks again for all your help. I have thought about this for a while now and should have done it sooner. – Val C.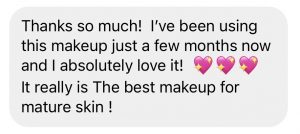 I wanted to reach out and let you know how 100% addicted I already am. Total game changer! I am getting used to the application and your tips and videos are ON POINT! Thank you for helping me save time and feel confident! – Melissa W.
I am LOVING this makeup. It's actually fun to get ready now. Most difficult part of all this is keeping myself from buying every single eye and lip/cheek colour. Thank you!!!!! – Sherry P.
I am loving the makeup and ready to throw all my old makeup away! – Dayna Z.
I am loving the makeup! Will be getting more for sure! – Marian F.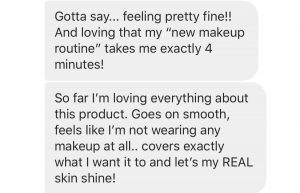 Thank you! I love the makeup and am never going back! – Kristin L.
First of all, I want to say thank you so much for all you've done for me. I want you to know how much I am loving my makeup, and with each new item I purchase, I fall more in love. I can't thank you and Seint enough. This makeup goes beyond my expectations and makes me feel soooo beautiful when I wear it. And the fact that it only takes me 10 minutes (that's with eyeshadow included) is a wonderful bonus! The more I learn and see, the more confident I'm becoming. Again, thank you so much for all you've done for me. My confidence grows more every day and it's all because of this makeup! Forever a Seint user. – Lee K.
I'm tossing a lot of old, and replacing with new Seint… I just absolutely love this makeup and so glad I tried it! – Lisa R.
I am in love! Thanks for all the tips and trick. Still practicing but getting many compliments. – Susan T.
I will most definitely keep ordering from you! Thank you so much for all of your help! I really love the makeup and I don't plan on ever switching now that I found this! Thank you!! – Ashlie J.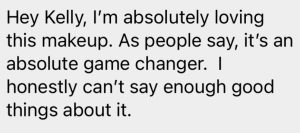 Loving it more each time I use it! – Joanie C.
I am totally in love! It's a great product and great community! Thank you for all your help and continued support and communication! – Heather P.
I am loving my makeup! The cleanser and crème are my favorite. I am loving my skin and how my makeup looks! – Linda B.
Oh my goodness this makeup!!! I am in love!! It's amazing the difference in my face!! The color palette is perfect! Thank you so much!! – Angela R.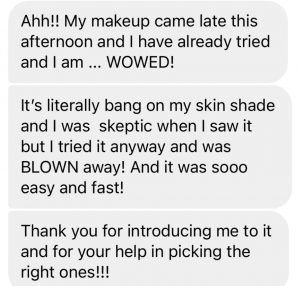 I'm going to be ordering some more. It's the best light makeup ever! Thank you for all of your help!! – Jessica C.
I'm obsessed lol! I am not a makeup person, but this makes me feel more confident and it's so easy! Love it! – Becca T.
I wore Seint makeup today for dinner and my friends could not get over how flawless my makeup looked. It's seriously amazing – never felt so confident in my life. – Jena J.
You were spot on with the shades! Amazing. I love them. I need to buy more. Thank you so much!!! I love this makeup. Thank you!! – Sarah M.
Been about 3-weeks' worth of makeup for me and can officially say… I'm loving it. Stays on all day. With my aging skin, I am loving the cream base of the products ,and how non-drying they are, and how little is needed. Thanks again! – Deb. M.

I am in love with the makeup. The shades selected really work for me. The brushes are awesome. I only ordered the two and am wanting to order the whole brush set now. Thanks again! – Susan H.
I LOVE my new makeup!!! The color match was perfect! I've never had foundation blend so perfectly! I keep my makeup simple and was never able to mast highlight/contouring. This palette was so easy to use that I got it on my first try! I feel like I leveled up my makeup game (insert Mario leveling up sound). – Jess P.
I am so thrilled with the makeup and talk about it with like everyone. Lol. I love how effortlessly I can do all my makeup and it ALWAYS looks good!!! Once again, BLOWN AWAY! Thank you so much for introducing me to this makeup!!! – Jill F.
I am absolutely loving my Seint makeup. Wish I would have come across it sooner.- Janelle F.
Oh!! Thank you SOO much!!! This makeup just makes my skin look gorgeous! – Amy T.

I love this makeup. You matched my colors perfectly. The application is very easy, and I don't feel like I have a ton of makeup on. I should have listened to you and got the larger palette because I will definitely be ordering more lip and cheek colors. Thank you again for your help! – Jordan F.
Your color match was amazing! My friend is going to order too. She is convinced after I showed her my results! You're amazing! Thank you! – Erin N.
Thank you so much for the amazing color match. I love this makeup! – Sara B.
Thank you!!!! I am obsessed with this makeup. I've been a professional makeup artist on film and tv for over 35 years and have never tried a product that works so well (and trust me… I've tried them all over the years!) – Linda D.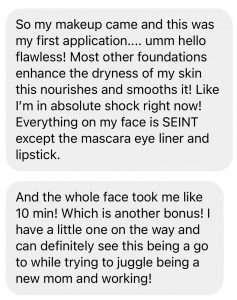 Thank you so much!!! I'm soo excited about this makeup! Thanks again for making me feel more confident and beautiful! – Cassie G.
I just had to tell you, I have been loving my new makeup. Hands down the BEST I have ever tried. Thank you, thank you, THANK YOU for introducing me to this makeup!! It truly and continually surpasses all of my expectations (and really even my dreams) of what makeup can and should do! – Stephanie E.
I am absolutely loving this makeup!!!!!! I feel like my skin looks and feels better too! – Bridgette J.
I always enjoyed playing with makeup since I was a little girl. I can honestly say I have never gotten so many questions/compliments since I started wearing Seint. And my skin feels amazing! – Lindsay K.
Thank you so much for your help! I'm loving how easy this makeup is and how light and natural it looks/feels!!! – Kellie I.
I received my makeup and I am absolutely in love with it! It went on beautifully! Thank you so much for helping me get color matched! – Shawna S.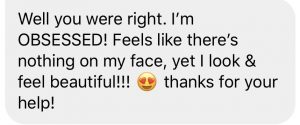 I LOVE LOVE LOVE this makeup! And you matched my colors PERFECTLY!! Thank you so much!! – Julie Z.
I love this makeup. The colors you suggested are perfect. They look good on my skin, and make my skin look flawless. Wow. I enjoy my new makeup routine. It is so simple. Thank you for your help! – Brenda T.
I've been using the makeup and I am a signed, sealed, and delivered customer now! I love how easy it is, and how it doesn't cake your face up. I just bought more! – Vivianne B.
Literally blown away!! I have already started telling everyone about it lol – Jennifer P.
Sooooooo many people are asking me about my new makeup! I'm considering selling it! – Katie M.