I grew up as the 4th of 10 children, which meant we celebrated A LOT of birthdays throughout the year. And it just so happened that the majority of them fell within about a month of each other. In fact, we had 3 birthdays within 5 days of each other, with mine falling right in the middle of it.
So thanks to an overload of birthday cake during the month of September, I started to opt for a slightly less traditional birthday dessert to blow out my candles in: Million Dollar Dessert.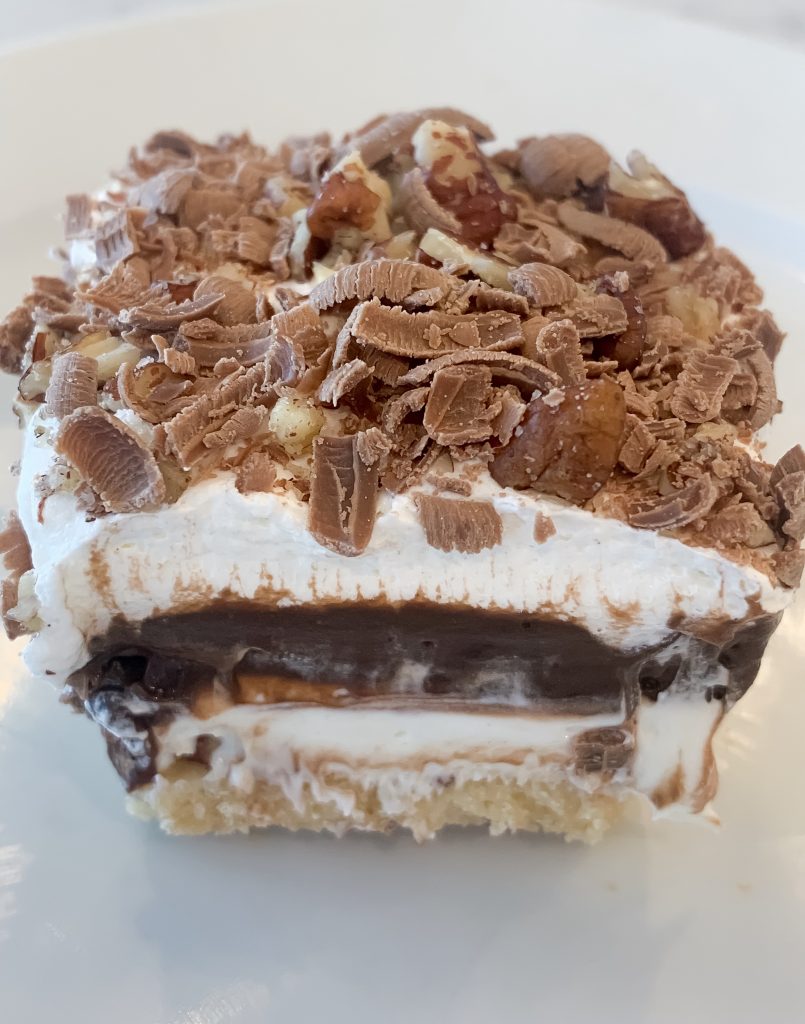 This has been a favorite of mine since I was a kid, and my yearly birthday treat. It's both light and rich all at the same time. And bonus, if you eat it on your birthday, the calories don't count. It's science.
You have probably seen similar recipes to this, and all with a variety of names (Better Than Sex, Chocolate Sin, Sex in a Pan), but my mom kept it G-rated, and we called it Million Dollar Dessert. So feel free to share it with your kids and grandma without having to answer uncomfortable questions or turning a few different shades of red.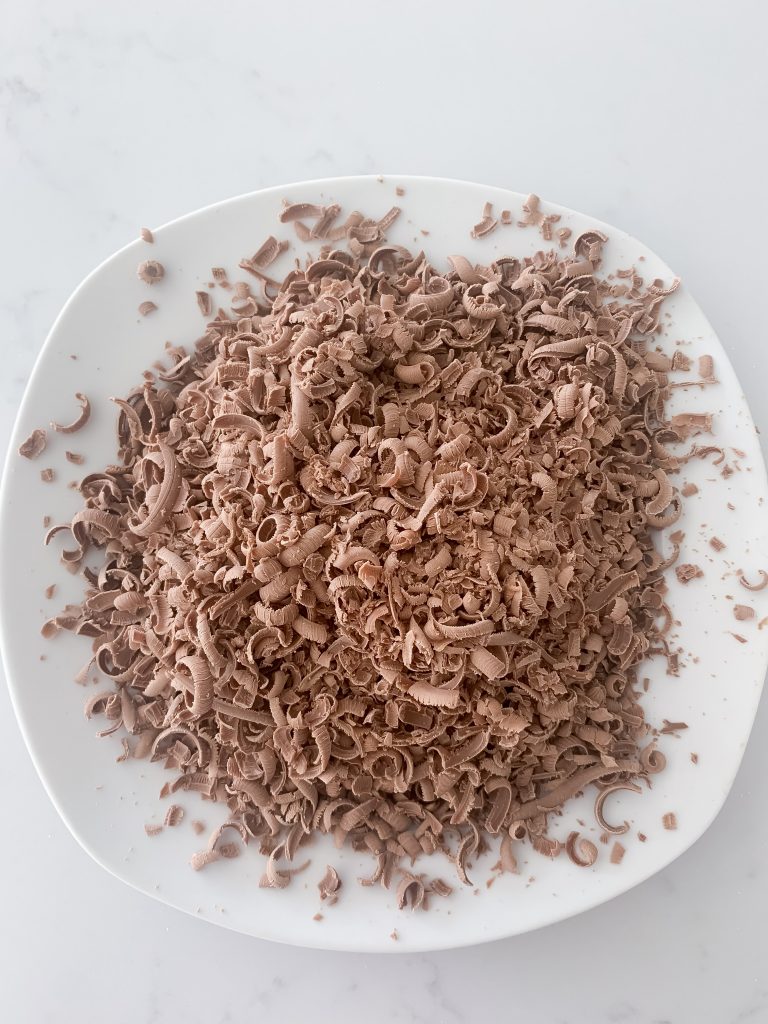 And if you have never grated up a chocolate bar before, you have been missing out and you are in for a real treat! Something about those small shavings just makes it taste that much better! And remember, there is no such thing as too much chocolate! So go crazy and make sure your dessert is completely covered, AND you have enough shavings left over to enjoy eating some throughout the process, because you most definitely will!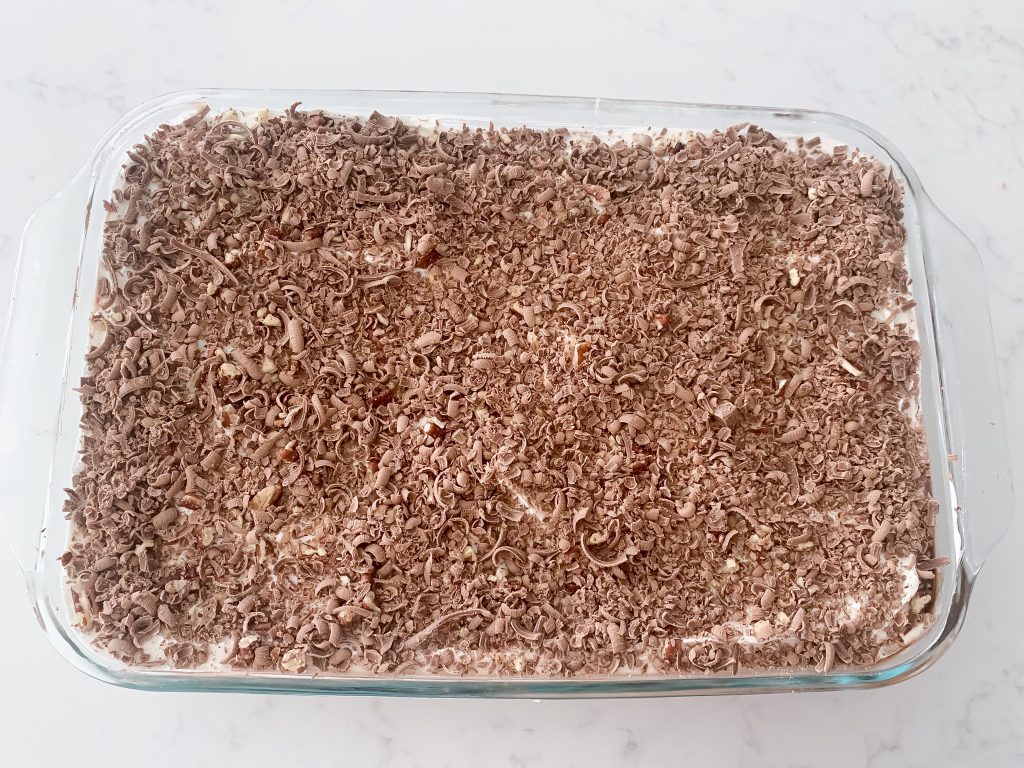 Now excuse me while I go polish off the rest of my pan…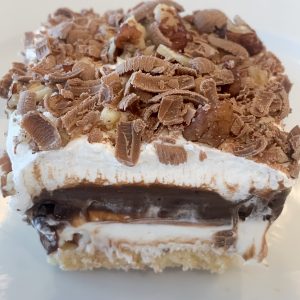 Million Dollar Dessert
Ingredients
Crust
1/2

stick

Butter

(softened)

1

cup

Flour

1

tbsp

Sugar

1/2

cup

Chopped Pecans

(optional)
Cream Cheese Layer
1

8 oz pkg

Cream Cheese

(softened)

1

cup

Powdered Sugar

1/2 of a

12 oz tub of

Cool Whip
Chocolate Pudding Layer
2

small (3.4 oz) pkgs of

Instant Chocolate Pudding

3

cups

Milk
Cool Whip Topping
1/2 of a

12 oz tub of

Cool Whip

1/2

cup

Chopped Pecans

(optional)

1 or 2

bars of

Chocolate

(I prefer cadburys)
Instructions
Mix butter, flour, and sugar together in a bowl with either a fork or your hands. Press down flat in a 9×13 pan. Bake in oven at 350 degrees for 15-20 minutes or until slightly golden brown. Let cool completely. Once cooled, add your pecans.

Mix cream cheese, cool whip, and powdered sugar together. Spread evenly on top of crust.

Mix milk and chocolate pudding together. Let it set up for about 5 minutes, and then spread it evenly on top of the cream cheese layer.

Spread remaining cool whip on stop of chocolate pudding layer. Add remaining pecans.

Grate chocolate bar with a cheese grater. Add on top as final finishing touch.