Happy December!!! How is your Christmas shopping going so far? Were you able to shop any amazing Black Friday or Cyber Monday sales? If you are like me, then you were probably able to get the bulk of your Christmas shopping done but still need to come up with a few stocking stuffer gifts. If you have any girls/women on your Christmas list this year, then you are in luck, because Maskcara Makeup has some of the best stocking stuffer gifts for under $25! These items make the best gifts for both beauty novices and beauty minimalists alike. So let's get shopping!
The Best Maskcara Stocking Stuffer Gifts Under $25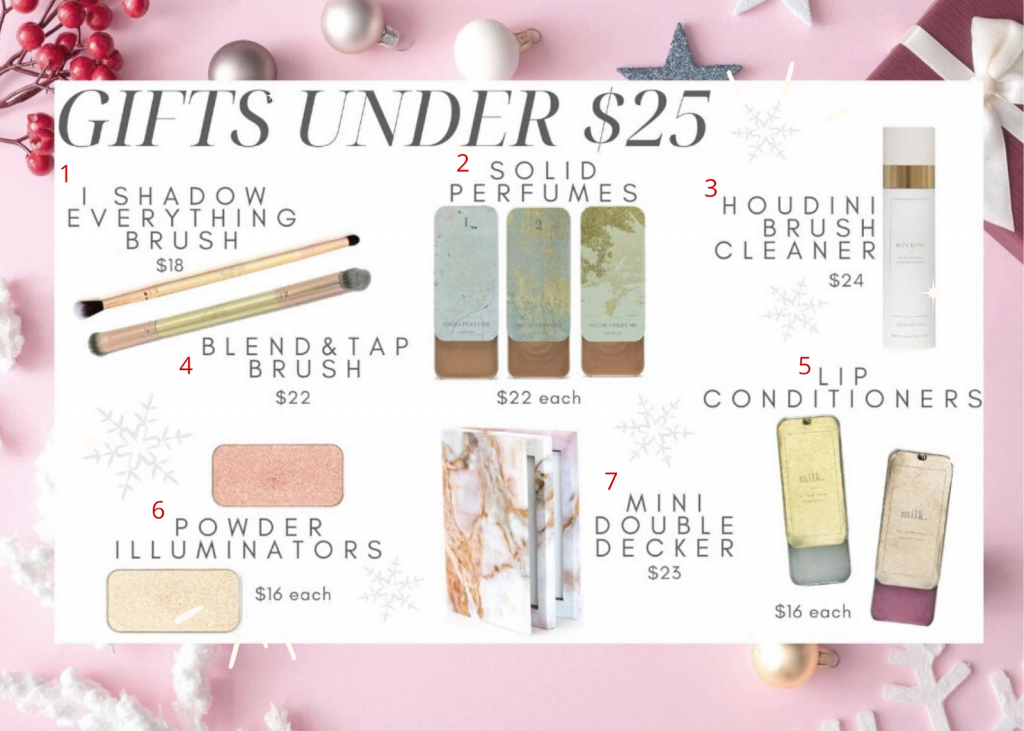 Shop these Maskcara Stocking Stuffers!
1 | 2 | 3 | 4 | 5 | 6 | 7
Shop these Maskcara Stocking Stuffers!
8 | 9 | 10 | 11 | 12
1. I Shadow Everything Brush– This brush is the perfect gift to give someone who loves a good eyeshadow look! Because this brush is double ended, it gives access to two different kinds of brushes, making this brush the perfect tool to use for any eye look you are trying to achieve!
2. Solid Perfumes– Talk about a fun spin on a classic product! Maskcara solid perfumes take body fragrance to the next level by allowing someone to add a hint of scent in a more convenient and transportable package! Plus, these solid perfumes double as an illuminator, so like all things Maskcara, you can get multiple uses out of a single product!
3. Houdini Brush Cleaner– If you know someone who owns a makeup brush, then this is the ideal stocking stuffer for them! Not only does Houdini clean makeup brushes, but it also sanitizes, conditions the bristles, and dries instantly. An absolute must-have for any makeup lover!
4. Blend and Tap Brush– Do you have someone who really wants to master their eyeshadow application techniques on your Christmas list? Then this is the perfect gift for them! Featuring a soft and dense rounded end to apply eyeshadow right where you want it with intensity and precision, and a small domed end to blur shades and smudge lines, anyone can quickly start applying eyeshadow like an expert.
5. Lip Conditioners– If you are getting something for someone who is a little more on the minimal side when it comes to applying makeup, the Maskcara lip conditioners make a perfect gift! They will keep lips silky smooth during these cold months when lips tend to get chapped, while adding a hint of mint or cherry flavor for some added fun!
6. Powder Illuminators– Give the gift of shimmer with the powder illuminators! Thanks to their special formula, this makeup product is the perfect hybrid of classic and stunning. Make sure to check out the Photoshop, Goldie, Georgia, Glamazing, and Starlet powder illuminators.
7. Mini Double Decker– The mini double decker is by far the most popular of Maskcara's compacts. Big enough to fit everything you need, while still leaving you room to grow. This compact is a must have for any Maskcara lovers out there.
8. Lip + Cheeks– By far one of my favorite Maskcara products is the Maskcara lip+cheek colors. These cream based products come in the absolute best shades, and that little pop of color will wake up the face and make it come to life! Doubling as both a blush and lip stain, one (or more!) of these colors is bound to be a stocking stuffer win!
9. Eyeshadows– If you are looking for a 'wow factor' gift, then the Maskcara eyeshadows are the perfect thing to give. Especially when it comes to their shimmer and glitter eyeshadows! But, I'm honestly obsessed with allllllll of them! So make sure to add one or more of these to your cart!
10 Cream Illuminators– Natural and dewy complexions are all the rage in the beauty industry. So you can't go wrong with choosing to add a few of the Maskcara cream illuminators to your stockings. Make sure to check out the Pearl, Rose Gold, Honey (low stock…ORDER SOON!), Glow, and Angel cream illuminators.
11. Perfector– Do you know someone who loves applying their makeup with a sponge? Then this is the perfect gift for them! The Perfector Sponge is the perfect tool to help aid in applying your makeup without removing it.
12. Square Compacts– With the ability to fit 2 full-size tins or 4 eyeshadows, the Maskcara square compacts help keep things tidy and secure. The square compact allows you to customize your palette and easily take your makeup with you wherever you go!

What Maskcara stocking stuffer gifts are you excited about purchasing? I would love to know!