How many of you love a good advent calendar? I am definitely someone who does…probably because they typically involve chocolate, and you all know me and chocolate! But did you know there are also beauty advent calendars? If you already knew about these,, then you already know just how fun they are! But if you haven't heard of these before, then you are in luck because I'm sharing everything you need to know about some of the most popular 12 Days of Beauty advent calendars and why they are definitely something you should consider getting for yourself and anyone else who loves all things beauty related.
12 Days of Beauty Advent Overview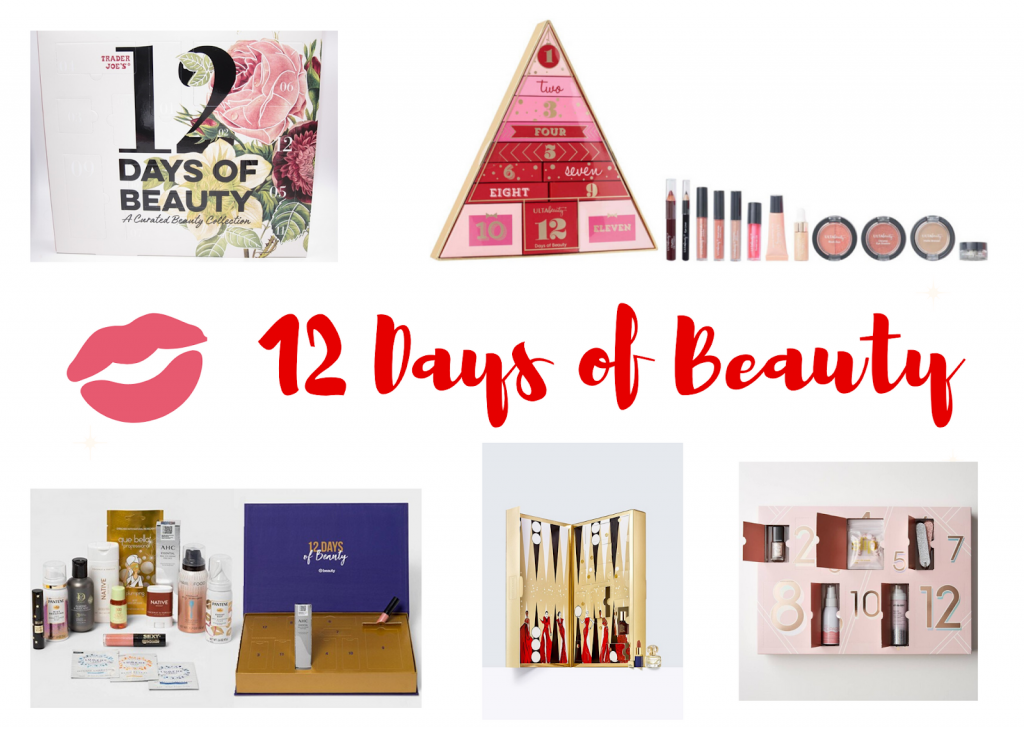 Whether you are a makeup junkie or a skin care fanatic, there is an advent calendar for you! Here are 6 amazing beauty advent calendars that are easy to get and won't break the bank!
1. Trader Joe's 12 Days of Beauty Advent Calendar
Yep, you read that right. Trader Joe's created their own beauty advent calendar and it's pretty awesome! Full of new and old exclusive Trader Joe's beauty products, this gift is available in stores for only $19.99, and the perfect thing to get for anyone who loves all things Trader Joe's (and we all have a die-hard Trader Joe's fan in our lives).
Kit includes…
Winter Citrus Ultra Moisturizing Hand Cream (0.5 oz)
Cranberry Cider Shimmer Body Wash (1 oz)
Brown Sugar Body Scrub (1 oz)
Pomegranate Moisturizing Lip Balm (0.13 oz)
Coconut Body Butter (1 oz)
No 3 Formula Shampoo, Conditioner, and Body Wash (1 oz)
Warm Vanilla Body Butter (1 oz)
Rose Facial Oil (0.33 oz)
Exfoliating Sugar Cube (0.52 oz)
Peel-Off Charcoal Face Mask (0.5 oz)
Enrich SPF 15 Face Lotion (1 oz)
Blueberry & Acai Facial Scrub (0.5 oz)
2. Ulta's 12 Days of Beauty Advent Calendar
This is the perfect gift for anyone makeup obsessed! Mainly because each box in this advent calendar is a limited edition beauty item that gives this particular $12 product a retail value of $65!
Kit includes…
Jelly Eyeshadow (0.1 oz)
Liquid Highlighter (0.15 oz)
Eyeshadow Primer (0.17 oz)
Chubby Lip Crayon (0.05 oz)
Eyeliner (0.02 oz)
Tinted Lip Oil (0.07 oz)
Metallic Cream Eyeshadow (0.03 oz)
Velvet Matte Liquid Lipstick (0.03 oz)
Shiny Sheer Lip Gloss (0.03 oz)
Chrome Eyeshadow (0.1 oz)
Matte Bronzer (0.1 oz)
Blush Duo (0.09 oz)
3. Target 12 Days of Beauty Advent Calendar
For only $19.99 you can get a beauty advent calendar filled with 12 personal care and beauty essentials in the best sample sizes. From dry shampoo to mascara, this box contains all your favorite beauty products that can only be found at Target.
Kit includes…
Milani Mascara
Pantene Mist Behaving Dry Conditioner Mist
Design Essentials Naturals Almond and Avocado Detangling Leave-In Conditioner
Native Body Wash
Pixi Glow Tonic
Sexy Mother Pucker Lip Gloss
Lumen Moisturizer
Native Deodorant
AHC Essential Real Eye Cream
Que Bella Plumping Face Mask
Hair Food Dry Shampoo
Pantene Dry Shampoo Foam
4. Anthropolgie 12 Days of Party Prep Beauty Advent Calendar
Getting ready for holiday parties just got a whole lot easier with this amazingly curated beauty advent calendar! Containing 12 incredible samples of the best beauty brands valued at over $100, you can't go wrong with getting this for yourself or your family and friends.
Kit includes 12 individually packaged, premium-sized samples of:
Londontown Enhanced Colour Lakur in Kissed by Rose Gold
Pinrose Eau De Parfum Rollerball in Secret Genius
Luxie 510T Foundation Face Brush
Slip Pink Silk Scrunchie
Pinch of Colour Honey Glow Waterless Balm
Glitter Mini Nail File Trio
Glitter Makeup Applicator
Patchology FlashPatch Hydrating Lip Gels
Kopari Coconut Rose Toner
Lapcos Pearl Sheet Mask
Eva NYC Kweeen Glitter Spray
Skyn ICELAND Hydro Cool Firming Eye Gels
5. Estee Lauder 12 Days of Beauty Advent Calendar
By far the most luxurious of the 5 beauty advent calendars, this product is still worth every penny for those of you who love high end beauty products. Along with featuring their newest innovation of Advanced Night Repair Concentrate, this advent calendar also contains Estee Lauder's most popular beauty products in the perfect travel sizes.
Kit includes…
Advanced Night Repair Synchronized Recovery Complex II, .24 oz./7ml
Advanced Night Repair Eye Supercharged Complex Synchronized Recovery, .17 oz./5ml
Revitalizing Supreme+ Global Anti-Aging Cell Power Creme, .24 oz./7ml
Advanced Night Repair Intense Reset Concentrate, .17 oz./5ml
Revitalizing Supreme+ Global Anti-Aging Instant Refinishing Facial, .5 oz./15ml
Pure Color Envy Sculpting Lipstick in 340 Envious, .04 oz. /1.2g
Pure Color Envy Sculpting Lipstick in 420 Rebellious Rose, .04 oz. /1.2g
Double Wear Stay-in-Place Eye Pencil in Onyx, .028 oz./.8g
Pure Color Envy Sculpting Gloss in Wild Mink, .16 oz./4.6ml
Little Black Primer™ Tint. Amplify. Set. in Black, .09 oz./2.8ml
Sumptuous Extreme Lash Multiplying Volume Mascara in Extreme Black, .1 oz./2.8ml
Beautiful Belle Eau de Parfum Spray, .14 oz./4ml
Whichever beauty calendar you choose to you get, I know that this unique item will be an instant favorite to whoever receives it! Have you ever tried a 12 Days of Beauty Advent Calendar before? I'd love to hear which one it was and what you thought of it!