With the weather starting to warm up (and by warm up I mean being 47 degrees during the day instead of 23), and chocolate bunnies and Easter eggs taking over the holiday aisles at every Target and Walmart, my spring fever has set in at full force. I love Easter and everything that it represents, and it definitely doesn't hurt that it also happens to be the holiday that carries all of my favorite treats! And while I could happily live off of Cadbury mini eggs leading up to Easter, sometimes it is fun to mix things up a bit with some other fun Easter treats.
If I have learned one thing in my 34 years of life, it is that if you take any candy and dip it in chocolate, it becomes 10x better. Have you ever tried chocolate covered gummy bears or chocolate covered cinnamon bears? Case and point.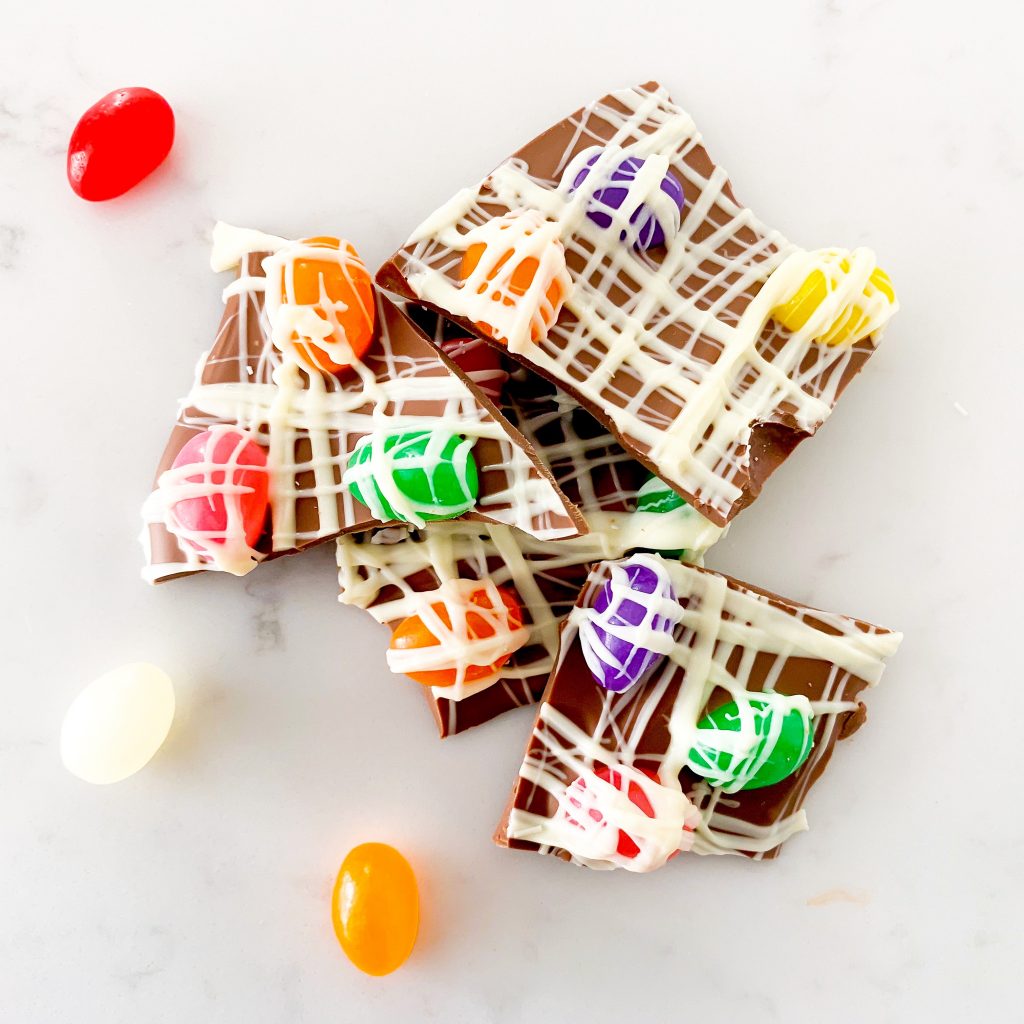 So I thought I'd take a classic Easter candy — Jellybeans — and throw in some chocolate to take them to the next level, and it did not disappoint! But instead of just dipping them in chocolate, I thought I'd make them a little more festive and appealing to the eye, by making an easter chocolate bark.
Now most Easter Chocolate Barks you see tend to be based in White Chocolate. And while I am a huge fan of white chocolate, something about the contrast of the creamy milk chocolate to the fruity jellybean flavors just really appealed to my taste buds!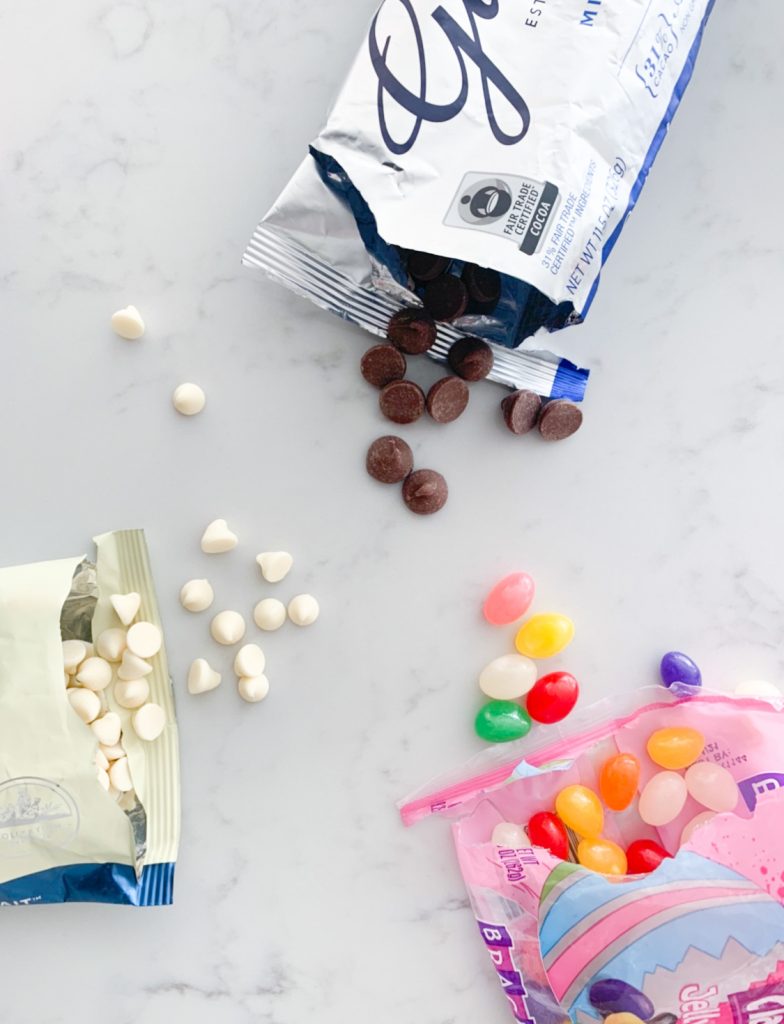 Now it feels a bit silly to call this a recipe. I mean all you do is melt milk chocolate, throw on jellybeans, drizzle on melted white chocolate, and then freeze it. That's it. You're done. It takes almost no effort to make, but 100% self control not to eat the whole batch in one sitting!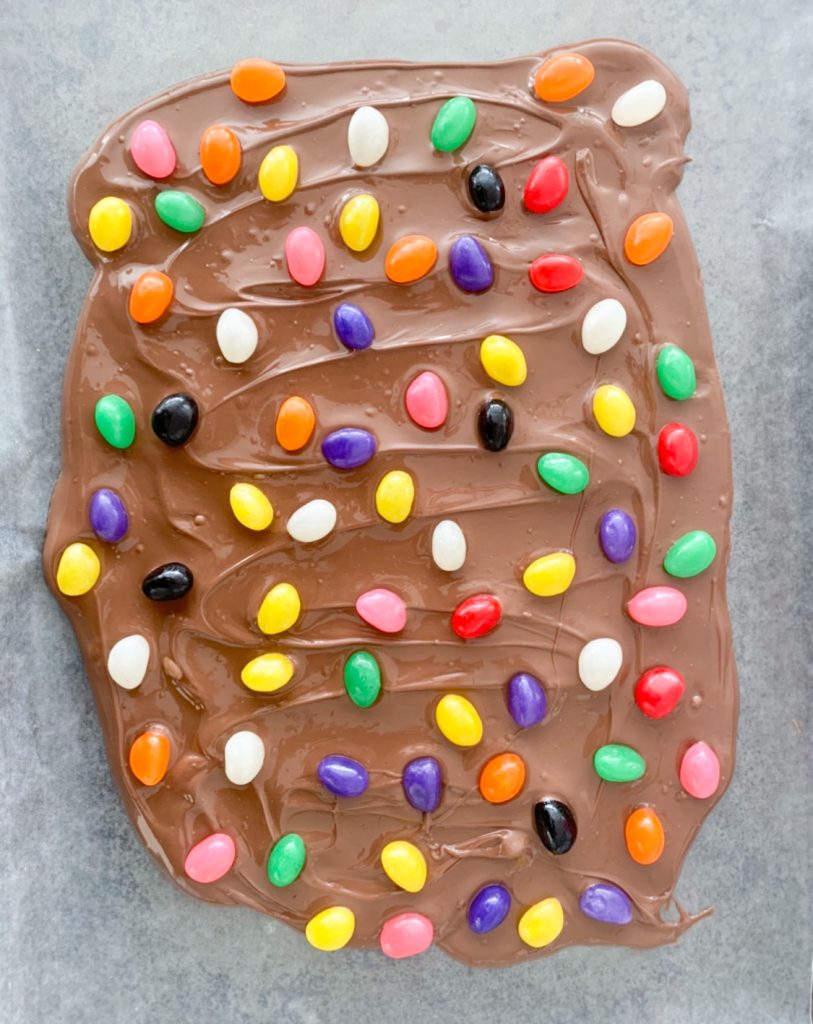 But there is a secret to making this Easter Chocolate Bark go from good to I can't stop eating it: Guittard Chocolate Chips. Having a good quality chocolate will make all the difference, and this chocolate happens to be the best of the best! In fact, I have it on good authority that See's Candies uses a special formula from Guittard to make their chocolates, so you know its got to be good!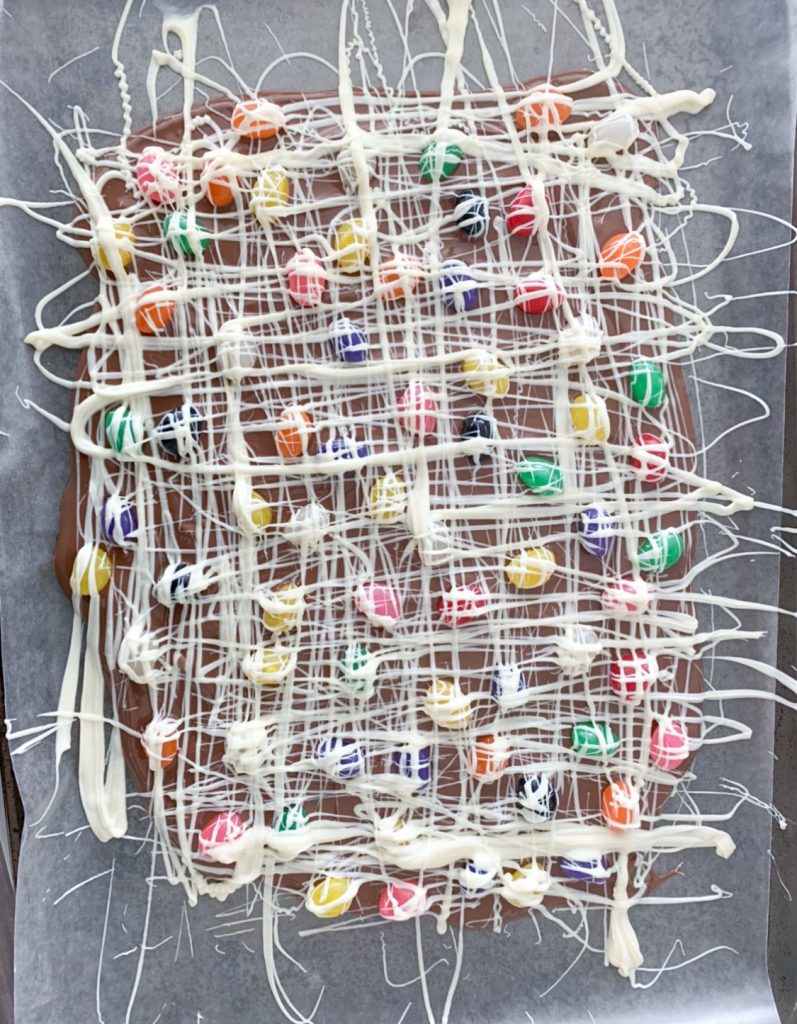 This easter chocolate bark is always a crowd pleaser! And since it is so easy to throw together, it's easy to bring to any spring gathering! It's colorful, festive, and full of chocolatey goodness! What more could you ask for?!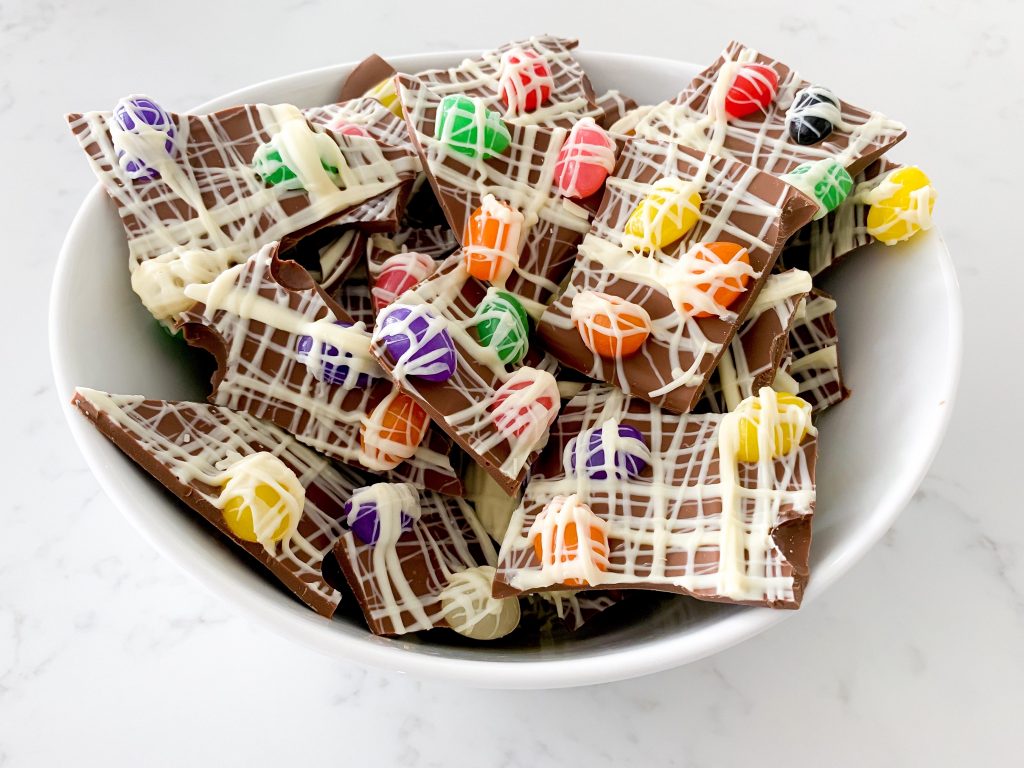 Milk Chocolate JellyBean Easter Bark
Materials
1

Bag

of Milk Chocolate Chips

I recommend Guittard

1

Bag

of Jellybeans

I recommend Classic Brach's Jellybeans

1/2

Bag

of White Chocolate Chips

I recommend Guittard
Instructions
Line a large cookie sheet with parchment paper.

Pour milk chocolate chips into microwave safe bowl, and heat on high until fully melted. Be sure to stop and stir the chocolate every 30 seconds to prevent chocolate from getting scorched.

Spread melted chocolate onto parchment paper. Make sure the chocolate is thick enough to allow the jellybeans to sink into it a bit, but still thin enough to make it easy to break apart after it freezes.

Throw the Jellybeans onto the melted chocolate.

Warm up the white chocolate chips in a clean microwave bowl the same way you did with the milk chocolate chips, stirring every 30 seconds until fully melted.

Take a fork and dip it into the melted white chocolate, and then hold the fork up above the bark and swing it back and forth, allowing the white chocolate to drizzle across the top.

Place cookie sheet into fridge and allow to cool and solidify. Once all of the chocolate is in solid form again, gently break the chocolate up to make individual bark pieces.