St. Patrick's day is just around the corner, which means the hunt for something green to wear is in full swing! After all, no one wants to risk getting pinched on the 17th! And if you're already going to go out of your way to plan your outfit around the holiday, you might as well take it to the next level and plan your makeup around it too and follow my tips on how to wear green eyeshadow!
Since green is the theme, it only makes sense to sport a green eyeshadow in celebration of St. Patrick's Day. Now for some of you, this might sound terrifying, even downright insane! But hear me out!
Green doesn't have to be an intimidating eyeshadow color, and can in fact be a really great addition to your eyeshadow palette.
Plus, St. Patrick's Day is the perfect day to experiment with this color, since no one will question your sudden decision to wear green eyeshadow if you normally sport something a little more subtle.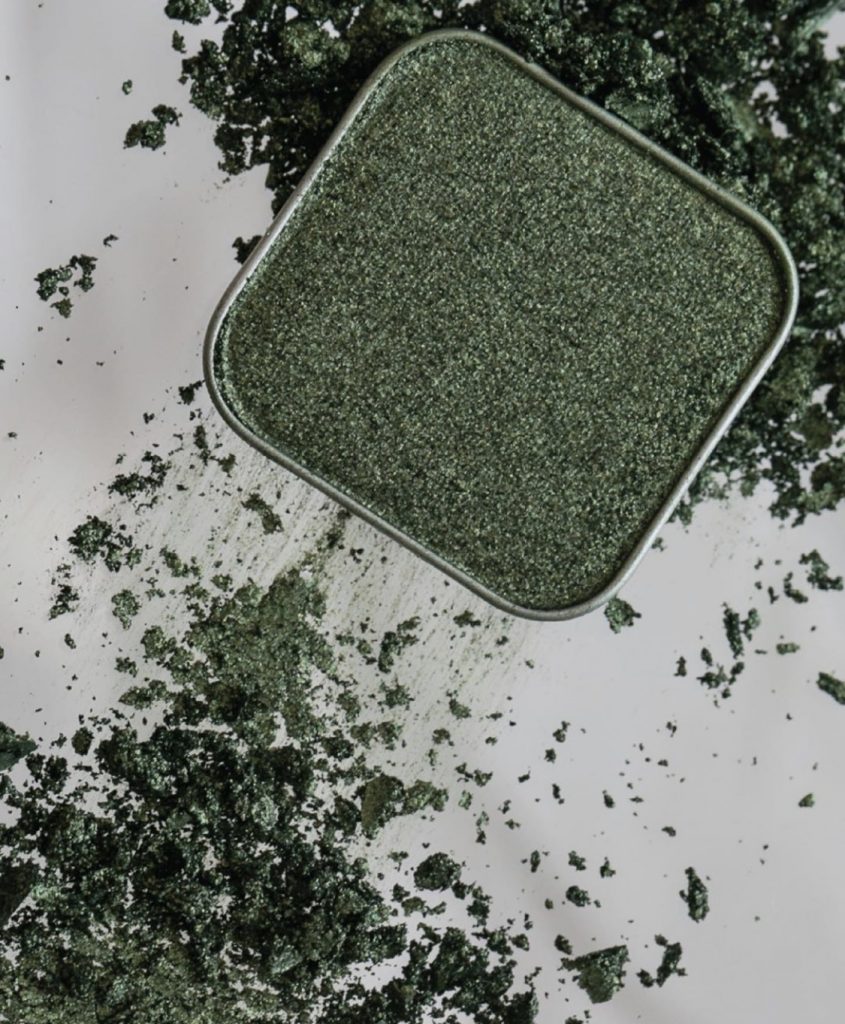 How to Wear Green Eyeshadow: Choose the Right Shade of Green
The key to wearing green eyeshadow starts with wearing the right color. Any green shades that tend to be more natural and earthy in tone will be a great option. They will add color and depth to your eyes, but without making them stand out in an unnatural way.
The second thing to focus on, is placement. Now there are a couple different ways you can sport a green eyeshadow: as your main color or as an accent color. So let's go head and break these down.
How to wear Green Eyeshadow as your Main Eyeshadow Color
If you are going to wear green eyeshadow as your main eyeshadow color, it is important that you select the right color, and pair it with some more subtle complementary colors. Wearing a neutral, soft brown eyeshadow in your crease will help soften the green and allow for a smooth transition of colors.
My favorite crease and transition color for this is Maskcara's eyeshadow, Bubba. This color has just the right amount of warmth and depth, but without being overpowering or drawing attention away from the other colors you are wearing. Maskcara's Bubba Eyeshadow is a shade that should be in everyone's makeup arsenal!
As for your green eyeshadow, be sure to concentrate this color primarily on your lid. Don't be afraid to pack on the color… after all, if you're going to be bold enough to wear green eyeshadow, you might as well wear it proudly! My favorite color for an all over green eyeshadow look, is Maskcara's #33 Eyeshadow. This color is perfect as an all over green shade. With a subtle shimmer, and an olive green tone, this color is the ideal green as far as eyeshadows go.
Another popular green eyeshadow is Maskcara's Emerald City Eyeshadow. While rooted in a green tone, this green eyeshadow color also has a subtle hint of blue, making it perfect for almost every eye color.
If you're sporting green eyeshadow as your main color, this usually means you are going for a more dramatic and bold eye. Since your eye will naturally look more smokey when you are wearing a green eyeshadow, you might as well take your look to the next level, and add in some darker shades to the outer corners of your eyes to really help smoke out your eyeshadow look. Some great shades for this would be Maskcara's Rigoletto Eyeshadow, Maskcara's Jr. Prom Eyeshadow, or Maskcara's Ivy League Eyeshadow.
Rigoletto is a shimmery dark brown eyeshadow. This eyeshadow color will keep your smokey eye more subtle and earth toned. Jr. Prom is more of a shimmery black, and will give you a much more dramatic eye. And Ivy League is a matte dark green shade that will just further deepen the intensity of the green eyeshadow you are already wearing.
How to Wear Green Eyeshadow as an Accent Color
If you want to wear green eyeshadow, but are nervous about being too bold with it straight out the shoot, using a green eyeshadow to compliment the other shades you are wearing, or to add in some finer details to your eyeshadow look, can be the perfect way to use this shade without feeling too over-the-top with it.
One of the best ways to wear green eyeshadow is in the outer corners of the eyes. This creates a blurred smokey eye look that can be dressed up for a more dramatic effect, or toned down for a bit more of a subtle, everyday look.
The key to wearing a darker color, like green, in the outer corners of your eyes, is to make sure that you wear a lighter color in the inner corners of your eyes. This will open up the eyes, and make them look bigger.
Some of my favorite eyeshadow colors to pair with green eyeshadow are ones that are gold and copper toned. A few of my favorites eyeshadows in these tones are Maskcara's Blondie Eyeshadow, Maskcara's Bright Eyes Eyeshadow, and Maskcara's Gold Digger Eyeshadow. When paired with a green eyeshadow– #33, in particular — these golden and coppery eyeshadow colors will add in just enough brightness and warmth to really make your eyes pop!
But if wearing green eyeshadow as an actual eyeshadow color is still just too much for you to fully embrace, there is still another way you can sport a green eyeshadow color, while still keep things subtle and natural. You can use a green eyeshadow as a substitute eyeliner by placing a thin line of eyeshadow along your lash line. This detailed placement of the green eyeshadow will be just enough to make your eyes stand out with that slight pop of color. This will allow you to still wear a subtle hint of green, but without it being the main event!
To get that fine line, you can use the small end of Maskcara's Multitasker Brush or the brush side of Maskcara's Hotline Brush.
And for inquiring minds, if you are worried about what other makeup colors you can pair with a green eyeshadow, go more subtle. For both your blush and lips, go with soft, light pink shades or nudes. A few of my favorites (that also happen to double as both a lip color and a blush color) are Masckara's Nude Lip+Cheek, Maskcara's Desert Sunset Lip+Cheek, and Maskcara's Summer Love Lip+Cheek.
So what do you think? Are you ready to try a green eyeshadow? Let me know in a comment below!
FAVORITE MASKCARA EYESHADOWS TO WEAR ON ST PATRICKS DAY: