Seint understands that everyone—and every person's skin—is unique. Because we're all different, we can't just have a "one size fits all" when it comes to makeup. We all have different distractions on our faces that we'd like to remove or diminish. And that's why Seint created Demi Colour. Demi Colour focuses on filtering the excess colors on your face that are causing distractions and giving you trouble. Seint does this through color science and color solving, and it's completely customizable to your skin tone. To help you get started, Demi Colour has special Edits, which are curated color palettes designed for different skin tones. The Demi Colour for light skin tones is Edit 1. So today we're going to talk all about Edit 1, and why it's perfect for those of you with lighter skin.
What Is Demi Colour?
First things first: What is Demi Colour? Demi Colour is a special makeup line that lets you filter excess color and remove distractions (like melasma, sunspots, and dark circles under the eyes). It also lets you add sculpt (aka, contour) and blush to enhance your natural features. You only use Demi Colour right where you need it, instead of covering your entire face in makeup. This allows your skin's natural luminosity to shine through.
If you want to learn more about Demi Colour, you can read a great article about it HERE.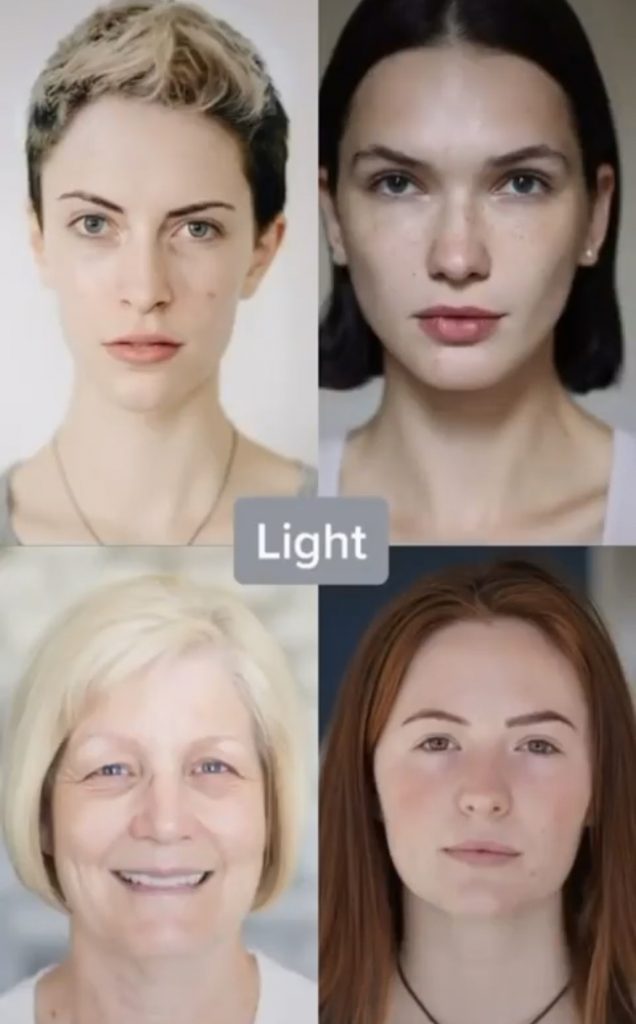 Understanding Demi Colour Codes
Before we get into Edit 1, I want to explain how the color code system works with Demi Colour. Demi Colour uses color theory to correct specific spots on your face. For example, if you have dark circles under your eyes, you can use an orange-based color to correct the darkness. This is because dark circles are most often made up of blue undertones, and the opposite of blue is orange. So the orange will help filter the blue and minimize the dark circles.
Each Demi Colour tin is labeled with a letter and a number. The letter stands for the color family (R – Red, O – Orange, Y – Yellow, G – Green, B – Blue, V – Violet). If you see two letters, then the second letter is the main color of that tin. For example, GY is a green yellow, meaning it's a yellow that contains some green.
The number that follows the letter indicates saturation. 1 is the least saturated, and 7 is the most saturated. 1's brighten and 3-7's build color while filtering. These colors are great for adding natural flush to cheeks.
Shades that start with N are neutral colors. The + or – on these tins indicate whether the color is more or less pigmented. These neutral colors are great for sculpting.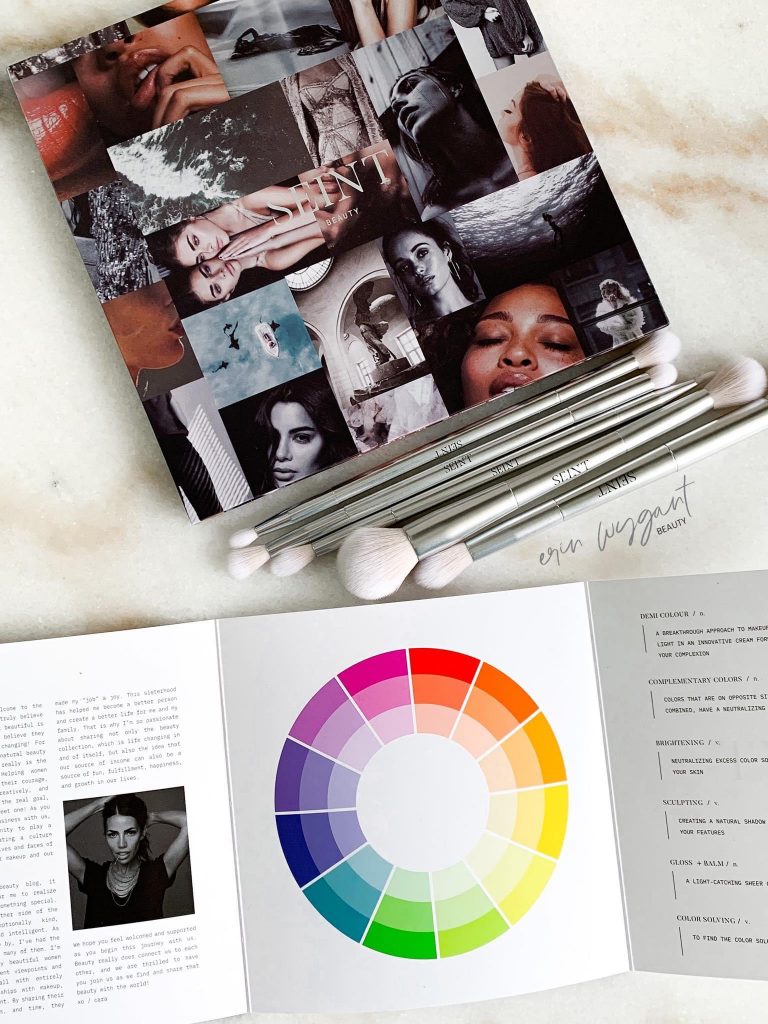 Why Edit 1 is Perfect for Light Skin Tones
Now that we understand the color code system for Demi Colour, let's look at the colors that come in Edit 1. These colors are low in saturation, which is great for lighter skin tones. You want to use low color saturation so that you can blend the colors in more easily. If you use lots of high saturation colors, you'll be able to see the makeup, and you'll have a hard time blending and matching to your specific tone.
The colors in Edit 1 fall mostly in the red, yellow, and orange family. The reason for this is that light-skinned people tend to have green, purple, and blue undertones (the opposite colors of red, yellow, and orange). So the red, yellow, and orange colors will help filter the unwanted distractions on your face, like circles under your eyes, melasma, and sunspots.
You might feel overwhelmed getting started with Demi Colour, and I know it can be expensive to get started. So Seint has three different makeup palettes for you to choose from that all fall under the umbrella of Edit 1.
Mini Filter Edit 1
The Mini Filter Edit 1 is the smallest makeup palette for Edit 1. The Mini Filter Edit 1 is great for beginners. It filters excess color under your eyes and in melasma and sunspots. For lighter skin tones, these colors tend to be blues, greens, and purples. The Mini Filter comes with four colors: R1, OR1, OY1, and YO1. As you can see, these colors have low saturation, which is perfect for lighter skin tones, and they specifically filter out excess blues, greens, and purples—all distraction colors found specifically in lighter skin tones.
Filter Edit 1
The Filter Edit 1 is the next biggest Demi Colour makeup palette. This edit comes with six colors: R1, RO1, O1, OY1, YO1, and O3. Just like the Mini Filter Edit 1, these colors are low in saturation and fall in the red, orange, and yellow families. These colors will help filter the purples, blues, and greens found under your eyes and in melasma and sun spots. The Filter Edit also adds in one color with a little more saturation to help you build some natural color where you want it, like on your cheeks.
Angel Edit 1
Angel Edit 1 is the biggest Demi Colour makeup palette for light skin tones, with 12 different colors. If you know you want to use Demi Colour, then I recommend buying an Angel Edit. It provides everything you need to color solve and create a beautiful and natural finished look. You can use the Angel Edit 1 to do your entire face of makeup, including your sculpt, blush, eyeshadow, and lips. Although it is a bit more of an investment, it will pay for itself because this makeup lasts so long. Here's what you get in the Angel Edit 1: VR1, R1, O1, OY1, YO1, GY1, RO1, RO5, R5, O7, RV7, and NO. You also get a makeup palette that will hold these 12 color tins. The Angel Edit 1 is an amazing deal if you're ready to dive into Demi Colour.
Because Demi Colour is so new and revolutionary, Seint requires artists who work with it to be Demi Colour Certified. And I am! I am happy to help you get started with Demi Colour. You can always contact me if you have any questions.
I hope this helped you understand Demi Colour for light skin tones. Seint has curated the Edit 1 color palettes just for you, and you'll be amazed at the difference the right colors for your skin tone can make!