Do you enjoy dressing up for Halloween? While it is often associated with a kid holiday, anyone at any age can play dress-up enjoy pretending they are someone, or something, else for the day. With Halloween approaching, now is the perfect time to start practicing some easy Halloween makeup looks using Seint Beauty makeup products.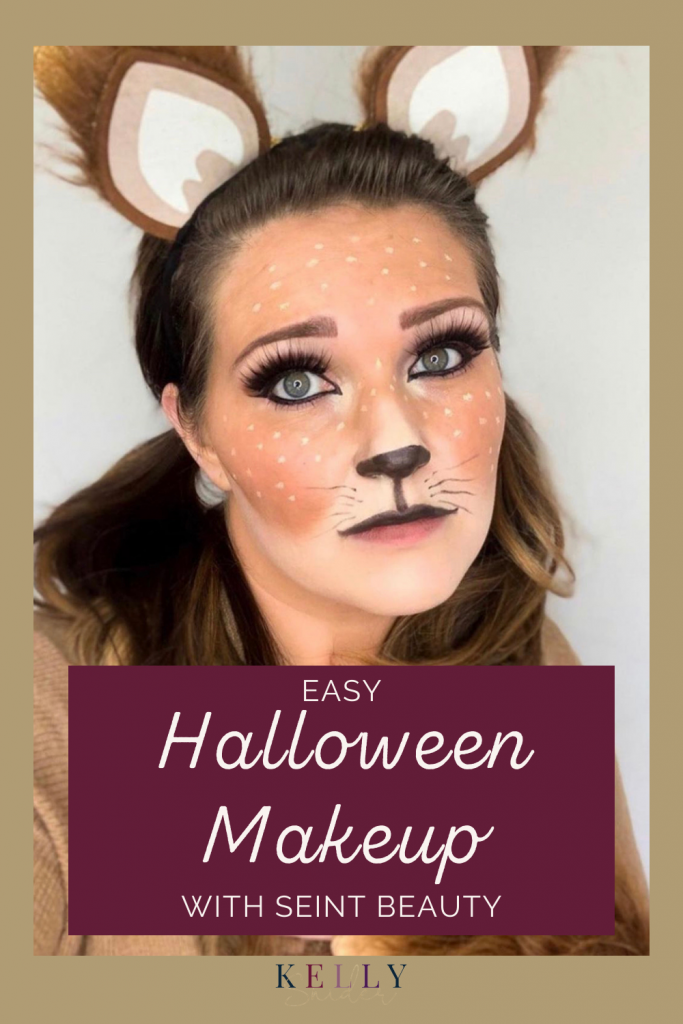 Easy Halloween Makeup Look #1: Fawn
Are you a novice when it comes to applying Halloween makeup on yourself? This Fawn is the perfect way to dip your toe into the world of Halloween makeup looks. Because this look only uses a few shades from Seint's IIID foundation, you can achieve a really fun look without a big commitment of your time or wallet!
Here's what you need to get this look:
Fake Eyelashes (optional)
Fawn Ears and Gloves (optional)
*If you are already a Seint IIID Foundation user, you can likely substitute Walnut and Linen for whatever contour and brightening highlight shade you have in your compact already.
To Create this Fawn Halloween Makeup
To get started, pull your hair back into two low pigtails, and start applying the Walnut Contour Shade. Next, you'll want to apply it on your forehead, bridge of your nose, and across your cheeks using the large end of the Detail Brush. Finally, take that same brush and tap it into the Linen Highlight shade. Using the large end of the brush, apply the Linen Highlight from the middle to the end of your nose, on your chin, and across your jawline (as pictured). Be sure to blend the edges of the two shades together!
Now, use your Multitasker brush and apply some spots of Linen Highlight across the Walnut Contour on the upper parts of your face. Place some Linen Highlight on the inner corners of your eyes as well.
For the last step of this Fawn easy Halloween makeup look, use your Multitasker Brush to apply Cola Contour to the end of your nose, down your cupid's bow, and across your upper lip. Apply a few whiskers using the Cola Contour as well. You can also apply a thick line of Cola Contour around your eyes for added emphasis. If you would like to take your look up a notch, apply fake eyelashes and faux Fawn ears and gloves.
Easy Halloween Makeup Look #2: Leopard
This Leopard Halloween makeup look uses similar steps as the above look. In this look, the emphasis is on your eyes more, and we carry the look down your neck. This is another look that is perfect for anyone who is just learning how to apply Halloween makeup, or if you need a quick look to head to a last-minute party!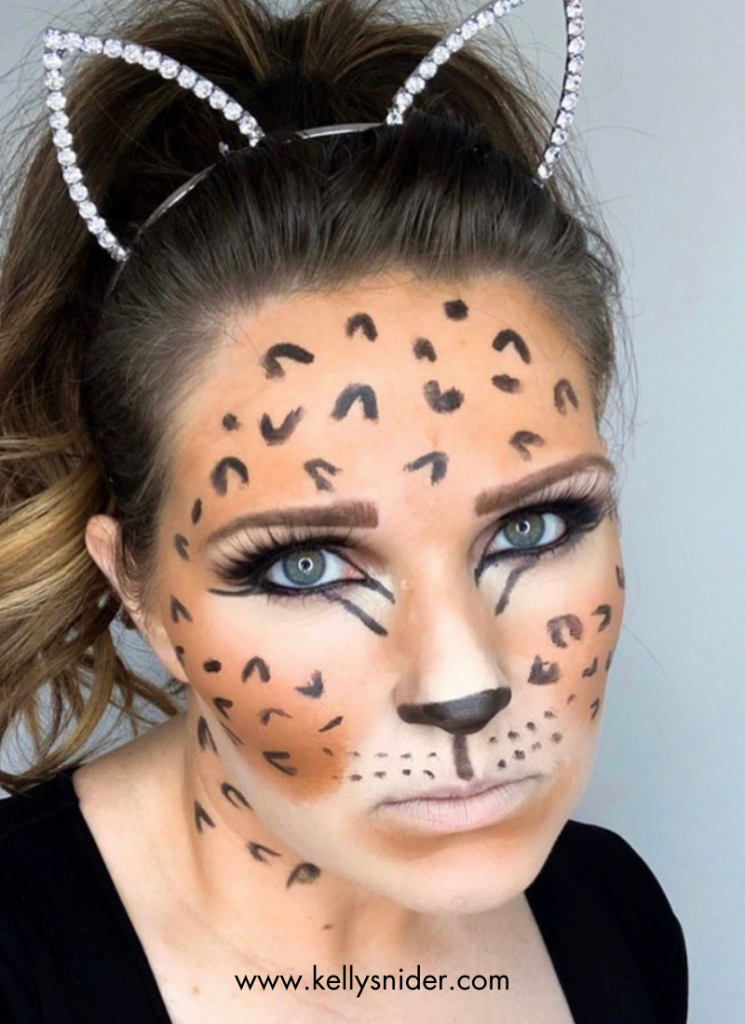 Supplies needed for this Leopard look:
Fake Eyelashes (optional)
Cat Ears (optional)
To Create this Leopard Easy Halloween Makeup Look
I love how quick this makeup look comes together. You'll start by using the large end of your Detail Brush to apply the Cinnamon Highlight across your forehead, down the bridge of your nose, and across your cheeks. If you'd like, you can also apply it down your neck and under your bottom lip to create dimension. Do not apply any Cinnamon Highlight directly under your eyes or along your jawline.
After you apply the Cinnamon Highlight, use the small end of your Detail Brush to apply the Linen Highlight along your jawline, on the end of your nose, across your lip area, and under your eyes. Use the large end of your brush to blend the edges of these shades together.
The last step of this look is really fun! Take the small end of your Multitasker Brush and use the Cola Contour to create "V" shaped spots across your forehead, cheeks, and down your neck. Then, color in the end of your nose and create whisker spots with that same brush. Finally, I like to also use the Cola Contour for dramatic eyeliner. If you are brave enough, I think fake eyelashes really finish off this fun look. And don't forget your cat ears!
Easy Halloween Makeup Look #3: Mermaid
My daughters were very excited about this look when I debuted it to them! What little girl doesn't love a sparkly mermaid? I had a lot of fun putting together the supplies and makeup for this fun Halloween makeup look.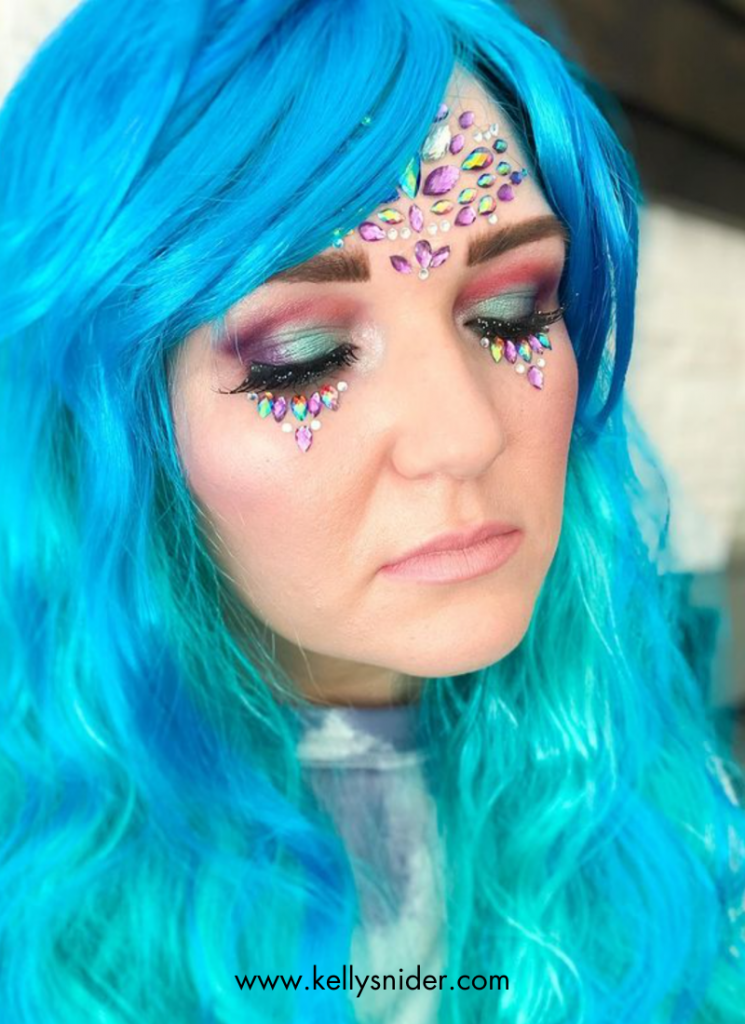 Here's what you need for this mermaid Halloween makeup look:
Fake Eyelashes (optional)
Facial Jewels (optional)
Blue Mermaid Wig (optional)
For this look, I wanted to focus on my eyes over everything else on my face. Because of this, I did a very neutral makeup look on my skin and lips. I love using Summer Love Lip+Cheek for this because it's so soft and flattering! I applied it with my Blush+Bronzer Brush on my cheeks and I used the Multitasker Brush to apply it to my lips. However, to take my face makeup up a notch, I applied Glamazing Illuminator over my entire face instead of just the usual spots. This left my face looking iridescent and glowing, which was perfect for an under the sea, magical creature effect.
Mermaid Eyeshadow Look
For my eyes, I used 3 fun eyeshadow shades. You normally wouldn't put these shades together for a regular day (at least, I'm not that daring!), but for this look, they work perfectly. To start, apply the Mi Hija eyeshadow across your crease on your eyelid using the Eyeshadow Brush. If you're worried about applying too much, start with a light hand and then build the coverage as you go. After you apply the Mi Hija, use the Smudge Brush to apply As If eyeshadow to your outer corners. Blend this shade into the Mi Hija at the crease to build depth. Be sure to not carry this dark shade too far over to the center of your eyelid. You want it to be dramatic at the outer corners.
To finish your eyeshadow look, use the Multitasker Brush or Smudge Brush to apply Bayou to your eyelid. I like to pat this shade onto my lid so I get the most color saturation possible. Use the Eyeshadow Brush to blend this shade into the Mi Hija and As If. Don't blend it too much so you keep the bold pigment of these bright shades. Finally, use your fingertip to apply Glamazing Powder Illuminator to your eye's inner corners and your brow bones. This added shimmer and sparkle really completes this Mermaid eyeshadow.
Adding the Finishing Touches to Your Mermaid Makeup Look
Now that your makeup is complete, you need to add the finishing touches to your Mermaid Halloween makeup look. I applied some dramatic false eyelashes to my eyes and some stick-on facial jewels to my cheeks and forehead. This is optional, but I like how it pulls the look together. And you can't forget the Mermaid's hair! Since I clearly don't have long, blue/green hair, I went the wig route. This wig was super inexpensive, and I found it at Walmart. I love how the wig color is the same tone as the Bayou eyeshadow! You can find a similar one HERE and HERE.
3 Easy Halloween Makeup Looks with Seint Beauty
There you have it. 3 easy Halloween makeup looks that I created using Seint Beauty makeup products! There are so many fun things you can do with makeup for Halloween. Have you ever tried one of these Halloween looks? I can't wait to try some new ones for this year. Be sure to follow me on Instagram @thecontouredlawyer to see what I do!