Do you love the look of contour but you don't want to wear a full face of makeup? The Sculpt Edit from Demi Colour by Seint Beauty is just the thing you're looking for! I'm going to walk you through everything you need to know about the Demi Sculpt Edit and show you why you'll love it.
All About Demi Colour
I've talked before about Demi Colour. You can find those posts here. Basically, Demi Colour is a revolutionary new way to think about and apply makeup. By focusing on excess colors and using color science to neutralize specific areas on your face, Demi Colour allows you to have beautiful, radiant skin without a thick layer of makeup. I love the natural look I'm able to achieve with Demi Colour by Seint Beauty.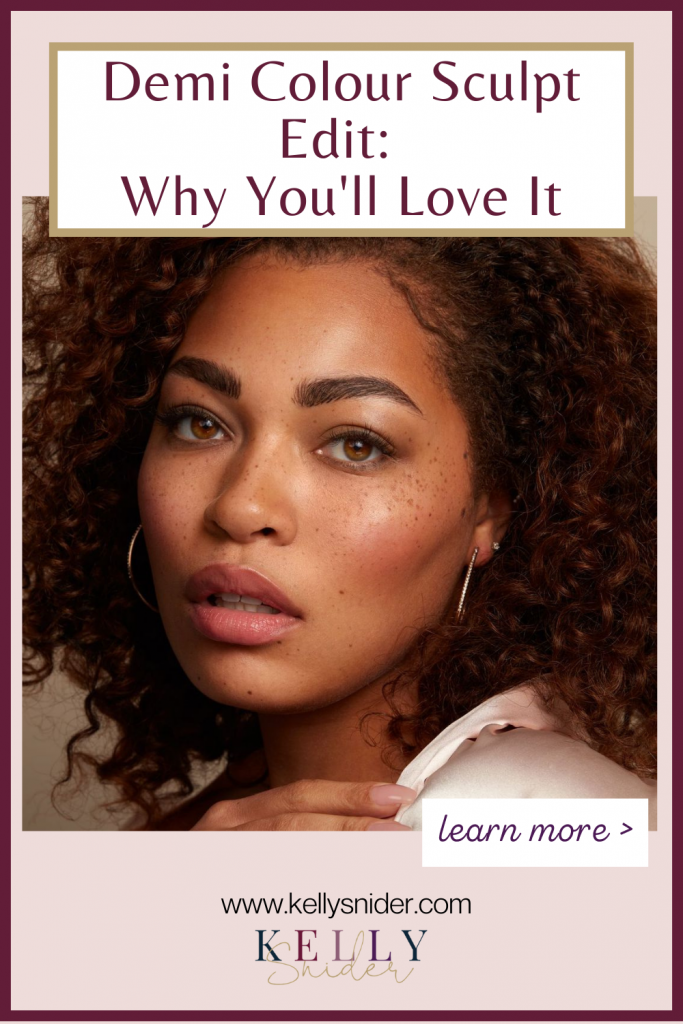 What is the Demi Colour Sculpt Edit?
The Demi Sculpt Edit is a collection of Demi Colour shades that enhance your facial features by creating shadows, depth, and dimension. Like the Filter Edits (found here), the Sculpt Edit shades are specifically designed to mimic the look of your bare skin while filtering out imperfections.
What is the difference between Sculpt and Contour?
The neutral shades of the Demi Sculpt Edit are perfect for building a depth of color on your skin and showing off your beautiful bone structure. All of this while adding dimension to your eyes, lips, nose, and face. If you are familiar with Seint Beauty's IIID foundation system, this will sound a lot like the concept of Contour. That's because it is very similar!
Like the Contour shades of the IIID foundation system, the Demi Sculpt Edits are great at neutralizing excess colors you have on your face. At the same time, they add in the dimension and shadows we all love to see. Also, the Demi Sculpt Edit shades are applied in the same areas of the face as you would apply your IIID Contour.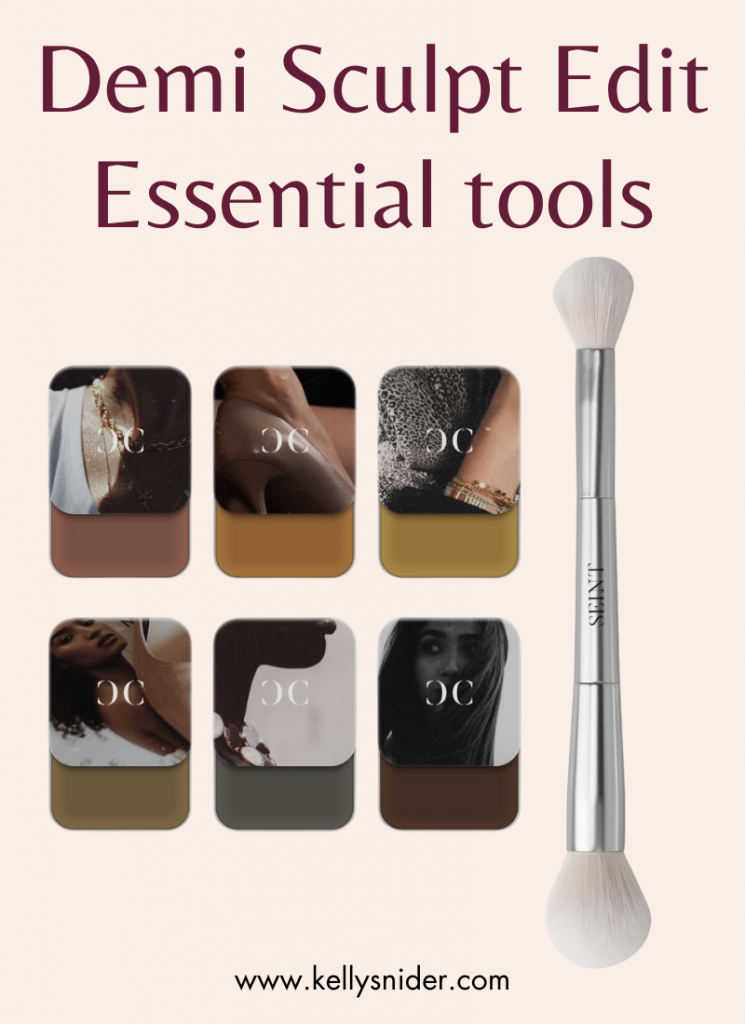 How do I choose the correct Demi Sculpt Edit shades?
To apply your Sculpt Edit shades to your skin, you first need to determine what shades to use. Start by looking at the areas where you will be applying your sculpt color. As you look at the area, try and determine what color you are seeing the most of. When you know what your undertone is, you'll be able to choose the correct shade of Sculpt by selecting a Sculpt shade that is complementary to your skin's undertones in that area.
In the Edit itself, there are 6 shades to choose from.
These shades are known as:
-NR (Neutral Red)
-NO (Neutral Orange)
-NY (Neutral Yellow)
-NG (Neutral Green)
-NB+1 (Neutral Blue +1)
-NV+1 (Neutral Violet +1)
The N stands for Neutral. This is how you know it is a sculpt color. The second letter stands for the added color saturation in that sculpt shade. For example, if you have green undertones in a particular area on your face, you will want to use the NR sculpt. This is because Red is the complementary color to green on the color wheel.
It is important to remember that it will take some time, practice, and patience to determine what your undertones are initially. Once you are able to determine what they are, you will love the effect that adding the right sculpt color can have!
With the Demi Sculpt Edit, you will have a perfect range of hues to create a natural and dramatic dimension on your face. No matter your skin tone, these Demi Sculpt Edit shades will work for you!
Applying Demi Colour Sculpt Edit Shades to your skin
When you've chosen your sculpt shade(s), it's time to apply the Sculpt to your skin. If you've contoured your face before, then you are probably familiar with where to place contour. If you are new to contouring, let me walk you through where to apply your Demi Sculpt Edit shades.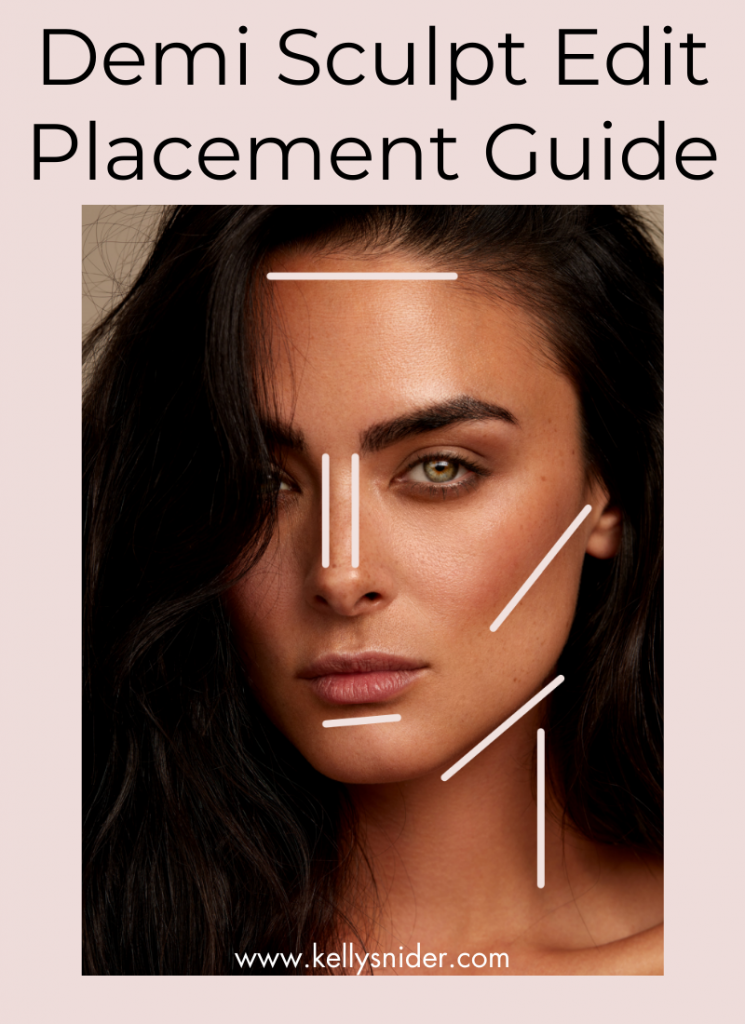 I always recommend that you start your application with the correct Seint Demi Colour brush. The Shape brush (found here) will make your application look flawless and help you get the look you are going for. It's specifically designed to lightly sculpt and define the features of your face. I love how this brush is shaped to fit in the contours of your face. And, the soft bristles are perfect for letting you build depth and dimension to your features.
To apply your Sculpt shade, start at the top corner of your ear and apply it down towards the corner of your mouth. Be sure to 'hug' the bottom of your cheekbone where you naturally have some shadowing. Look at how the shade looks on your skin and adjust the Sculpt Edit if you need to. Remember, you want to use a complimentary neutralizing shade on your skin.
Next, apply your Sculpt Edit shade along your hairline, under your jaw, and down your neck. Lastly, sculpt your nose starting at your eyebrows and connecting it at the tip of your nose. Sculpt around your lips as well. Once your sculpt has been applied, you can apply your Flush (blush) and your Demi Colour Edit shades.
Demi Colour Sculpt Edit by Seint Beauty
Now you know how to choose and apply your Demi Sculpt Edit shades to your face. This means you are ready to dive into the world of Demi Colour by Seint Beauty! To get more information and to be color matched for your own custom Demi Colour palette, contact me here. I love sharing this revolutionary new way of applying makeup. For more tips on Seint Beauty's products, follow me on Instagram @thecontouredlawyer.