So, you just got your new Seint Beauty Makeup. Congrats! You are going to LOVE it! As you get started with your new makeup, there are a few questions you might have. Today, I'm going to walk you through troubleshooting your new Seint Makeup based on questions I often get asked.
When you are learning how to use Seint Beauty's IIID foundation, there is a learning curve you need to be aware of. Don't be too hard on yourself if you feel like the application and results aren't quite what you want them to be on your first attempt at applying your new makeup. I'll go through 4 common issues and how to fix them!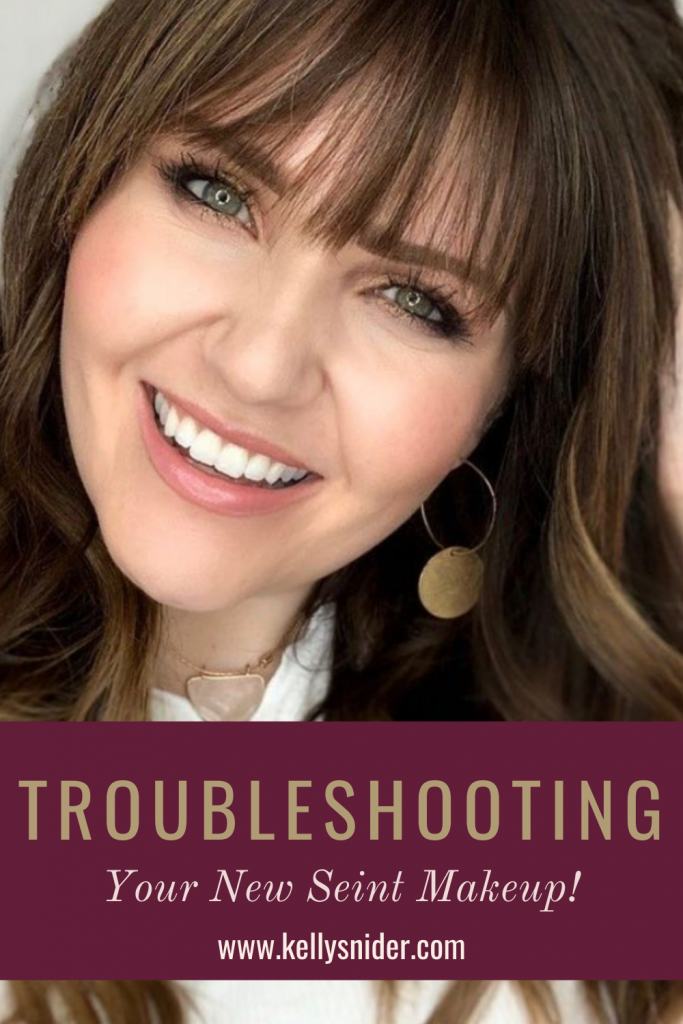 Troubleshooting Your New Seint Makeup
Problem: Contour is Disappearing or Looks Dirty
Do you feel like you put contour on your face and it disappears into your skin? Most likely you need to be more liberal in your contour application. People are so afraid of having a dark streak down the side of their face, that they go in with too light of a hand, making it so the contour can't even be seen. Here's a quick tip for you: Try stippling or dabbing your contour onto your skin and then gently buffing it out with really light, circular motions. This can help you get your contour in the exact spot you want it to be. At the same time, you'll be making sure you get the proper amount of product on your face. It will also allow the color to smoothly blend into the rest of your skin for a more natural finish.
Your contour should mimic the natural shadows on your face. If you feel like your contour looks muddy or dirty, you are most likely using the wrong contour color. You may need to try a different contour shade with a warmer or cooler tone. To figure out which shade is best for you, take my color match quiz here.
Problem: Makeup Isn't Setting or Seems Too Slippery
Have you had trouble with your makeup slipping and sliding across your skin? Does it seem that your makeup isn't setting and sticking to your skin?
Here are a few tips to try:
-Make sure you aren't moisturizing your skin immediately before applying your makeup. This can make it hard for the creams to adhere to your skin. Instead, try applying moisturizer at night or at least 10 minutes before you apply your makeup.
-Add Stay Setting Spray and/or Vanilla Dust Setting Powder to your makeup routine. Try using Stay Setting Spray as your primer before you apply your IIID cream foundation. Then, wait until it dries and apply your makeup like normal. Also, using Vanilla Dust Setting Powder after your makeup application is a great way to get your makeup to stay put all day!
-Less is more when using a cream foundation. Creams are more pigmented than a liquid or powder foundation, so it doesn't take nearly as much product to achieve the same amount of coverage. Start with the minimal amount possible, and then build as needed.
-Be sure to stipple your brush into your makeup tin to pick up the product, and then apply it to your face the same way. Never swipe. Stippling ensures that you pick up the right amount of product, and distributes it evenly on the skin.
-Also, don't forget that creams are more dewy in nature. Sometimes there is just an adjustment period that your skin needs to go through when being introduced to a new product, and sometimes you yourself just need to adjust. But, you can also add powder (like mentioned above) for a more matte finish if that is what you prefer.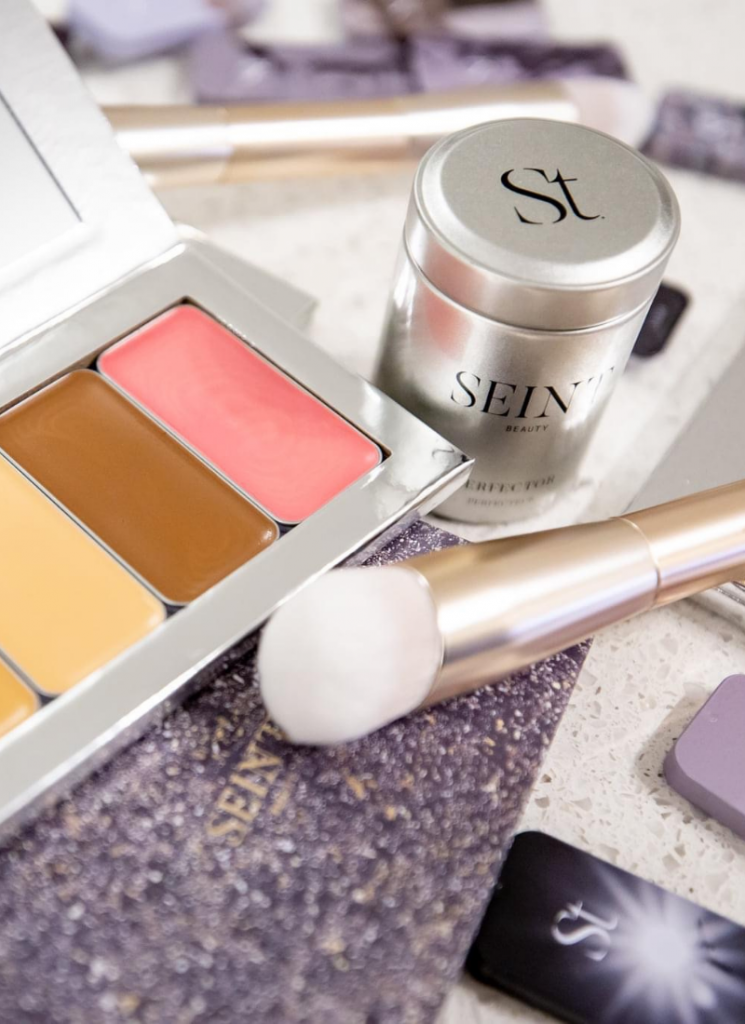 Problem: Makeup Creasing
If you look at your IIID makeup and you notice that there are creases on some areas of your face, don't fret! When it comes to troubleshooting your new Seint makeup, this is a concern that can easily be addressed. While creams are great for melting into your skin, you may have areas on your face that you don't want the creams to melt into quite as much. Think crow's feet, smile lines, under-eye circles, etc — basically any area where there is a lot of movement in the face. In these areas, be very careful about the amount of makeup you are applying.
The more makeup you have on in those areas, the more likely you will see creasing. So, instead of adding more makeup to get a thicker application, try using less makeup in those areas. This will help your makeup to not settle into those fine lines as much. And be sure to use the Perfector Sponge at the end of your makeup application, with special attention to those trouble areas. The damp perfector sponge will press in the product, and remove any excess, for a smoother finish. I also recommend using the Blend brush or the Blush and Bronzer brush to apply your IIID foundation in those areas.
Problem: Brushes Not Applying Makeup Well
If you feel like your brushes aren't applying your IIID cream makeup as well as they used to, there is a simple fix. Grab your Seint Brush Cleaner, and clean those brushes! Ideally, your brushes should be cleaned weekly if you are using them daily. Clean brushes will help your makeup apply more evenly and will help to prevent skin breakouts.
4 Tips for Troubleshooting Your New Seint Makeup
I hope these 4 easy tips have helped you troubleshoot your new Seint Beauty makeup. Remember, there is always a learning curve when it comes to a new makeup application routine. Don't be too hard on yourself if it takes you a few times to get it right. And, don't forget, I'm always happy to help my customers! Be sure to take my color match quiz to make sure you have the correct shades of IIID foundation and follow me on Instagram here for more tips and tricks.