The holidays are just around the corner, and everyone is thinking about what they want to put on their own Christmas list and what they need to put on their shopping list as gifts to give this year. I absolutely love this time of year. The excitement in the air, the changing of seasons, and the hustle and bustle of the holiday season just make me so happy. To help you with your holiday shopping (and your own wish list!), I've created some Beauty Lover's gift guides that you can shop from this holiday season.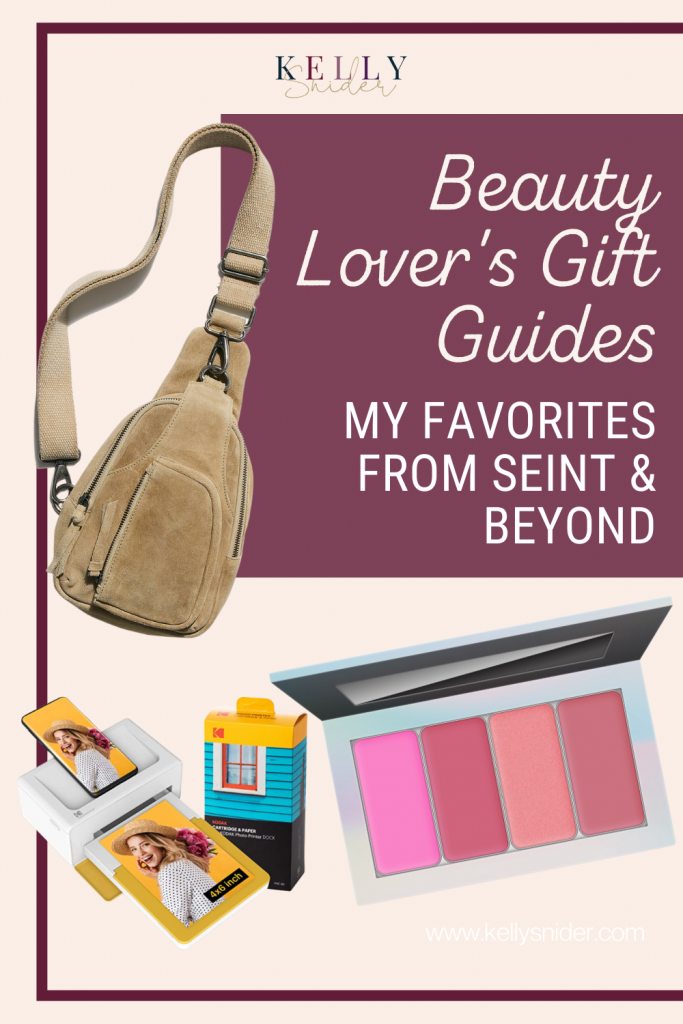 Beauty Lover's Gift Guides: Lip+Cheek Bundles from Seint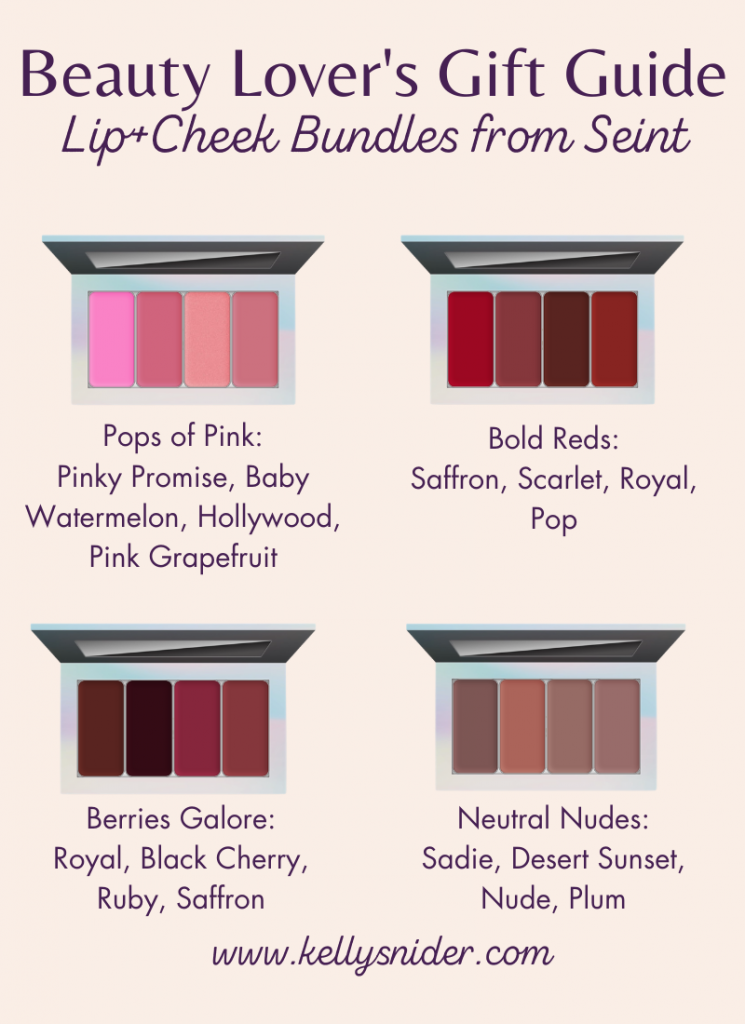 I love how versatile Seint's lip+cheek creams are. You can use them for your lips, cheeks, and even on your eyes for a pop of color! I've created these bundles out of my favorite and most popular shades. With how pigmented these Lip+Cheek colors are, you'll be amazed at how little you need to get the pop of color you're looking for. Don't forget to grab a Bronzer/Blush Brush to make the application super easy!
This bundle will make all your pink dreams come true with these 4 stunning pink shades from Seint Beauty. Pinky Promise, Baby Watermelon, Hollywood, and Pink Grapefruit make up this super fun pink palette that any girl would love!
Do you prefer bold and classic colors for your lips and cheeks? These bold red shades are perfect for any holiday look you're creating. And, they look amazing on every skin tone! You'll fall in love with Saffron, Scarlet, Royal, and Pop.
It may be winter, but that doesn't mean you can't enjoy your favorite berries! With Royal, Black Cherry, Ruby, and Saffron, you have all of my favorite berry-inspired shades in one palette.
For those that love a softer and more natural look, this bundle was created just for you. I've combined Sadie, Desert Sunset, Nude, and Plum into one bundle so you can mix, match, and enjoy these neutral shades to your heart's content.
Beauty Lover's Gift Guides: Custom Eyeshadow Bundles for Your Eyes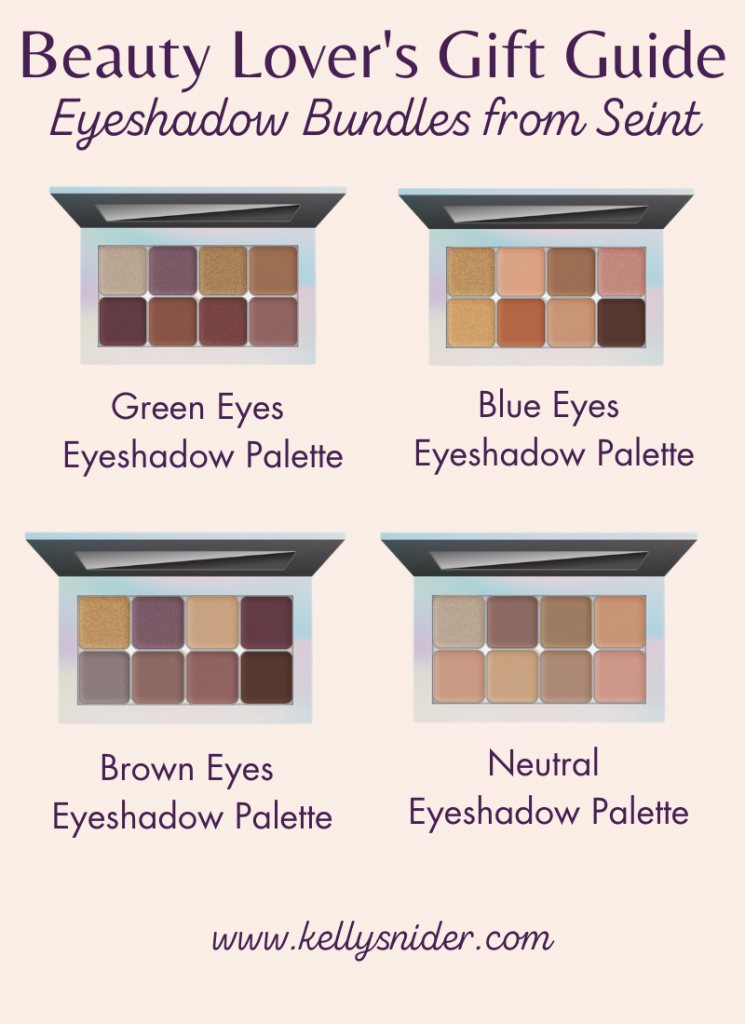 I get asked all the time about what eyeshadow shades go well together. I also get asked which shades look best with certain eye colors. To help answer these questions I've put together a few bundles with the shades that will make each eye color pop! I've also got a few blog posts (here, here, here, and here) with eyeshadow recommendations for each eye color so be sure to check those out.
Do you have green eyes? You are in luck if you do because this gorgeous eyeshadow palette will make your eyes stand out like they never have before! When you're building an eyeshadow palette, it's always good to have a mix of shimmers and matte shades. With this bundle, you've got both! Included: Drift, Eve, Revival, Bright Eyes, Kin, Zion, Lullaby, Bubba.
These 8 shadows are perfect for making blue eyes really stand out! You'll love the way these shades work together! Included: Peppa, Gold Digger, Blondie, Crush, Coco, Leo, Bubba, Valencia
Brown eyes can wear almost any eyeshadow shade. From warm tones to cool tones, bright bold colors to soft neutrals, you have your pick!! But to simplify things, these 8 shades will be perfect for making your eyes pop! Included: Cafe, Revival, Gold Digger, Stay Golden, Amethyst, Kin, Coco, Lullaby
Beauty Lover's Gift Guide: Eyeshadow Bundles from Seint You'll Love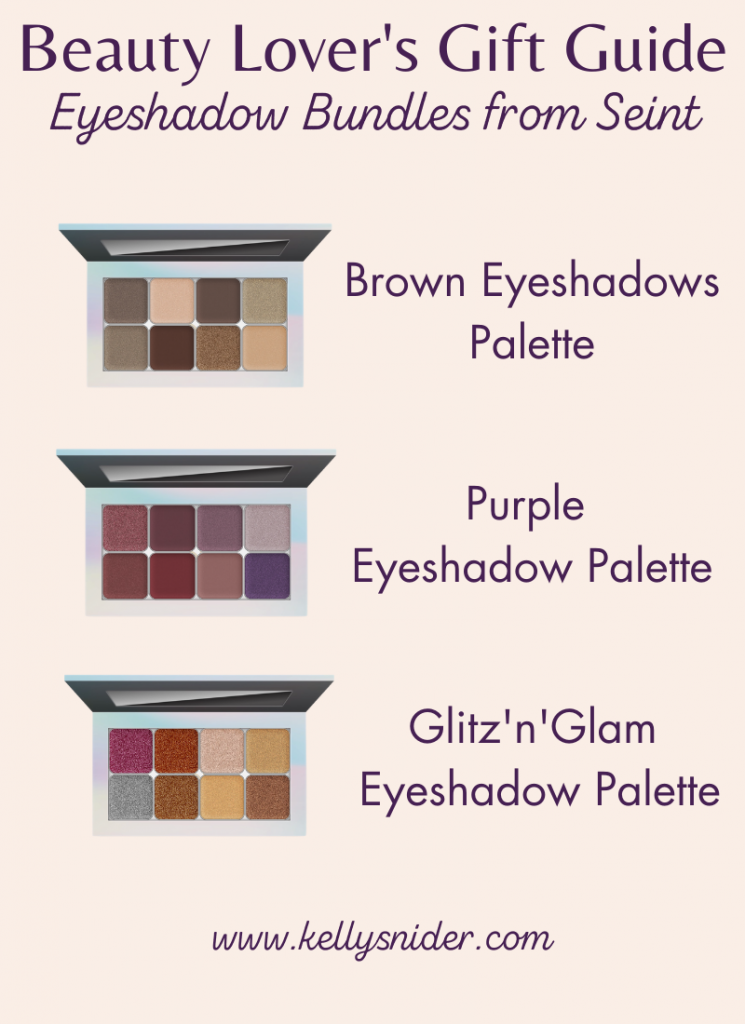 If you love neutral eyeshadow, you'll love this custom palette. I've picked my favorite neutral shades for this bundle! Included: Drift, Cafe, Chai, Stay Golden, Basic, Pup, Valencia, Mama
I love Seint's brown eyeshadows! They are stunning on everyone. They are perfect for adding some depth of color to various eyeshadow looks, and just as gorgeous when worn on their own. Included: Snow Bird, Rigoletto, Finn, Stardust, Stay Golden, Rome, Coco, Trust
Nothing beats a good purple eyeshadow. Purple eyeshadow gives a statement, while still offering a feminine touch. Whether you want to go bold or soft, you can create the looks you love with these shades. Included: Cranberry, Eve, Pomegranate, Revival, As If, Gigi, Kin, Lullaby
Glitz'n'Glam Eyeshadow Palette
Nothing says it's the holiday better than some sparkly glitter eyeshadow!! And Seint does glitter eyeshadows better than anyone! Trust me when I say, you just need them. These 8 shades will pack a punch and you'll be amazed at how well they stay put. Included: Angels Landing, Hot Chocolate, Gold Digger, Blondie, Dollywood, Graceland, Shenandoah, Lala Land
Beauty Lover's Gift Guide: Favorites from Seint Beauty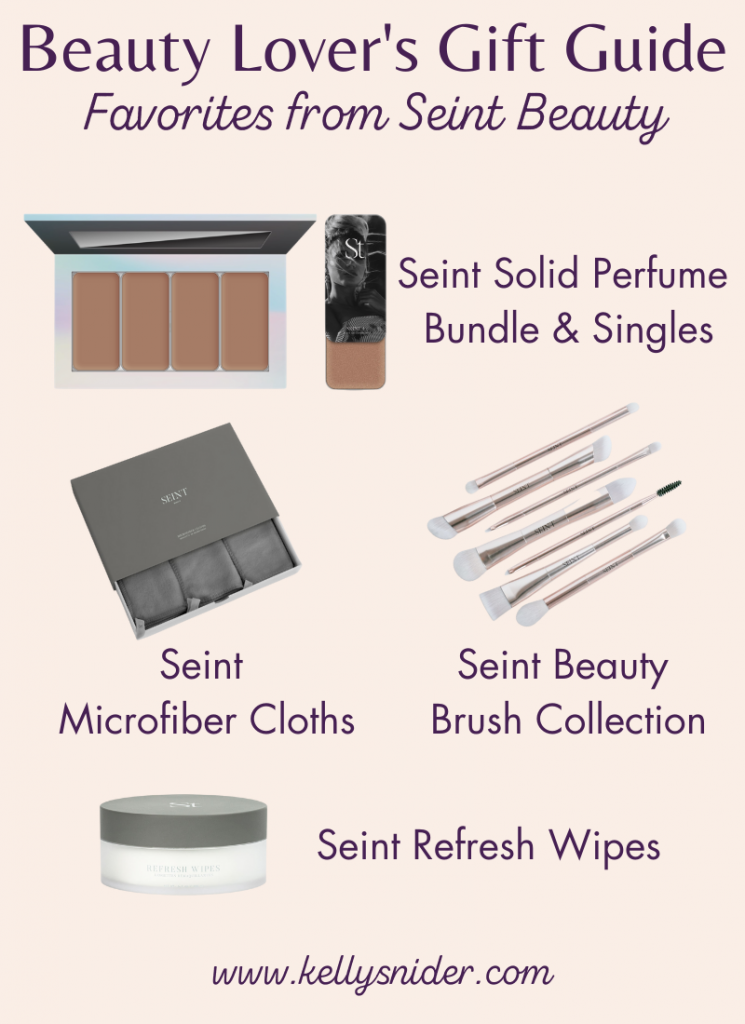 Beyond lip+cheek shades and eyeshadows, I have a few more favorites from Seint I want to share with you. Here are my other favorite products from Seint Beauty!
Seint Solid Perfume Bundle and Solid Perfume Singles
Seint's Solid Perfume is a game changer! These scented creams add a touch of shimmer and luster to your skin while also giving off amazing fragrance.
Microfiber cloths are the perfect thing to use when removing your makeup and cleansing your face. These cloths are soft, absorbent, and luxurious.
I've talked before about Seint's brushes, find that post here, but I'll say how much I love them again. These double-ended brushes are perfect for applying your makeup quickly and easily.
Make cleansing on the go a reality with these Refresh Wipes from Seint. Not only do they remove your makeup, but they contain skincare to cleanse and tone your skin as well! I love having these on hand for busy days and evenings. They're also perfect for traveling!
Beauty Lover's Gift Guides: Step Out in Style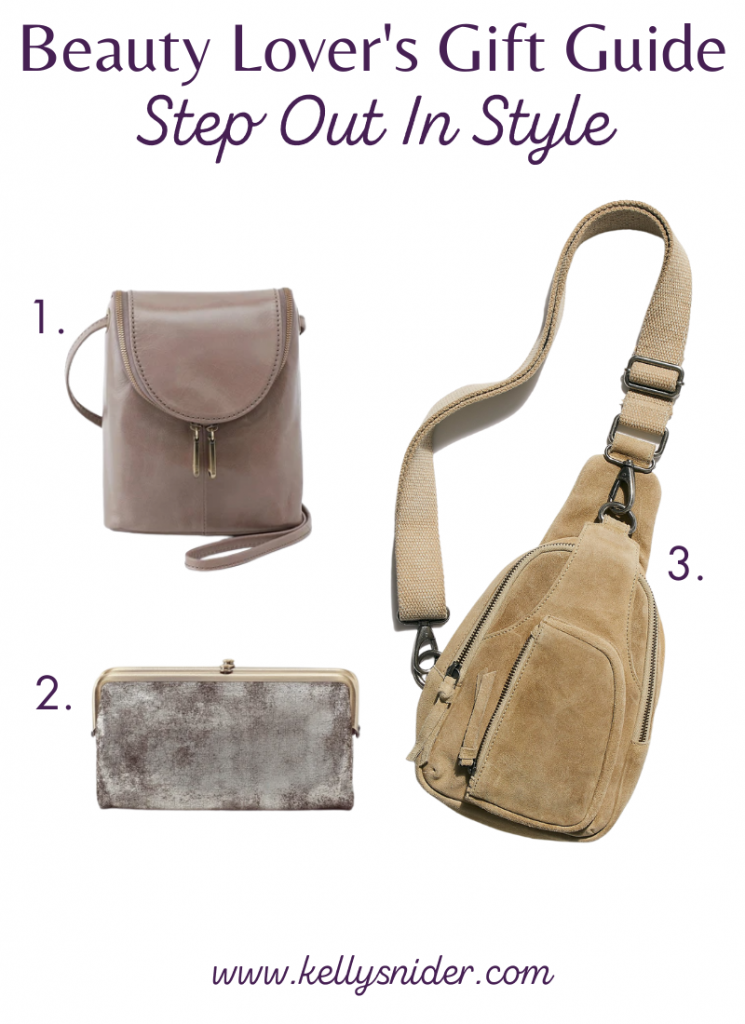 Every woman needs a good bag or two. These 3 bags are my current favorites! They work for everyday mom life, girl's night out, and date night.
2. Hobo Bags Lauren Clutch Wallet
3. Free People Hudson Sling Bag
Beauty Lover's Gift Guides: Pamper Yourself This Year!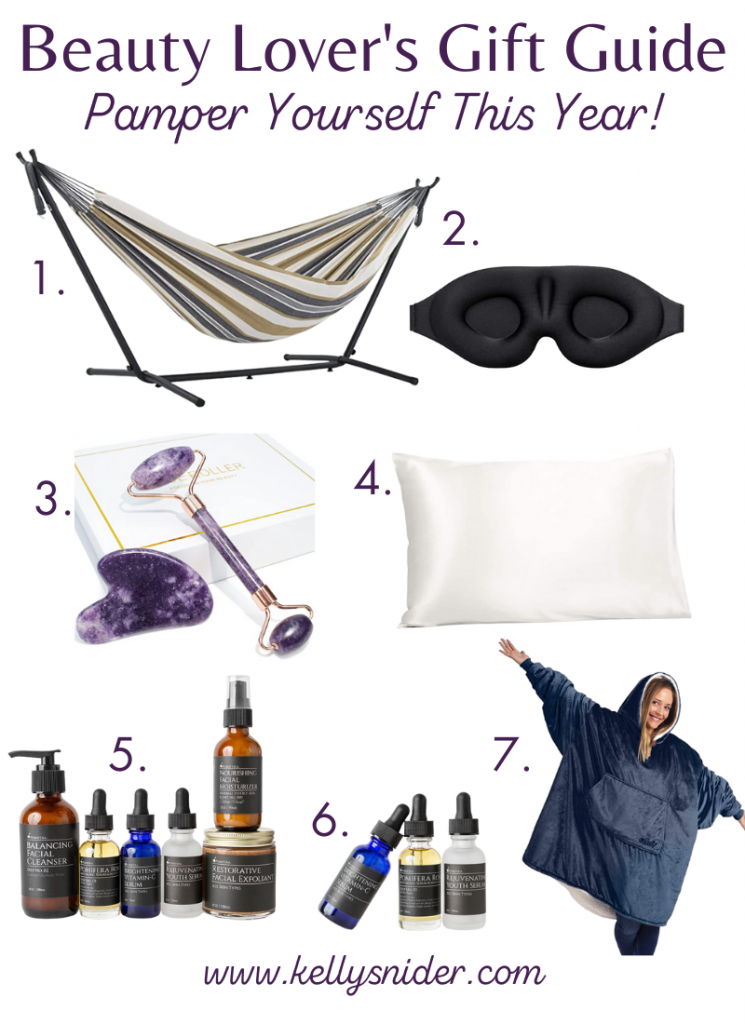 Who doesn't love to be pampered? These are the items on my list this year. What's on yours?
3. Gua Sha and Jade Roller Set
5. Pomifera Defying Nature Skincare Collection
6. Pomifera Power of Three Skincare Serums
Beauty Lover's Gift Guides: Gadgets Galore!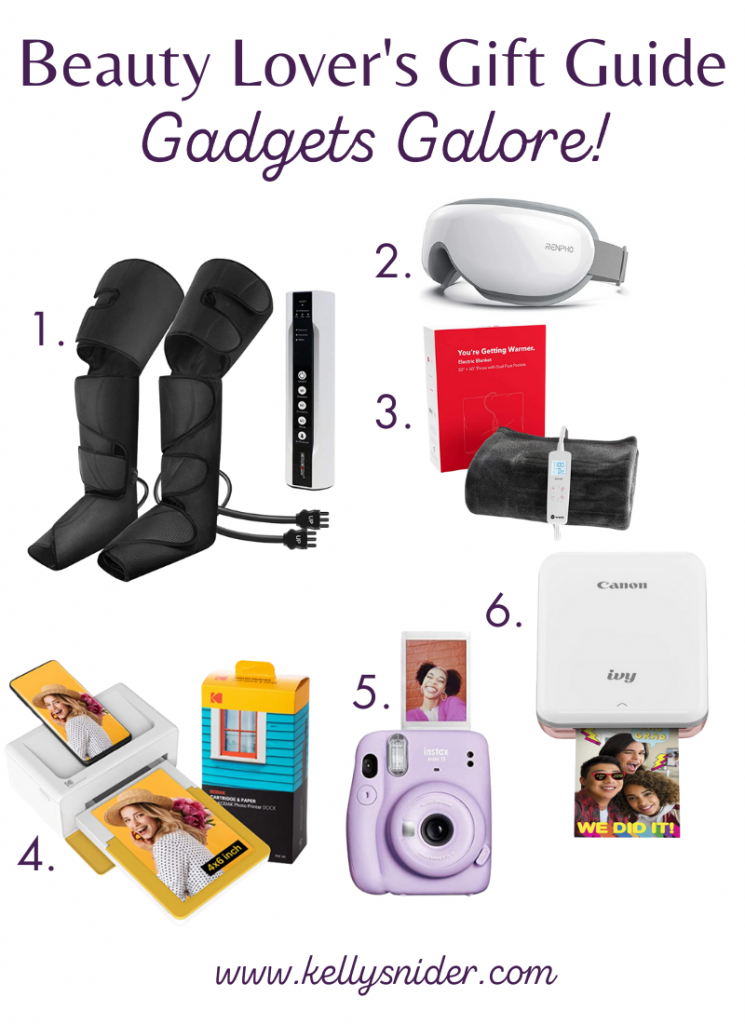 I love a good gadget. There are so many to choose from lately, but these have been my top favorites for a while now!
2. Electric Blanket with Foot Warming Pockets
3. Eye Massager
4. Kodak Dock Instant Photo Printer
5. Fujifilm Instax Mini Camera
6. Canon Mini Photo Printer for Phones
Beauty Lover's Gift Guides
I hope these gift guides have helped you see what's out there for the holidays this year. There are so many things to choose from, I had a hard time narrowing down what to include on my list. But hopefully, you were able to check off a few things on your list thanks to these guides. Merry Christmas, and happy shopping! And be sure to follow me on Instagram @thecontouredlawyer if you aren't already for even more beauty tips, tricks, and ideas!