Have you seen it? There is a viral eyeshadow hack going around that I know you are going to love! When you see this trending eyeshadow hack, it may seem intimidating at first. It relies heavily on using good eyeshadow products, because this hack is all about being able to blend the colors together. Luckily, when you use eyeshadows from Seint Beauty, your eyeshadows will blend like a dream, and you'll be amazed at just how easy the look is to create.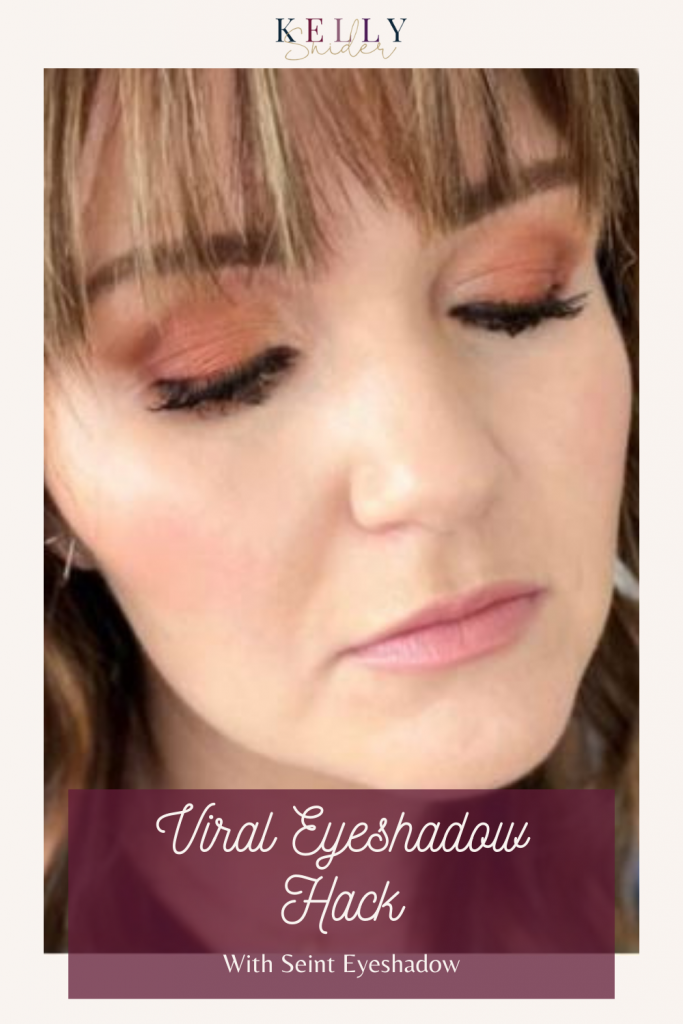 How to Accomplish the Viral Eyeshadow Hack
The viral eyeshadow hack trending right now consists of four eyeshadow shades, varying in depth of color. You just slap them on, in order from darkest to lightest, and then you blend them out for a stunning finished look! This viral eyeshadow hack is proof that eyeshadow application doesn't have to be intimidating. You just need to find the shades that look best on you.
Step 1 – Choose 4 Complimentary Eyeshadow Shades
Before you try out the viral eyeshadow hack, you need to make sure you have 4 complimentary eyeshadow colors that vary in their depth of color. I recommend selecting 1 dark shade, 1 medium shade, 1 light shade, and 1 brightening shade. On Instagram, I made a reel using the colors Holly, Moscow, Tangerine and Drift.
The key to this viral hack is to make sure the 4 colors will feed off of one another and blend nicely together. Another complementary color combination you could use is Eve, Cranberry, Sis, and Soul Mate. This look would be great for a romantic and flirty night out or even for a girl's night. Another great universal combo includes Hot Chocolate, Snowbird, Butterscotch, and Angel's Landing.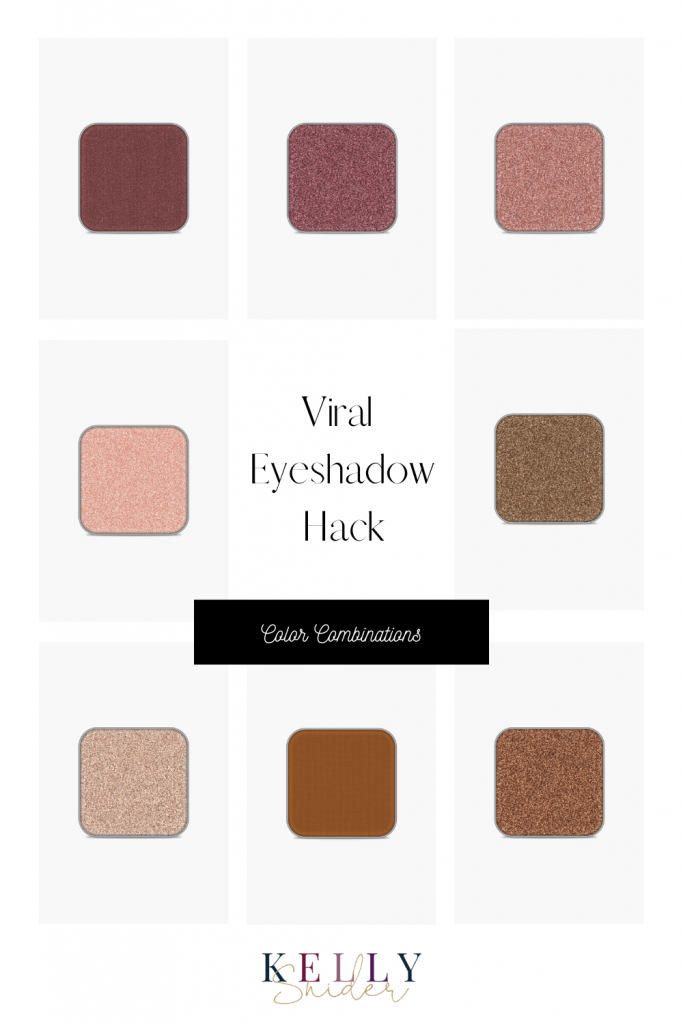 The great thing about Seint's eyeshadows is that each color is sold in an individual tin. Because of this, you are able to purchase the shades you want. You never need to worry about buying a full palette of colors that will never get used. You can mix and match shimmer, matte, and glitter eyeshadow shades, and store everything in a single compact. I love that everything with Seint is fully customizable, even down to the compact size. Seint has not only single layered compacts, but also double and triple layered compacts that help organize the looks you are going for and keep everything super simple.
Step 2 – Apply Eyeshadow Shades From Darkest to Lightest
Once you have chosen your combination of colors, grab your eyeshadow brush and the darkest eyeshadow shade out of the colors you picked. Using the small, dense end of your brush, start at the crease of your outer eye and paint a line down to the lash line at a slight angle. Repeat this process with each of your colors. Go from darkest to lightest and working your way from the outer eye towards the inner corner. Be sure to place each shade right up against the last shade so there are no gaps as you work your way across the lid with the 4 colors.
Since you are working from the darkest shadow to the lightest, remember to clean the dense end of your shadow brush with your brush cleaning tile before moving to the next shade. Cleaning your brush between shades will help each color remain bold and untainted. You will see the crisp lines you are making on your lid, and stop the colors from blending together before you are ready.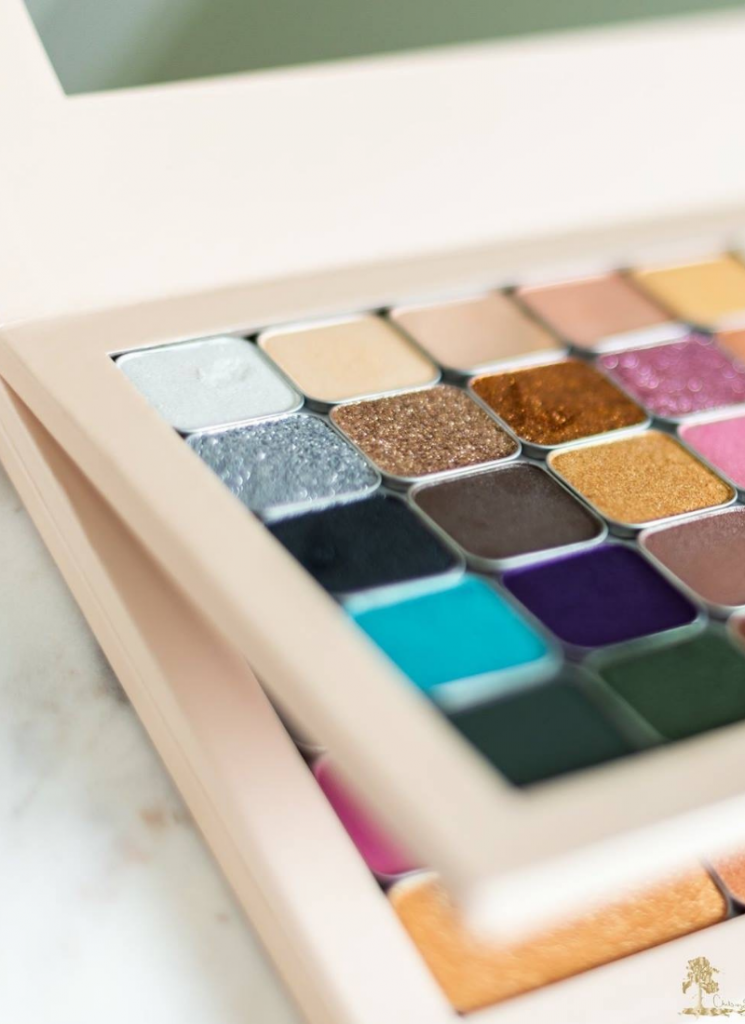 Step 3 – Blend The Eyeshadow Shades
After applying the eyeshadow colors, it is time for the final step in the viral eyeshadow hack: blending. Using the fluffy end of your eyeshadow brush, begin blending colors together from the inner corner (where the lightest shade is) to the outer corner (where the darkest shade is) using small, circular motions. This will allow the colors to marry into one another, for a smooth and seamless look. As you work towards the darker eyeshadow shades you can also blend up into the crease to create more definition in your eye. Once you have blended the shades together, the viral eyeshadow hack will be complete! Finish off your eye with some liner and mascara, and you will be good to go!
Viral Eyeshadow Hack with Seint Beauty
I hope this step-by-step walkthrough of the virtual eyeshadow hack shows you just how easy eyeshadow application can be. Especially when issuing products from Seint beauty. If you have any questions about Seint products, or questions about what eyeshadow combinations would work well together, contact me here. I also love showing how to use Seint products on Instagram and YouTube, so be sure to follow @thecontouredlawyer on Instagram and subscribe to my channel.