Seint Beauty has revolutionized the beauty products we use every day. Eyeshadow palettes are customizable so you don't get stuck with shades you never use. Bronzer, Foundation, Blush, Contour, Powder, and Illuminator can all be placed in a single compact, alongside your eyeshadows, so that all of your makeup can be kept in one place. They even have solid perfume. Yep, you heard that right. Seint Beauty has solid perfume. Is your mind blown?!? Mine was when I first learned about this product, and I want to share with you why I love Seint Beauty solid perfume so much.
What is Seint Beauty Solid Perfume?
Seint Beauty's solid perfumes take body fragrance and convenience to the next level. By infusing a scent into their Rose Gold Illuminator base, Seint was able to come up with another revolutionary beauty product that can be used in your daily routine. The scented cream adds a touch of shimmer and luster to your skin while also giving off an amazing fragrance. I love this product from Seint. Are you ready to hear why?
I Love That Solid Perfume Has Multiple Uses
I love that Seint Beauty's solid perfume has multiple uses. Not only will it make you smell incredible, but you can incorporate the Illuminator into your daily look. All you need is a quick swipe and dab of your finger. It can easily be applied on cheekbones, collarbones, under your eyebrows, and on your wrists. The rose gold shade compliments every skin tone, and no one will be able to tell that the Illuminator is where the amazing scent is coming from.
I Love That I Can Take Seint's Solid Perfume On The Go
Seint Beauty's solid perfume takes "freshening up" to a whole new level. You can discreetly re-apply your scent whenever you want, and take it with you on the go. Since the perfume is solid, you don't have to worry about carrying a bulky perfume bottle that could leak or break in your purse. The solid perfume is also perfect for traveling. You can toss it in your purse or even add it to your favorite magnetic Seint palette along with the rest of your Seint Beauty makeup. You can even carry multiple scents with you in case you want to mix things up!
I Love That The Solid Perfumes Scents Are Not Overwhelming
The 5 different scents available as a solid perfume are the perfect balance of noticeable, while not being overwhelming. Not only does the illuminator brighten up your look, it also lightly refreshes you. The perfume gives you that extra boost of beauty and confidence without overwhelming the people around you. Now all you need to do is choose which scent to start with…or just snag all 5!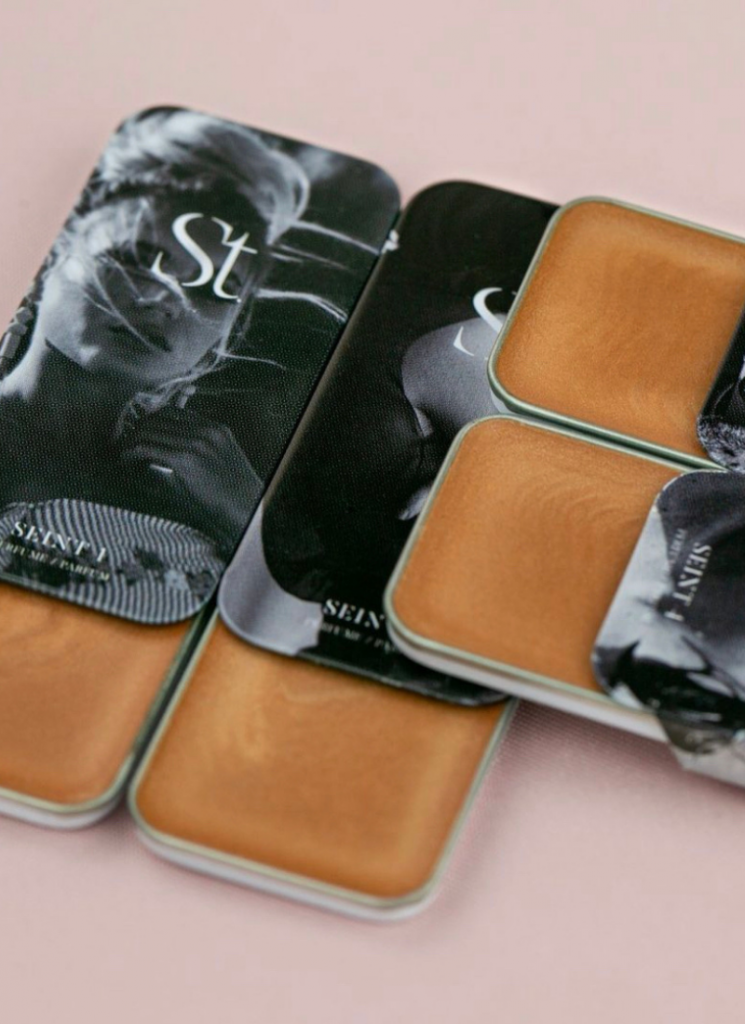 If you love vanilla, you are going to love Seint No. 1. This solid perfume is a mix of floral perfection and fruity notes layered with vanilla undertones.
If you prefer citrusy sweet scents, you definitely need to try Seint No. 2. When wearing this solid perfume you are going to love the bright citrusy medley that is balanced with smooth sandalwood.
Let me tell you, Seint No. 3 is a definite favorite of mine. I love that it is a refreshingly sweet and simple profile. It is more of a traditional perfume smell of Whitemusk that leaves me feeling my absolute best. But honestly, you can't go wrong with any of the scents.
If Java is your jam, you need to get your hands on Seint No. 4. This solid perfume has base notes of coffee and cocoa while also blending almond with tuberose crystal.
This scent is the latest addition to the Seint Beauty's solid perfume family, and is the perfect medley of scents! This solid perfume has hints of peach with light jasmine and iris that are complimented with rich and creamy notes of coconut and macadamia nut wrapped in layers of vanilla, heliotrope and musk.
Why I Love Seint Beauty Solid Perfume
Have I convinced you that you need Seint Beauty's Solid Perfume yet? If you haven't already added at least one of the scents to your cart, you absolutely need to!
If you want to learn more about all of the Seint products, you should join me on Instagram and YouTube. I love showing off Seint products on my channels so that people can actually see how amazing the products really are. Come find me at @thecontouredlawyer or contact me if you have any questions.