Have you ever seen someone that looks like they are radiating light from the inside out? There are definitely some people that just have a natural glow, but chances are that they have brightened up their look through the magic of make-up. Since everyone wants that lit-from-within glow, this is why everyone needs to use a brightening highlight.
What is Unique About Seint's Highlight?
Seint's brightening Highlight is unique and not like other highlighters out there. Seint's Highlight is equivalent to traditional foundation products from other brands. But unlike traditional foundations, Seint's Highlight not only helps to even out the skin tone it also brightens your skin tone as well. Just as Contour is used to pull features back, Highlight is used to bring your natural features to the forefront by lightning and brightening key areas of your face. It is one of the most versatile beauty products available because it can be used in so many ways to enhance your best features.
I always recommend using 3 Highlight shades when I color match my clients. You need one color correcting highlight shade, a regular Highlight shade for all-over coverage (think traditional foundation), and a lighter shade to use as a brightening Highlight (I'll talk more about this below.) The cream-based products act as a second skin. They move with your skin instead of settling or looking heavy and dull. The Seint Highlights give you flexibility of coverage without hiding what you love. Linen, White Peach, and Aura are just a few of the most commonly used brightening Highlight shades.
Why Everyone Needs a Brightening Highlight Shade
I've talked about what makes Seint's Highlight so special, but why does everyone need a brightening highlight in their makeup palette? Everyone needs a brightening Highlight in their makeup kit because it is the most natural way to enhance your best features. What is your favorite feature? Have you ever tried using your Highlight to have that feature pop?
Key Areas To Use a Brightening Highlight Shade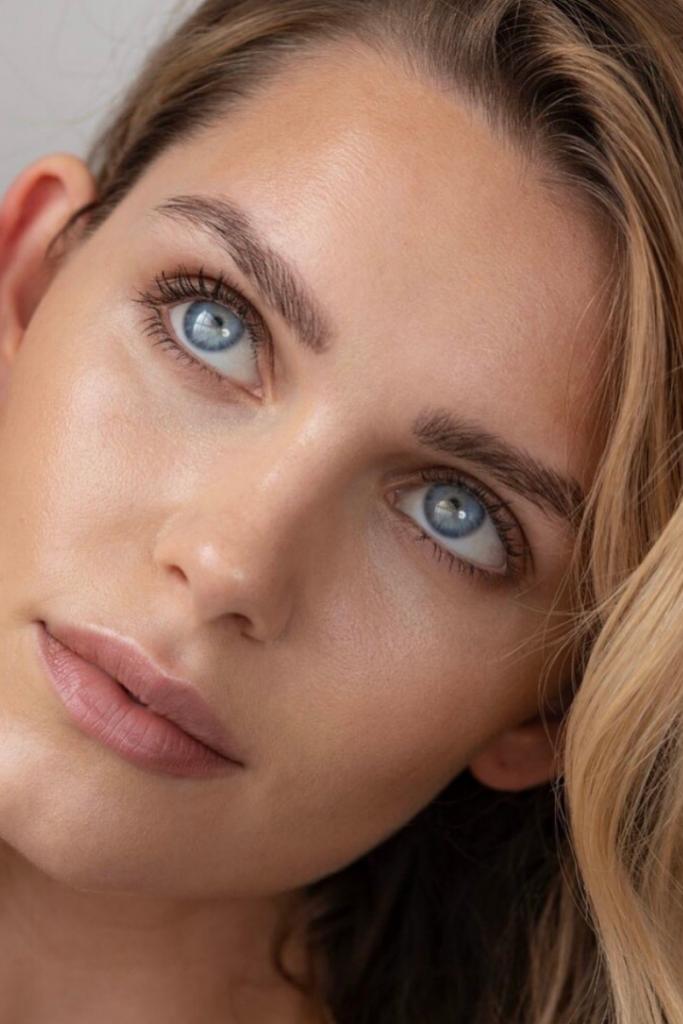 Under the Eyes
Our eyes are often one of our best features. As the saying goes, "eyes are the windows to our souls". You can use Seint's Highlight to emphasize your eyes, and really make them pop! Just add an extra pop of brightness by placing your brightening Highlight at the inner corner of your eyes and extending it down the side of your nose. You will also want to add your brightening Highlight along the outer corner of your eye as well, and then extend it to the outer edge of your brow. You want to avoid creating an inverted V under your eye, so stick to these two key spots. I recommend using the small rounded end of your Detail Brush to do this.
I recently made a Reel that walks through this process of properly brightening under the eyes. You should check it out! I am also available for personalized makeup consultations if you need additional help.
Enhance Your Lips
Another reason everyone needs a brightening Highlight is to enhance their lips. To give your lips a little extra pout, use the rounded end of your Detail Brush to place your brightening Highlight above your cupid's bow before applying lip color. Or, for a more detailed and fuller looking lip, use the Multitasker Brush to outline your cupid's bow with your brightening highlight. This will make your lips appear more full and also help to prevent lip color from spreading. If you are looking for the perfect pout, you definitely need to add a brightening Highlight into your daily routine.
On the Bridge of the Nose
Highlight can also enhance the natural features of your nose. Place your brightening Highlight on the bridge of the nose with a super small brush, like the Smudge Brush or Eyeshadow Brush, or the tip of your pinky finger. This will help make your nose appear thinner. You can also pair your brightening Highlight with Contour to get even more definition.
Enhance Your Jawline
Usually, when make-up artists talk about adding dimension, the first product they mention is Contour. While it is common to talk about contouring along the cheekbones, you also need to use a brightening Highlight to truly define your cheeks and finish your look.
You can even give yourself a natural facelift with a brightening Highlight shade. If you want to try giving yourself a natural facelift, grab your Buff Brush and your favorite shade of brightening Highlight. Moving in an upward motion, place your brightening Highlight under the outer corner of your eye and extend to the outer edge of your brow with the smaller end of your Buff Brush. Next, take your brightening Highlight shade and place it along your lower jawline. If you want an even more defined look, press the Highlight up against your Contour line. This will clean up your contour and give it a crisper and more defined edge.
Why Everyone Needs a Brightening Highlight
Using a Highlight to brighten up your face is a game-changer. Honestly, it's something everyone needs to have in their makeup kit. It will help give you that lit-from-within glow and bring your natural beauty forward. If you don't have a brightening Highlight yet, I would love to help you find the shade that will help you best enhance your beautiful features. For more beauty tips and tricks, be sure to follow me on Instagram @thecontouredlawyer and check out my YouTube channel.