Have you heard of Seint makeup before? Seint started as Maskcara Beauty, and at the end of 2020 changed its name to Seint Official to match its new vision. I recently talked about all things Seint Official here. Now it's time to look at the products Seint Beauty has to offer and answer the question, "What is Seint Makeup?"
What is Seint Makeup?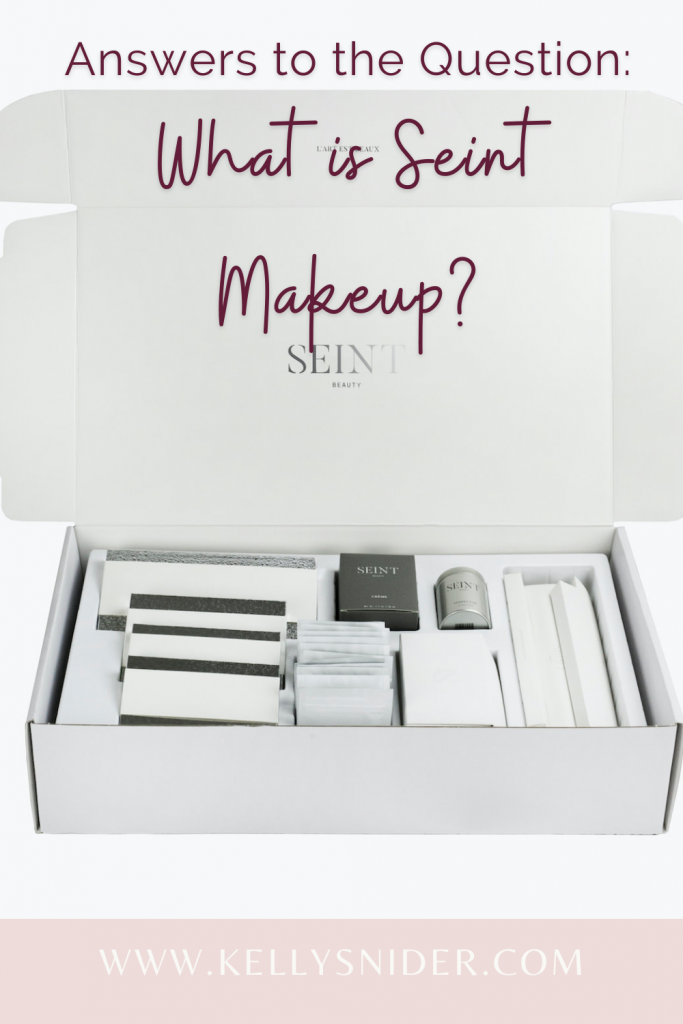 What is Seint Makeup?
If you are looking for easy and effective makeup, that leaves you looking and feeling better than you ever have before, then Seint (formerly Maskcara Beauty) is your answer!
Seint Official is a beauty line designed with the purpose of making makeup simple. As a makeup artist herself, the founder of Seint, Cara Brook, wanted to make products that would be easy for women to use while also accentuating their natural beauty. Her original line featured her groundbreaking IIID Foundation and has blossomed into so much more.
IIID Foundation
Seint Beauty's revolutionary IIID Foundation incorporates a method of highlighting and contouring that allows women to use less product and spend less time applying their makeup. Instead of applying a single shade of foundation all over your face, Seint's cream-based IIID Foundation is made up of four different colors: Highlight, Contour, Lip+Cheek, and Illuminator. Each color is applied to a specific area on the face (think paint-by-numbers). Then blended out into a seamless finish. Not only will this give you a natural, dewy glow with great coverage, but this cream-based makeup will also look like a second skin, allowing your beauty to be the focal point.
Seint Beauty's founding IIID Foundation line that started the company is still going strong. But, now it has an even wider variety of shades. As Seint has continued to expand, so has their product line, allowing you to add even more incredible products to your makeup routine. If you are anything like me, you might just need to try them all.
Seint Products
I already mentioned Seint's Highlight, Contour, Lip+Cheek, and Illuminator when talking about the revolutionary IIID Foundation. In addition to those products, Seint Beauty also carries Bronzer, Eyeshadow, Eyeliner, Brow Wax, Skincare, Brushes and Tools, Customizable Compact, and Perfume. There is such a wide range of products. All your beauty needs are met within a single beauty line.
What Sets Seint Apart
Seint makeup is completely customizable, and allows you to carry your entire makeup routine in a single compact. With Seint makeup, you no longer need to dig through a makeup bag full of bottles, tubes, and containers. Each product sits neatly next to each other in magnetic tins that fit inside your compact. This allows you easy access as you move your brush from one product to the next. Everything you need – IIID Foundation, Lip+Cheek, Illuminator, etc.– all in one convenient place!
Another thing that sets Seint Makeup apart from others, is the fact that it is long-lasting. Seint's cream-based products move with your skin throughout the day, extending the life of your perfect look. This also means it stretches the life of the product itself too. I also love that Seint makeup is incredibly versatile. The products were designed to serve more than one purpose. Lip+Cheek can be used as both blush and lip color. Perfumes can be used for their amazing scents as well as an Illuminator. Contour isn't just contour. It can be used to help sculpt your face as well as line your lips or fill in your brows!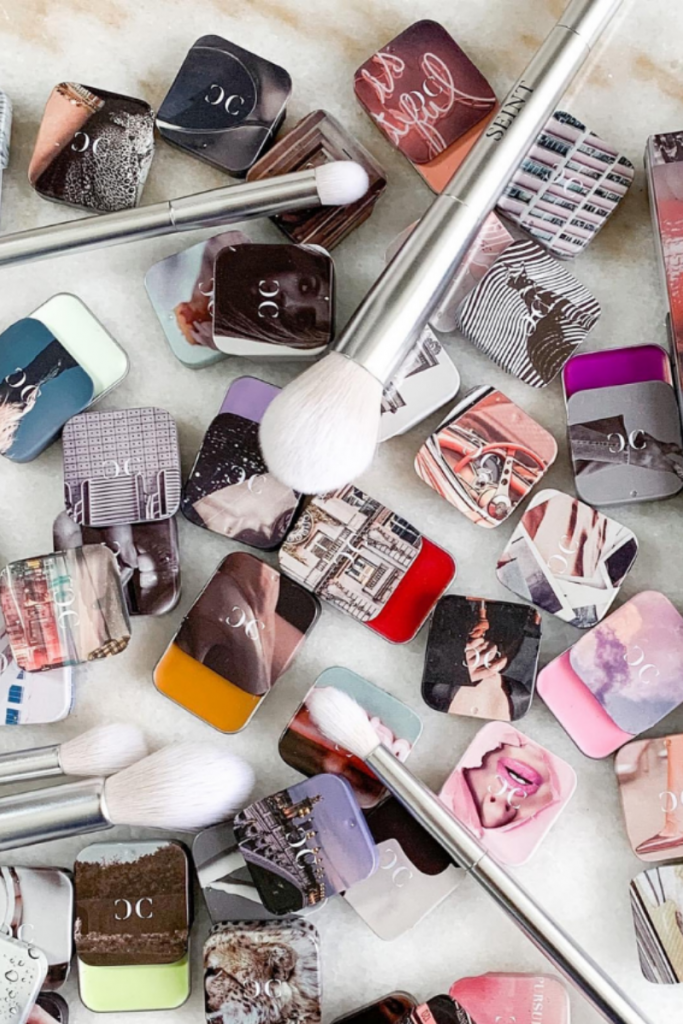 Can you see why I love Seint makeup so much? The makeup is unique, affordable, long lasting, and gorgeous. With so many options to choose from, it can be hard to know where to start, but Seint already has the solution.
Seint Makeup Collections
With so many products to play with, I think the best way to get started with Seint is with one of their perfectly curated makeup collections. What makes these collections special is that the collections come in a variety of sizes. You can choose between a collection that provides the bare essentials. Or there are options all the way to the most advanced collection with absolutely everything you need to get started. These collections allow beauty lovers to find their own perfect match. You can read more about these collections HERE.
And don't worry, if you aren't sure about what your perfect shade is, I am always here to help with color-matching. You can take my color match quiz or I can help you find your perfect shade with a color match photo.
What is Seint Makeup?
It is no secret that I love Seint makeup and now you know why. If you are interested in seeing how I use Seint makeup, join me over on Instagram @thecontouredlawyer and on my YouTube channel. I love sharing tutorials and the latest products that Seint Official has to offer.