If you have heard of Seint makeup, you have likely also heard about Seint Demi Correctors. This innovative approach to color correction is like nothing else on the market. But as a Seint Artist, one of the things I get asked about the most, is how to know which Demi Corrector to use.
Whether it's for covering a blemish, dark under eyes, melasma, or dark spots – Seint Demi Correctors can help! Demi Correctors use color science to neutralize the excess colors in your skin causing distractions. Instead of using concealer, take a look at the color that needs to be corrected. You will then want to use the Demi Corrector which is a complimentary color to that distraction. It takes some time to understand how Seint Demi Correctors work, and which Demi Correctors to use, so be sure to keep reading!
How to Know Which Demi Corrector to Use
A common way to determine which Demi Corrector to use is by learning what the excess colors are in your skin causing the distraction. For example, while looking at a blemish, the automatic color most associated with it, is red. However, this is rarely the case. More often than not, if you look closely at a blemish's tones, it actually has deeper and darker shades of red to it. Those deep, dark shades of red contain an excess of blue and purple. So in order to correctly neutralize a blemish with excess blue and purple, with an orange or yellow.
Understanding color theory may seem basic, but it is essential to use Demi Correctors the right way. Remember, the color wheel has primary colors, complementary colors, and analogous colors. The primary colors are red, yellow, and blue. Complimentary colors are the shades opposite on the color wheel to the primary colors. So complementary colors are: red and green, yellow and purple, and orange and blue. Analogous colors are the different shades of a specific color on the color wheel. They're typically right next to the main color.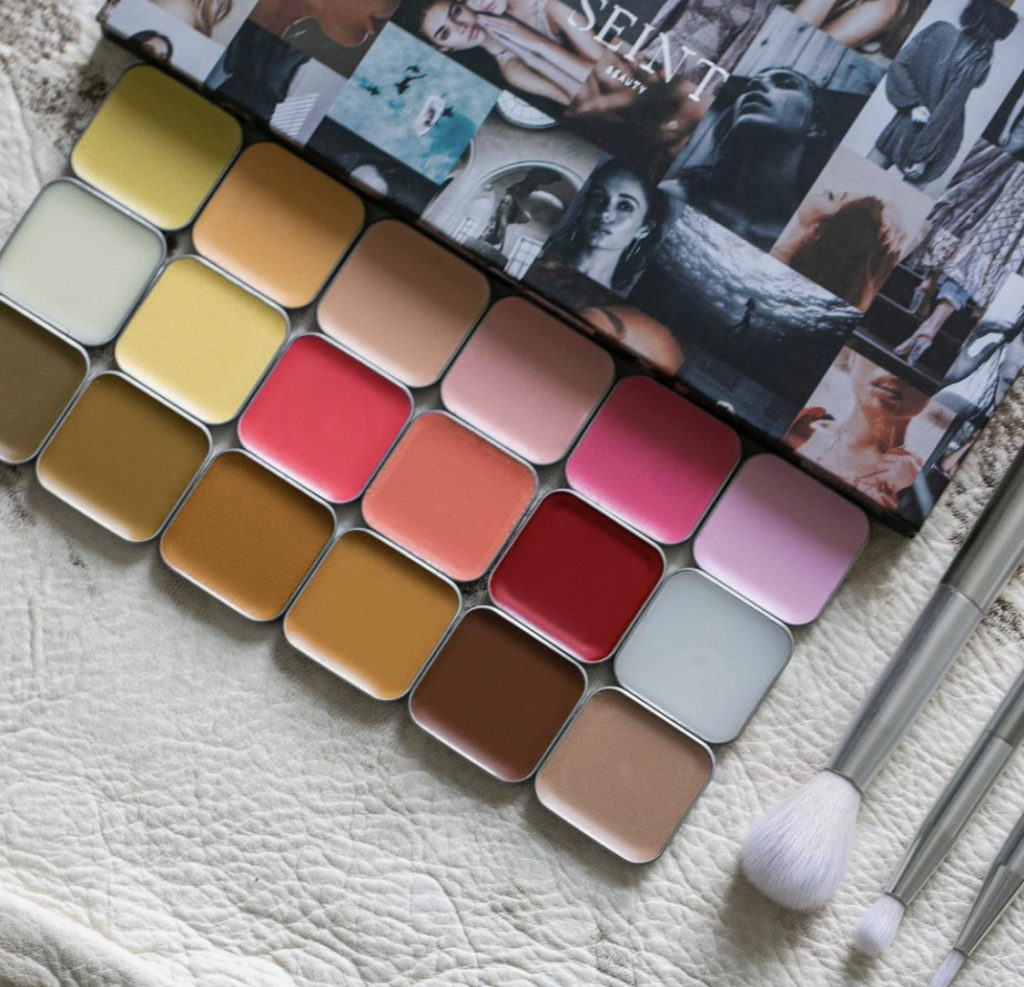 Demi Corrector Cheat Sheet
Using Seint Demi Correctors can be tricky, especially when you are first getting started. But once you are able to correctly identify the excess colors in your skin that are causing the distraction that you want to cover, using Demi Correctors becomes really simple. All you have to do is then use the complementary Demi Corrector on the area to neutralize it. So let's dive into learning how to know which Demi Corrector to use.
Excess Blue
Blue in skin tones will appear as a dark area. Often, it will appear ashy or shadowy and can even look dark purple. To correct excess blue in the skin, use a Demi Corrector with Orange (O) in it. O1 and O3 are the most common ones to use. However, there are other Demi Shades with orange in them, including O5, O7, YO1, OY1, RO1, and OR1.
Excess Green
Excess green will look brown on the skin. It usually looks muddy and can even appear dark orange. Most often, excess green can be found in melasma, age spots, sun spots, and freckles. To cover green distractions, Demi Correctors with Red (R) will be best. Demi Correctos with Red in them includes R1, RO1, and OR1.
Excess Violet
Violet in the skin will most likely be what is typically called "redness". Excess Violet is both dark (like blue) and saturated (like red). This is because blue and red make violet. It typically appears in blemishes, rosacea, and broken capillaries. When you are color-correcting violet, you will want to use a Demi Corrector with Yellow (Y) in it. The options for this are Y1, OY1, and YO1.
Excess Red
True red rarely appears on the skin. But when it does, it appears hot, inflamed, and angry. It is most common in new blemishes, acne, and rashes. To correct red, the best color to use is Green (G1). In addition to green, Y1 and O1 can also be combined because purple and blue are often found with red.
Excess Orange
Orange is a rare distraction to find in skin tones. It is usually at the center of an unpopped blemish or on fair skin tones. The Blue (B1) Demi Corrector will work best to cover these orange distractions.
Excess Yellow
Lastly, yellow is another distracting color that can be found. Excess yellow most often appears in bruising, melasma, and inner eye corners. To correct the yellow, use Violet (V1).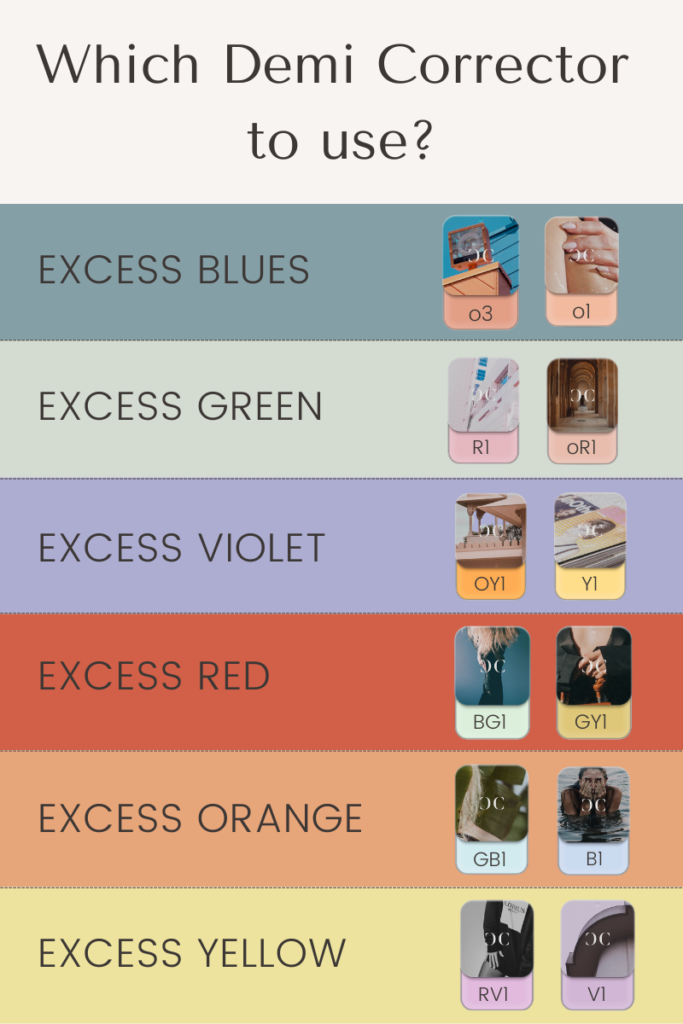 How to Apply Demi Corrector
One thing that I can't stress enough, is to only apply the Seint Demi Corrector to the color you're correcting. For the best precision with your application, use the spot brush when applying Demi Correctors to a specific area of your face. Read all the details and instructions to best apply Demi Corrector in How to Use Seint Makeup to Cover Blemishes.
Learning how to cover distractions is essential for most women. With Seint's Demi Correctors, distractions will disappear without leaving behind traces of excess makeup. There is truly no other makeup like this. The magic of Demi Correctors will leave your skin looking flawless.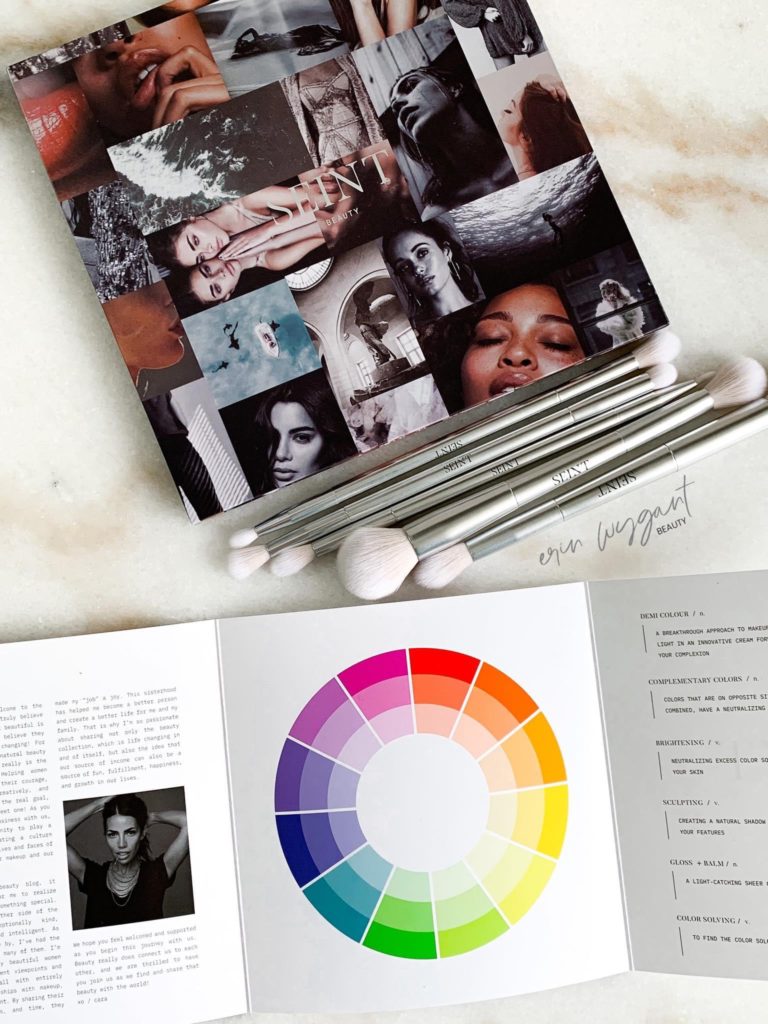 Know Which Demi Corrector to Use
As you use and become more familiar with Seint Demi Correctors, you will be amazed by how easy it is to erase the distraction on your face while still looking natural. Just be sure to use as little makeup as possible, because a little Demi Corrector goes a long way! And now knowing which Demi Corrector to use will be your best-kept secret for having flawless skin!