Want to look amazing without several layers of makeup or wasting hours in front of the mirror? By learning how to HAC, you can get a sculpted look with minimal product and minimal time! That's the dream, right?! So what does HAC mean? It's simple – Highlight and Contour. And you can learn how to HAC with these 5 easy steps to a sculpted face.
Steps to a Sculpted Face #1: Pick out the Right Shades
Before you can start highlighting and contouring your face, you have to first determine your contour and foundation shade – or shades. The truth is, everyone has more than one color in their face. When you use only one foundation shade for your entire face, you end up with a flat, dull look. That's why Seint IIID Foundation was designed to use multiple colors in a single layer for added dimension and definition. If you want to learn more about why you need multiple shades, you can learn more here.
With Seint, you can get your contour, foundation, bronzer, blush, and everything you need in a single compact. You can get your customized palette here. If you want more guidance on what colors to choose, you can get your FREE color match here!
GET YOUR FREE COLOR MATCH HERE
If you've been applying one all-over foundation shade to your face for years, then Seint IIID Foundation might feel overwhelming at first. But luckily, I have a lot of guides and tutorials to help people of all skill levels learn the game-changing magic of multi-shade cream foundations. Watch this tutorial here to learn how to create a dimensional, lightweight look for beginners!
Steps to a Sculpted Face #2: Know the Difference between Bronzer and Contour
To contour, you need to choose a color that is darker than your skin tone and more ashy in nature. Contour is meant to mimic the shadows of your face to create a more defined and sculpted look. To do this, you'll want to avoid typical bronzer colors because they are usually warmer and are meant to create a sunkissed glow.
While bronzers are important and fun, for contour it's important that you choose the right color. Seint's contour shades are amazing, but it can be overwhelming knowing which one to choose for your skin tone. Make sure to connect with me and take this FREE color match quiz that'll help you determine your perfect contour shade.
Take your FREE color match quiz here
Even though you can't use bronzer in place of contour, that doesn't mean that bronzer isn't important! Applying bronzer can add much-needed warmth to your skin and make you glow. Watch the video below to learn how to be a bronzer and contour master.
Steps to a Sculpted Face #3: Placement of Contour
The steps to contour are easy, and with practice, anyone can do it! Here are the following places that you need to apply contour:
Your hairline
Bottom of cheekbone
Jawline
Beneath Bottom Lip
Top sides of the nose
Applying contour to these 5 places will give you a flawless and sculpted look that you can accomplish in under 5 minutes. It will make a world of difference and become easier with practice. You can watch me apply them in this short video.
Steps to a Sculpted Face #4: Learn Where to Apply Highlighter & Illuminator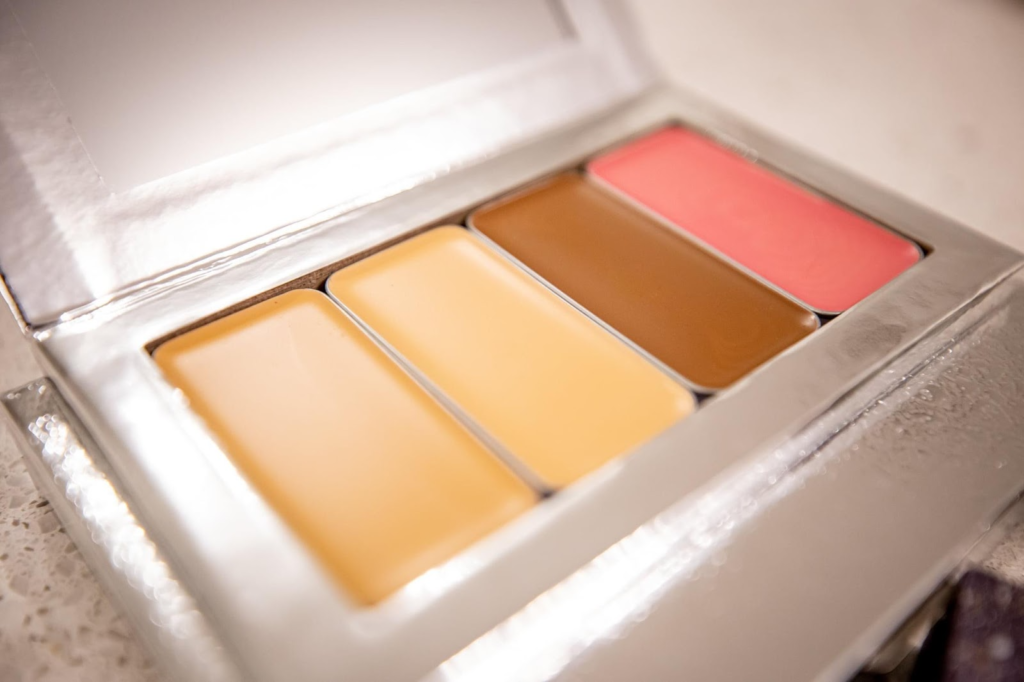 Seint highlighter and illuminator are completely different products–and it's important to learn how to use each one.
Highlighter
Seint Highlighter is a foundation color that helps brighten and even out your skin tone. I usually recommend at least 3 highlight shades for people. Highlight shades color-correct your skin tone when strategically placed.
This might seem overwhelming, but it can actually be done rather quickly. Watch this video here and start color-correcting your skin in a single layer to create dewy perfection!
While Seint Highlighter is one of the first steps of HAC, Seint's Illuminator is the last step to applying the perfect foundation. Illuminator gives your skin the perfect finishing touch! People traditionally apply it in the following areas:
Cheek Bones
Brow Bone
Center of Nose
Above Cupid's Bow
Illuminator
Illuminator also works great on other parts of the face! Check out these unique places I put my illuminator to elevate my makeup game and get the most out of my products!
Steps to a Sculpted Face #5: Use the Right Tools
One of my favorite makeup brushes to use is the Buff brush. This brush has two sides which makes applying your contour and highlight easy to do all in one brush.
Learn how to use just one brush to apply Seint makeup here.
Create a sculpted face by using the Viral Cheetah HAC
You can also use this brush to try the viral Cheetah HAC! This fun viral cheetah HAC is the process of strategically dotting makeup on your face, and then blending it to create a flawless, one-layer look. This is an easy way to HAC that anyone can learn. Watch me do the Cheetah HAC from start to finish here.
You'll want to try it for yourself!!
Now that you learned these 5 easy steps to HAC (highlight and contour)–it's time to implement them and have the sculpted face of your dreams!