If you struggle with darkness under your eyes, then you are not alone. It's a very common problem that I get asked about frequently. Dark circles under your eyes can be hard to cover up. But by using two of my favorite strategies, you can say 'goodbye' to those pesky dark undereye circles! So let's dive in and learn how to correctly use under eye color corrector, and get rid of dark circles for good!
Why Traditional Concealer Doesn't Work to Cover Dark Circles
In a world where bright concealers were once hailed as the saviors of dark undereye circles, a shocking truth emerges: they may be doing more harm than good. Not that long ago, we were taught to combat unwanted blemishes by selecting a bright concealer and swiping it under our eyes in a triangular shape, but it's time to debunk this common misconception.
By applying a light-colored concealer under your eyes, you're following the same principle as using a highlighter. Using light colors actually draws attention to the areas we want to diminish, rather than reducing their appearance. So instead of getting rid of the darkness, we're actually inadvertently emphasizing it!
This flawed approach also often leads to an excess of the product being used in an attempt to cover the darkness beneath. This results in the excess product gathering under the delicate skin of our under-eyes.
Throughout the day, this misplaced makeup can shift and settle, accentuating the very flaws we're striving to conceal. This is because the skin under our eyes is exceptionally thin and prone to movement, which can make your makeup settle in the folds of your under eyes. To avoid this common pitfall, it's imperative that we approach under-eye makeup with strategic precision and a light hand.
Getting Rid of Dark Circles with Seint IIID Foundation
When I color match someone to help them find their perfect foundation shade, I always recommend at least 3 highlight shades. These 3 highlight shades are essential for being able to maximize your coverage without having to put on multiple layers of makeup. One of the highlight shades that I recommend is a darker highlight shade that I refer to as the "color corrector" shade. The color-corrector shade matches the depth of the darker areas of your face and covers it up with minimal product and without emphasizing the unwanted area.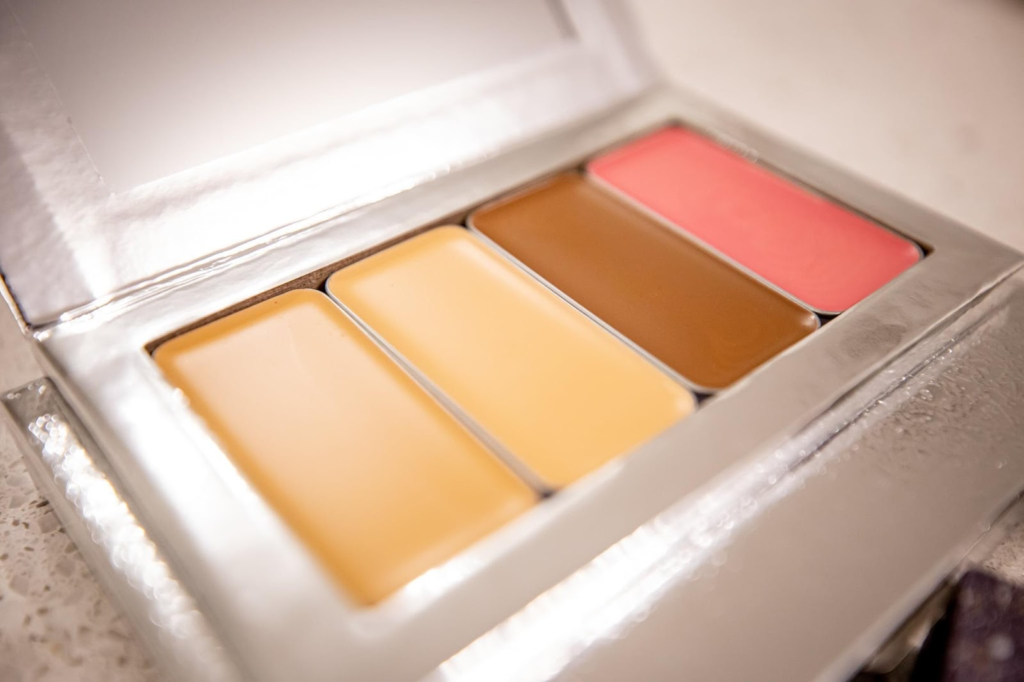 To apply, I take a smaller brush (like this spot brush) and apply a very small amount of the color-correcting shade to the darkest point under my eye, which is usually the inner corner. I am careful to only place the color where absolutely needed, and with a super light hand, using minimal product.
Then, I take a damp Perfector Sponge and gently press in the product while also lifting away any excess. Next, I use my lightest highlight shade and place it in the very inner and outer corner of my eyes, and then go back in with the perfector sponge to gently blend it out.
And voilà, your dark circles are hidden and your eyes are still being highlighted. This method is great for people who are new to Seint makeup because everything they need is in their Seint IIID foundation palette.
If you're unsure about what shades match your skin tone, then you can get a FREE color match from me here.
GET YOUR FREE COLOR MATCH HERE
Use Demi-Correctors for Your Under Eye Color Corrector for a more Natural Coverage
Seint's Demi Correctors is an amazing product line that works based on color theory and color science to neutralize problem areas on your face. The purpose of demi-correctors is to create a natural look that is almost like a second skin.
To do this, demi-correctors use complementary colors to neutralize dark spots instead of trying to cover them up. Like the first method using Seint IIID foundation, you are going to want to apply demi-correctors under your eyes with a very light hand and using minimal product
Personally, my under-eye circles are blue. So to neutralize them, I use blue's complementary color which is orange. I start in the corner of my eye and gently place the product until I have neutralized the dark spots under my eyes. This gives me a more natural look than the Seint IIID foundation method.
Both methods work and products work great for under-eye color correctors, but the Seint IIID foundation is just slightly easier to master when you are first getting started. However, if you're wanting a natural look, Seint's Demi Correctors will provide just that. If you're new to demi-correctors, then start with Seint's premade bundle called Wide Awake Edit. This bundle was curated specifically for tackling dark under-eye circles!
Get your WIDE AWAKE bundle today!
You won't believe the amount of coverage both methods give me, while still giving me their own unique look. Don't think it'll make a difference? Watch my dark circles disappear here as I put these two methods into practice!
So if you're ready to tackle those dark under eyes, then get your FREE color match today!