I am a mother of 5, a lawyer, a wife, and a 'doer' of all the things! Because of this, I have plenty of mornings where I wake up and the first thing I notice is those pesky dark circles underneath my eyes. While there are natural ways to treat dark circles (I'd love to get more sleep!) I love that my Seint makeup has everything I need to look awake, fresh, and ready for all my day has in store! As a Seint expert, I've put together all the information you need on how to cover dark circles.
The Foolproof Way to Cover Dark Circles
The skin area under our eyes can take on a blue and purplish tint. The skin in this area is also extremely thin. The colouring can be affected by inflammation, lack of sleep, low iron- lots of different things! As a mother, I know how hard it can be to take care of yourself. One thing that helps is by investing in a solid Skincare System. I love that this bundle of skincare from Seint comes with a cleanser, toner, and creme. It truly has everything you need to start taking better care of your skin!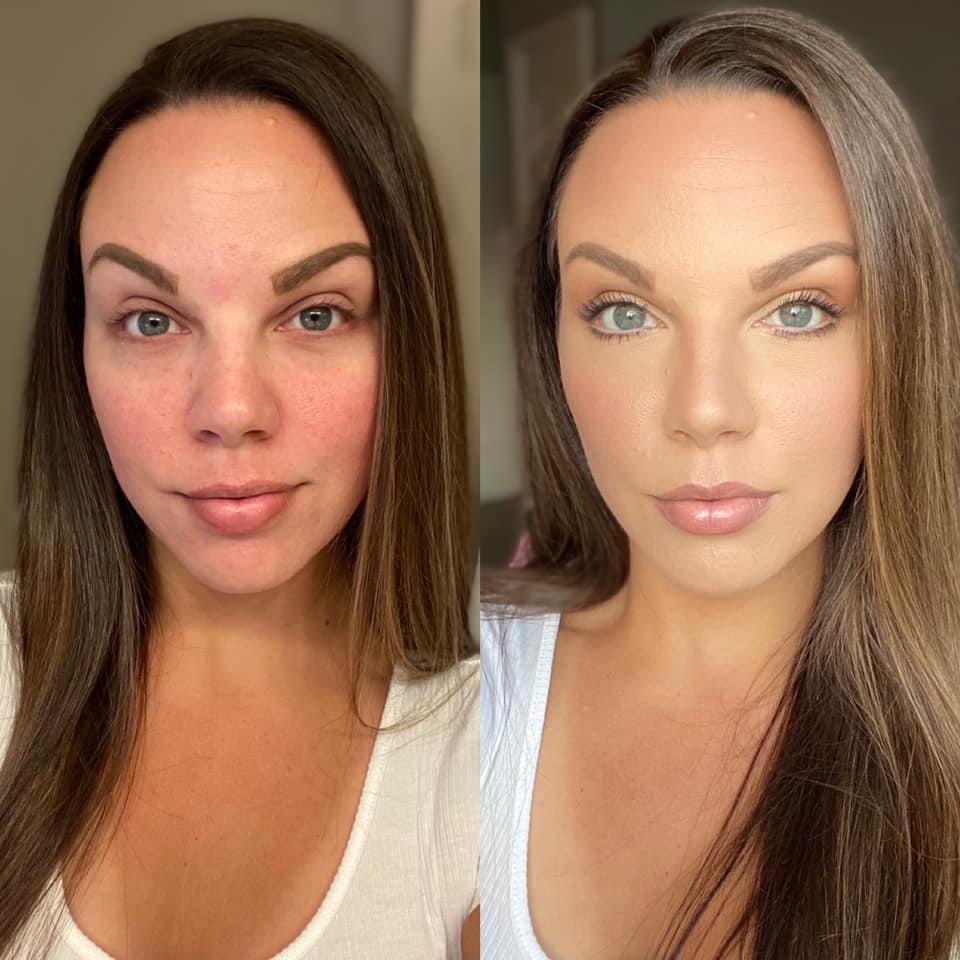 Seint makeup is innovative and unique. It should come as no surprise that using Seint will easily cover up dark circles. This makeup is cream-based and each product is highly pigmented. This makes it perfect for covering up the areas on your face that you would prefer to not see. These products have so much pigment, a little will go a long way. There is no need to cake on layers of makeup to cover dark circles and hyper-pigmentation.
As a Seint artist, I have a lot of experience with color matching clients with the right makeup products. If you are using makeup that is too light, you will have issues with the texture and application. If you choose makeup that is too dark it will prevent you from achieving the lifting and sculpting look. Let's connect and find the perfect shades to help minimize dark circles, melasma, and other distractions. Let's connect and complete a Color Match to find the products best suited to highlighting your beautiful face!
Makeup Tricks
With Seint makeup, everything you need to get ready is right there in your palette. This is such an easy and simple way to get ready in the morning. No clutter of different bottles and potions. Just open your palette and go! To conceal your dark circles, there are three products in your makeup palette that will help.
Before messing around with extra colors, start by using your base Highlight shade. Apply this color in the areas where you need to color correct. The highlight color creates a nice even base in areas where your skin might have some unevenness or discoloration. I like to use my Blush and Bronzer brush, and start with the smaller end of the brush to apply. For areas that need a little more TLC, use a smaller brush. The small end of the Blend Brush or the Multitasker Brush are perfect for this. Concentrate a little more product in areas that are causing you the most trouble. Because of Seint's buildable coverage, being a little more intentional with your color placement will often do the trick!
However, if you find that your base highlight shade is not working, you can try using a color correcting shade. This could include the Highlight Color Mango (for brown or dark blue under eyes), the Highlight Color Sunlit (for purple under eyes) or the lip+cheek colors Frenchie (for brown or blue under eyes) or Scarlet (for dark brown under eyes on darker skin tones).
Dark Circles Remedies
When using a color correcting shade, it is important that you stipple the color correcting shade directly on top of the darker pigmentation underneath your eyes and not anywhere else. You will then want to use your brightening Highlight shade and stipple it on top of the color correcting shade. Your brightening Highlight will mute down the color correcting shade and will lighten and brighten underneath your eyes. This removes the appearance of dark circles!
The Blush and Bronzer brush work just fine for applying the color corrector and brightening highlight shade, but I like to use the HAC brush, which is also double ended. I take the smaller and more pointed end of this brush to stipple the colors I need underneath my eyes.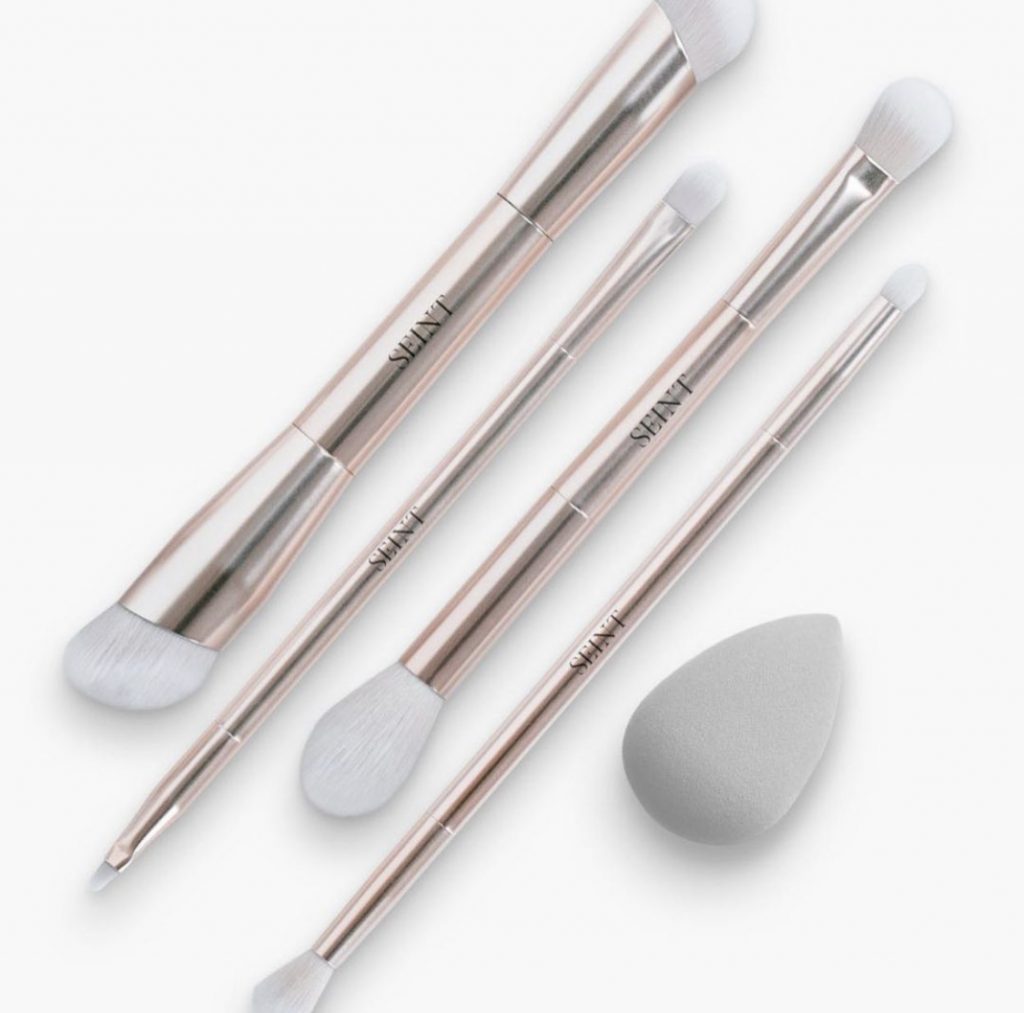 Like I mentioned before, this cream-based makeup is very pigmented. A little will go a really long way, so don't overdo it! No matter how tempting it is to cover the dark circles in as many layers as possible. Our eyes are the most expressive parts of our face, and the skin around it moves with each expression we make. So it is important to limit the amount of products used around our eyes to prevent texture and pooling of the makeup. One great way to combat this is to finish off the application of your makeup under your eyes by using a damp perfector sponge. Press in the makeup and remove any excess product. You can learn how to properly use a perfector sponge in this video and over on this blog post.
Easy Makeup for Covering Dark Circles
While I hope you are all getting enough sleep each night, these tips will help you cover dark circles using the makeup that can easily fit inside your Seint palette. Let's connect today to get you color matched and help you find the perfect shades to minimize the areas you don't love, and highlight the beautiful features you already have!