If you have ever spent time putting your makeup on, only to step outside and realize that your neck doesn't match your face, you are not alone! Matching these two areas can be really tricky, especially as your skin changes throughout the year. I have some amazing tips to teach you how to make your neck match your face and avoid mismatched coloring and the dreaded 'floating head syndrome'!
The first thing you should know is that this is very common! Because our faces are placed further forward on our bodies, the sun always hits them first. Our necks, in contrast, are set back further and shielded by our faces. This means our necks won't get the same kind of exposure that our face does. As a Seint artist, I often see people make 1 of 2 mistakes with their makeup. Let's dive into those now!
Common Mistakes When Matching Your Face & Neck
Choosing a lighter foundation to match their neck color.
One of the most common mistakes made is when someone chooses a foundation shade lighter than the skin tone of their face, in order to match the lightness of their neck. Using a foundation shade that is lighter than your face will make you look washed out and will create immediate textures issues with your makeup. Wearing a foundation shade that is too light for your skin will emphasize pores, dry skin, and fine lines and wrinkles. This happens because the lighter color emphasizes, rather than covers up, those areas.
Another issue that might arise when you wear a foundation shade that is too light in order to match your neck, is the longevity of your makeup. This is especially true when you are working with a cream foundation. When your makeup is too light, you might notice that your makeup starts to break apart throughout the day, or even look like your makeup has completely worn off by the end of the day. This is a telltale sign that your foundation color is too light.
Choose a foundation that only matches their face.
The second common mistake is when someone only focuses on the skin tone of their face, and neglects to consider their neck. When you apply a foundation color that only matches your face, this can make your head look like it is floating on top of your body. Not good! While color matching your face is important, you want to make sure that there is a seamless transition down to the lighter skin on your neck so that you cannot see the break between tones.
The Perfect Match
If you struggle with finding the perfect shade of foundation for your face, I am here for you! As a Seint artist I have helped so many people find the perfect color match for their skin tone. Seint makeup is an amazing investment for so many reasons, let's connect and make sure that you're investing in the right shade for your face! And in addition to helping you get a perfect color match, I have a few tips on how to make your neck match your face.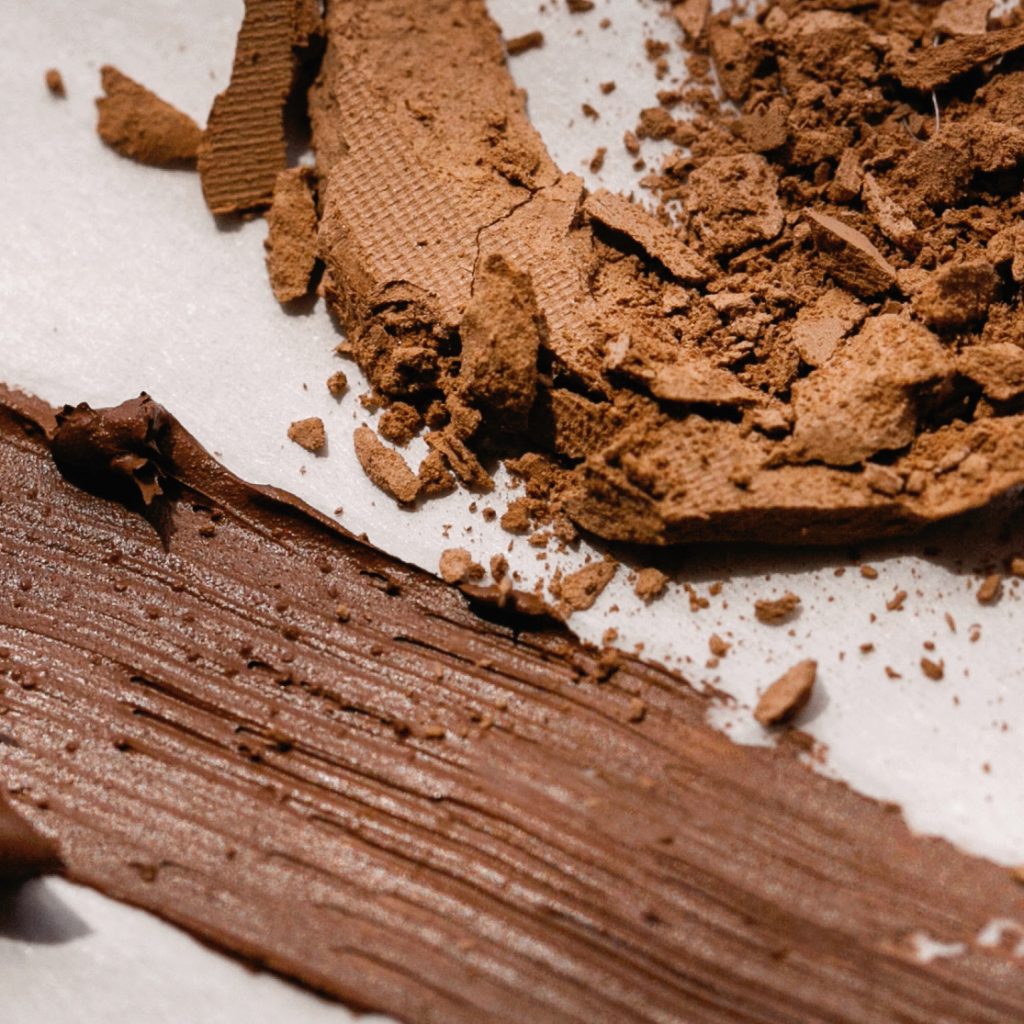 My Tips to Get Your Neck to Match Your Face
The first tip I have to get your neck to match your face is by using a sunless self-tanner. I absolutely love these Isle of Paradise drops! Even though my skin tone is lighter, I opt for the medium shade. This means I can use less drops every time, stretching the product further and making it so I don't need to purchase it as often!
I always combine these self-tanning drops with Seint's Creme. If you haven't tried this creme, you are in for a real treat! It will completely transform your skin. It is seriously like liquid gold! This creme will flood your skin with moisture that works throughout the day to deliver a luminous glow. I grab a little bit of cream and mix in a few drops of the self-tanning drops. I then apply this blend directly to my neck and chest area. If there is anything left over, I'll do a few swipes across my face.
This is how to make your neck match your face by using a great sunless self-tanner and moisturizer to create a seamless blend of color.
Contour & Highlight & Bronzer
My second tip, if you don't love sunless tanner, is to use two products that are most likely already in your Seint makeup palette. I'm talking about your contour, highlight, and bronzer. I'll break down how to use each one to make your neck match your face below.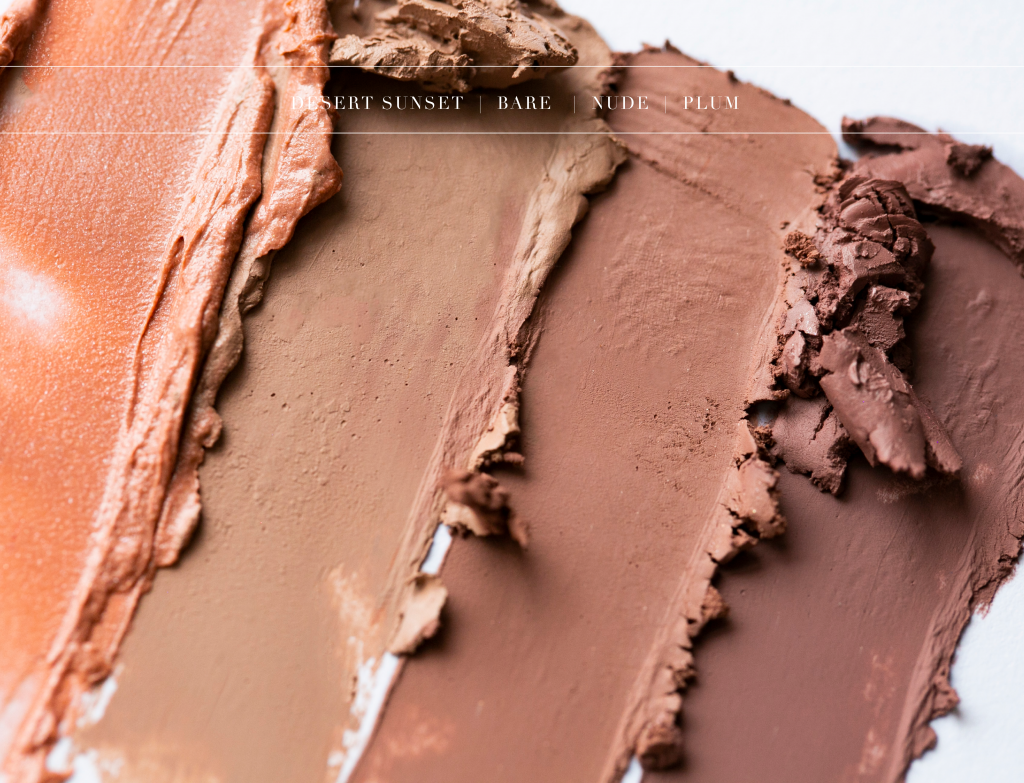 How to use Contour to Match your Neck to Your Face
For those who use contour, you'll know that contour goes underneath your cheekbones, and along your jawline and forehead. To make your neck matches your face, take the contour that you apply along the jawline and pull a bit of the contour down to your neck. This helps alleviate the harsh line between where your makeup ends and where your natural skin appears on your neck.
How to use Highlight to match your neck to your face
Don't use contour? That's just fine. You can also use your brightening highlight (similar to a traditional concealer) to match your neck to your face. Take your brightening highlight color and target the area just below your cheeks, not quite at your jawline. This brings that lighter color down next to the neck, so that there is not a sharp contrast between the two areas.
How to use Bronzer to match your neck to your face.
Bronzer is a simple and easy way to resolve the issue of making your neck match your face. Just take the fluffy end of our Blush and Bronzer brush and swirl it across your bronzer and illuminator. In my palette I have the Bella Bronzer and Glow Illuminator side-by-side. Swirl the brush across these two products and very lightly apply to your neckline. This should be a very sheer coating! Go as far down on your neck as you need to for the neckline you are wearing that day, and as far back on your neck depending on where your hair falls.
The results of this tip are immediate. Your neck and face will match and you will have a seamless look!
One question I get asked a lot when I recommend these tips- does the makeup you place on your neck transfer onto your clothes? While I can't guarantee that makeup will never transfer, I have not experienced this personally. Because I use a very sheer amount of color on my neck, I have never had an issue with it transfering.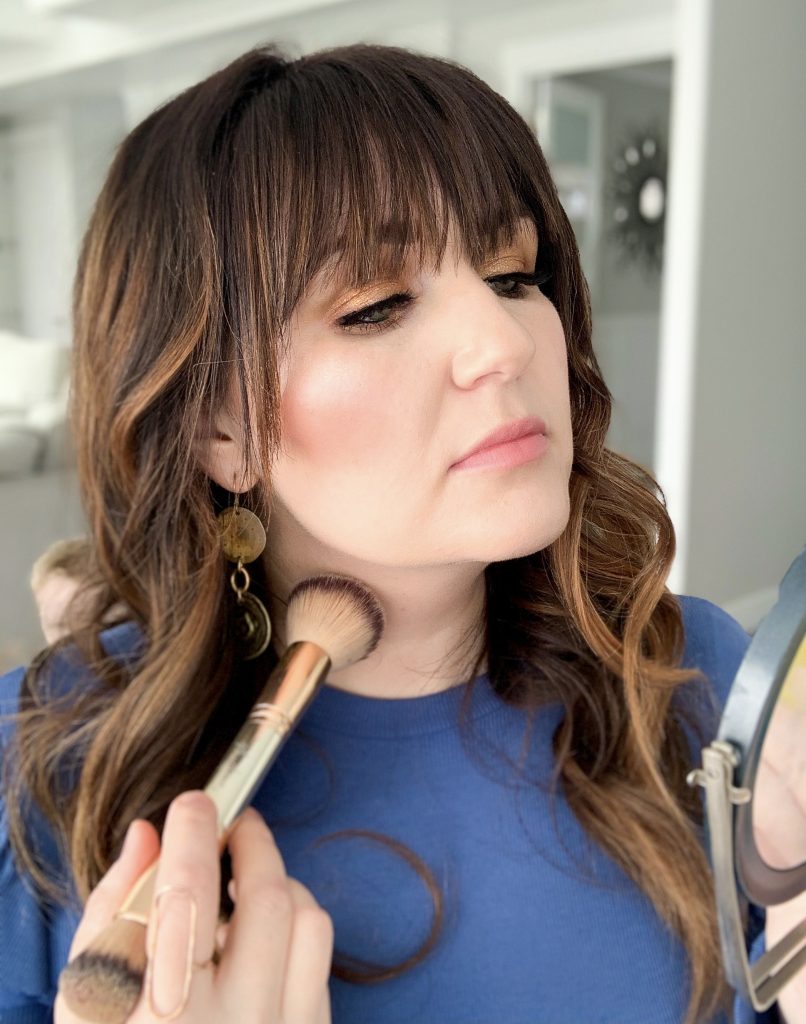 Minimize Face and Neck Color Differences
Are you someone who has the opposite issue? Is your face lighter than your neck? This is also a common issue. This is often the case with people who have more olive skin tones. It is caused by them always wearing sunscreen to protect their face (which is a great thing!). If this is the issue you deal with, I recommend using the Bronzer and Illuminator before you place any foundation on. Like I described above, take the Blush and Bronzer brush, lightly swirl it across your Bronzer and Illuminator, and then apply a very sheer layer to your face. This will give you a slightly darker base to start with and will help your face match your darker neck. You can also finish off your makeup the exact same way! And of course there is always the option of going a shade or two darker with your foundation.
To recap, if you are unsure how to make your neck match your face, my first tip is to invest in sunless self-tanning drops. This will help even your skin tone between your face and neck all year round! If self-tanner is not for you, then utilize the contour, highlight, and bronzer products from Seint to create a seamless blend between your neck and face.
You can watch a tutorial of how I applied these very concepts HERE. And if these tips work for you, I would love to see it! Tag me on Instagram @thecontouredlawyer and show off your perfectly matched neck and face!