When the world shut down last year, a lot of us said goodbye to bras, pants, and our daily makeup routine- unless you needed to throw on makeup before a virtual meeting. The beauty industry saw the trend swing from heavy makeup routines to just doing the bare minimum to go out. In a nutshell, that's what skinimalism makeup is- doing the minimal amount of makeup and embracing your natural beauty! So what products offer coverage in the spots where you need it most, while still allowing you to bare as much skin as possible? Let's discuss what skinimalism is, and if it's the right fit for you!
Skinimalism is all about using less products to streamline your beauty routine and achieve a natural look. Skinimalism often looks like using makeup products that multitask. A cream blush that can double as your lip color, a few dabs of concealer to avoid the caked on look, and simple eye shadow. Skinimalism makeup is the best thing to come out of quarantine.
LEARN MORE ABOUT DEMI COLOR NOW!
Less is More Look
We shed the layers and embraced our natural selves during quarantine, and many women started taking a closer look at how they cared for their skin. If you are going to embrace skinimalism, the first place to start is taking care of your face. 2020 saw a significant increase in sales of skin care products, and Seint has an amazing bundle perfect for every skin type. The Seint Skincare line comes with everything you need to achieve a smoother, more luminous look. Having a great skincare routine will prepare you to bare more of your face and embrace the skinimalism look!
How to get a Skinimalism look with Skincare
Cleanser
Seint's Cleanser contains a lactic acid base that helps to gently cleanse away the day without stripping your skin of its natural protective barrier. This cream-based cleanser will gently exfoliate your face, revealing soft and smooth skin ready for nourishment.
Apply the cleanser by directly spraying your face and massaging it into your skin using gentle, circular motions. If you prefer, you could also spray the cleanser into your hands and then massage it onto your skin from there. The cleanser should be rinsed off with lukewarm water and a microfiber cloth, which comes with Seint's Skincare Bundle!
Toner
After cleansing your skin, using a toner is next. In general, Toner is used to tone and gently exfoliate your skin while maintaining your skin's delicate moisture balance. Seint's toner contains the following natural ingredients to help balance your skin:
Milk base – floods the skin with hydration.
Lactic acid – gently exfoliates, revealing a more even skin tone. *This is key for the skinimalism look!
Aloe vera – soothes and softens the skin.
Witch hazel – reduces the appearance of pores.
Along with these ingredients, the toner contains vitamins and minerals to nourish the skin.
Creme
Next, creme is essential to obtain the perfect skin for a minimalist look. Seint's Creme contains an abundance of natural milk components that flood the skin with moisture, leaving you with a more youthful glow. The creme gently exfoliates the dull surface cells of the skin to reveal a smoother, more radiant looking complexion.
Seint's skincare line uses lactic acid at the base of all their products. Lactic acid dissolves the bonds that hold the dead skin cells together. Lactic acid will gently remove all dead skin cells. This makes it so that all of your new/plump/tight skin cells are at the forefront. You can also read more about Seint's skincare line HERE.
Using a high quality skincare line like Seint's daily will give you regular cell turnover so that your newest skin cells are fresh on your face. Focusing more on your skin care will help you obtain the perfect skinimalism look you've been wanting!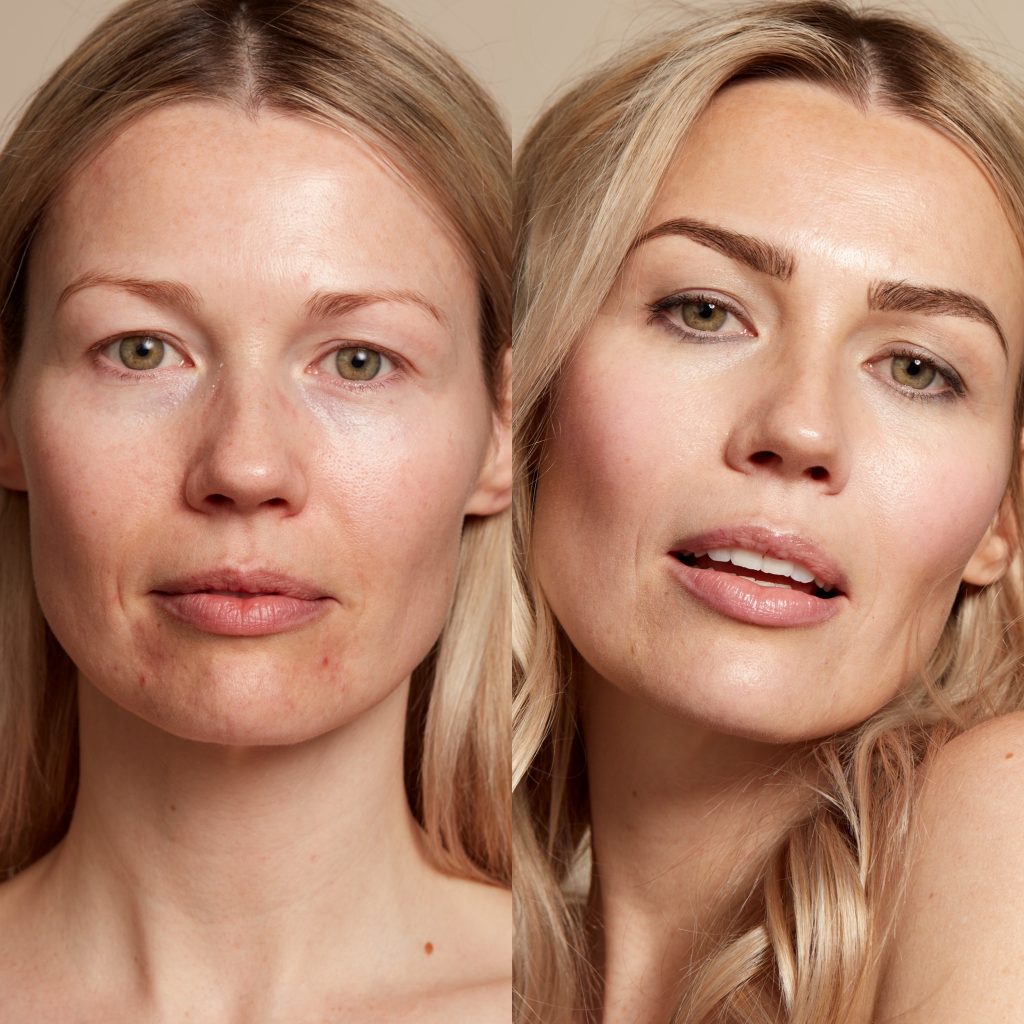 Is Skinimalism the look for you?
The more you invest in your skin, the more you will want to show it off! And now that we've spent the last year using as little makeup as possible, skinimalism is a trend that is here to stay. If you do not feel confident to bare it all with a completely naked face, Seint has the solution! Seint has a brand new, and innovative approach to makeup using color science. It is called Demi Colour- it is all about using a minimal amount of makeup to achieve a barely there look. I share everything you need to know about Demi here. If you're trying to balance coverage with minimalism, this is the product for you!
The skinimalism trend is here to stay. If this is the right look for you, start with investing in great skin care. Embrace your face, declutter your bathroom cabinets, and choose products that will show off, not cover, your natural beauty.