As much as I love the look of a fresh face with minimal makeup, I do have a few distractions I like to minimize on my face. With Demi Colour from Seint Beauty, I can have the best of both worlds. Using Demi allows me to have the skinimalist look I love while also filtering the distractions I don't love quite as much. I've picked up a few tips as I've learned this new method of makeup. Here's how to sculpt your nose with Demi Colour from Seint.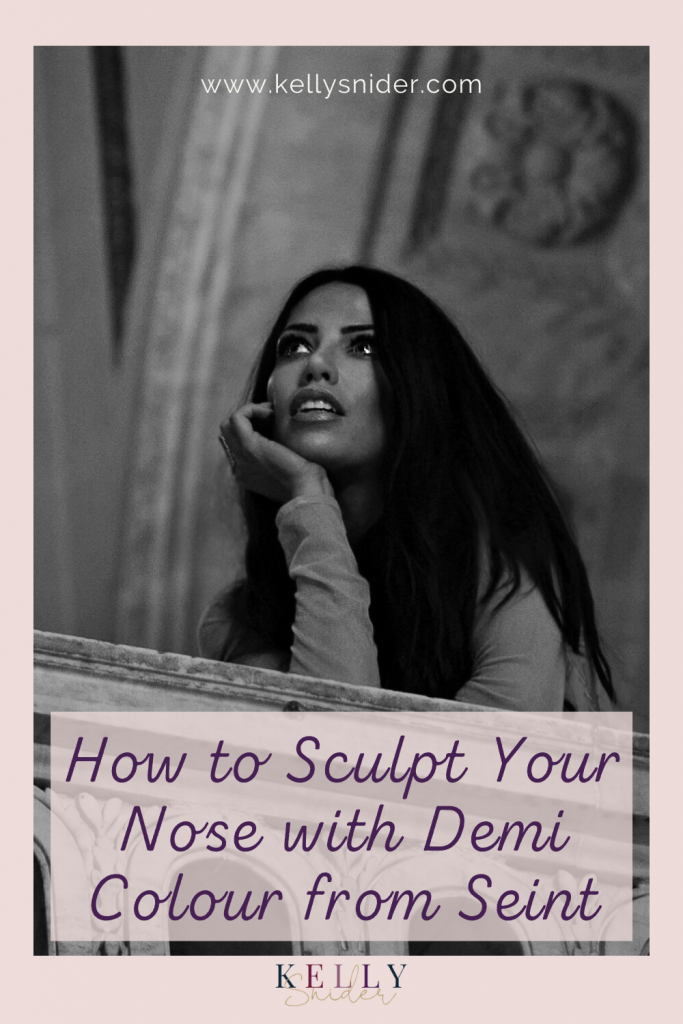 Demi Colour Basics
I've spoken before about the science behind Demi Colour. (Be sure to check out these posts here, here, and here for more information on Demi Colour.) Here's a brief refresher for anyone who needs it. Demi Colour was developed by Cara, the founder of Seint Beauty. She wanted to create a makeup line that celebrated women's natural beauty. With Demi, you use color science to filter distractions on your skin, making them virtually disappear. The best part? You can achieve a gorgeous finish to your skin without piling on makeup. This new skinimalist trend has taken the makeup world by storm and is gaining popularity quickly!
How to Sculpt Your Nose with Demi Colour
Before You Begin to Sculpt Your Nose
Before you begin sculpting your nose with Demi Colour, you need to make sure you have the correct Demi colour edits and brushes. I recommend that you use a brightening shade or two, and a neutral sculpt colour single to add shadow. You'll also want to have the Bright brush and possibly the Blur brush to achieve this look.
When it comes to which brightening colour edit you need to use for your skin, it's hard to say without me looking at an image of your face. In general, I recommend you use a Level 1 Colour single for the brightening and sculpting steps. The particular shade you need for your skin tone will vary depending on the shade of your skin.
Filtering Distractions on Your Nose
Now that you have your supplies ready, it's time to filter out any distractions you may have on your nose. I recommend starting by addressing any shadows that might be on the bridge of your nose. These may be caused by blemishes, a crooked area of your bridge, or even melasma. By using a Level 1 shade on those areas, you'll be able to brighten them and create the illusion of a smooth and/or straight nose without distractions. I recommend using the small end of the Blur Brush to complete this step.
Create New Shadow Lines
Now that you have filtered out the distractions on your nose and you have brightened the areas that needed it, it's time to create new shadow lines. This might sound strange, so let me explain what I mean. When I'm talking about sculpting your nose, there are two parts to be aware of with it: sculpting and brightening.
Since you've already brightened the unwanted shadowy areas of your nose, it's time to create the shadows that you do want to see. To do this, you'll use a Neutral Sculpt Colour from Demi and the small end of the Bright Brush. Again, the shade of Sculpt Edit that you use will depend on your individual skin tone. If you have lighter toned skin, you'll want to use a sculpt edit shade that is lighter. If your skin is darker-toned, you'll need a darker shade of the Sculpt Edits to achieve the shadows you are going for.
To achieve the shadows lines that will help you to sculpt your nose with Demi Colour, you need to follow these steps.
Dip the small end of your Bright Brush into your Sculpt Edit shade.
Lightly run the Bright brush down the side of your nose from the eyebrows to the tip.
Repeat the process for the other side of your nose.
*Remember- the closer together your shadow lines are, the more narrow the bridge of your nose will appear.
Apply Sculpt Edit to the tip of your nose very lightly.
Blend out any harsh lines you see on your nose. You want your sculpting lines to look very natural.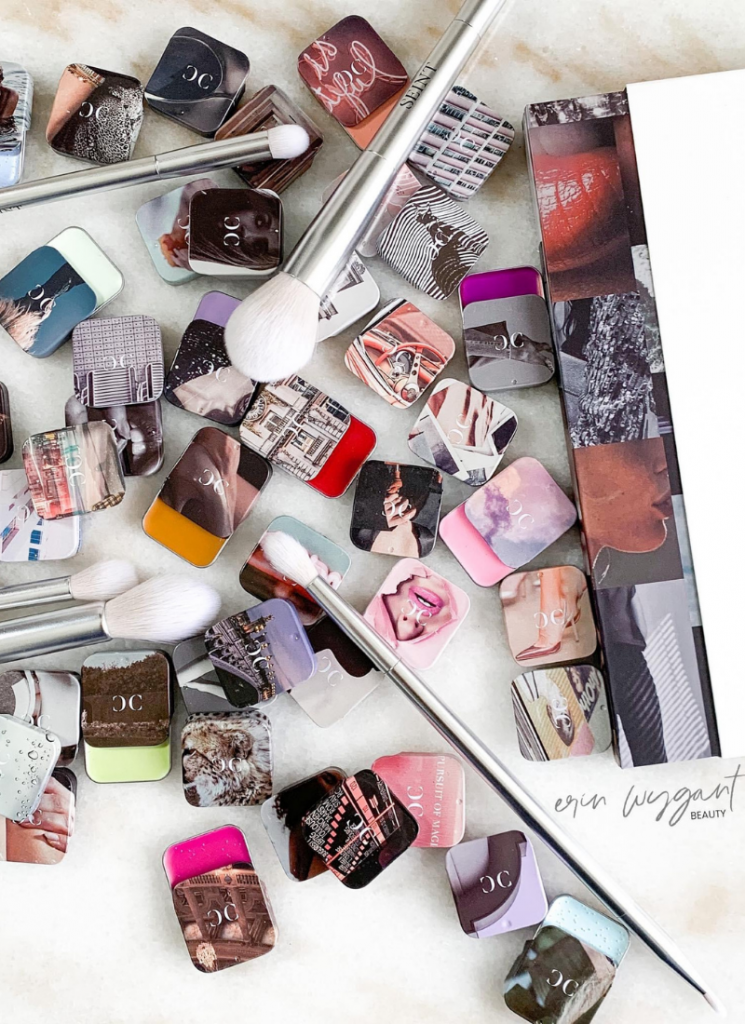 Brighten Your Nose Bridge
Now that you have filtered distractions and created shadow lines on your nose, it's time to brighten up the center of your nose bridge. Why do we do this? We do this to create the illusion of a straight, narrow nose.
First, pick up a light Demi Colour single to brighten the center of your nose in between your shadow lines. Next, use your Blur Brush to lightly place the brightening shade down the center of your nose. Be sure to feather your application and blend as you go so you don't have any harsh lines! Finally, step back from the mirror and check your work. You'll be amazed at what a difference these simple steps can make to the appearance of your nose!
How to Sculpt Your Nose with Demi Colour by Seint
Now that you have achieved a sculpted nose with Demi Colour from Seint Beauty, you are ready to filter out the distractions on the rest of your face. I've got a full tutorial on how to apply Demi Colour (here) if you need a refresher. If you haven't purchased Demi Colour yet, be sure to check out the products HERE. Nervous about choosing your own Demi Colour shades? Contact me here and I'll walk you through which colors to choose. And be sure to follow me on Instagram @thecontouredlawyer for more tips and tricks with Demi Colour!