Looking to feel more radiant and confident as you age? If you're looking for products that'll highlight your natural beauty and increase your confidence, then you've come to the right place! As we get older, our skin matures and changes. Seint makeup is a GREAT product for mature skin because it's a cream-based product! Are you wondering why cream-based makeup is better for mature skin? Keep reading to learn 5 reasons why I always recommend Seint products, especially those with mature skin!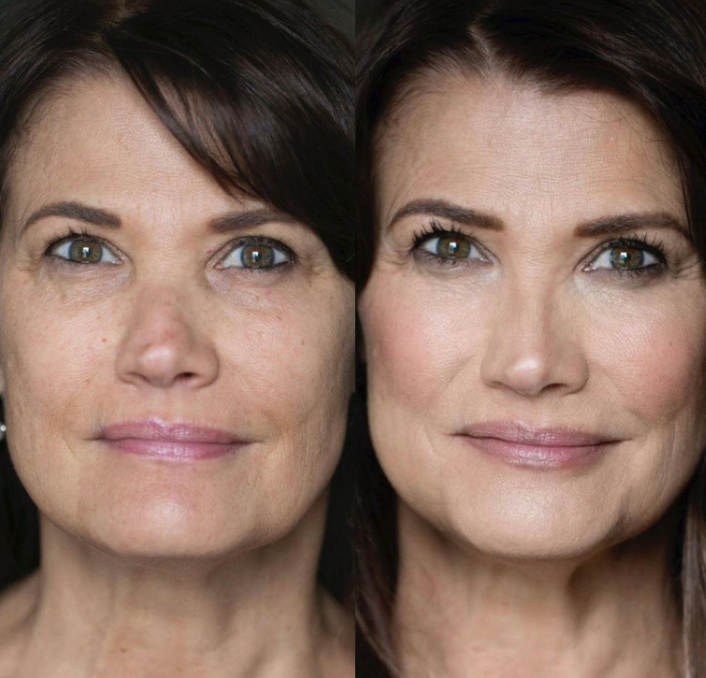 #1: Why Seint Products are Better for Mature Skin: Cream-based Makeup is Incredibly Hydrating!
As we age, our skin starts to lose hydration. The reason behind this is because mature skin creates fewer natural oils, has been exposed to more sun damage, experiences a loss of hormones, and has a decrease in overall cell renewal. As a result, mature skin tends to be more rough and dry. Therefore, it becomes vital to use a more hydrating product as you age.
Unlike powders or liquids that are drying to the skin, cream-based makeup is made with moisture-retention ingredients that help lock in moisture. Cream makeup, like Seint's IIID Foundation, keeps the skin feeling soft and hydrated, while also creating a natural dewiness that adds a youthful glow back to the skin.
If you want your skin to look and feel 10 years younger, cream makeup is the way to go!
GET STARTED WITH SEINT CREAM MAKEUP
#2: Why Seint Products are Better for Mature Skin: Cream-based Makeup Does Not Settle on the Skin!
As our skin ages, our skin gets more texture: larger pore, fine lines, wrinkles, dry patches, etc. And this added texture can cause makeup to look cakey and settle into the details of the face.
But this will not be an issue if you are using a good cream-based makeup product like Seint. Cream-based products don't settle into wrinkles or fine lines. Instead, cream makeup will go on like a second skin and move with your facial movements instead of settling in unwanted areas.
And because Seint makeup goes on like a second skin, it doesn't feel cakey! Seint's IIID foundation is lightweight and easy to use. The real key to having the perfect foundation with Seint makeup, is finding out your correct foundation colors!
To find your perfect shades, you can take my Seint color match quiz!
Or you can get a virtual color match by sending me a picture to be properly color matched!
GET A VIRTUAL COLOR MATCH BY ME!
#3: Why Seint Product is Better for Mature Skin: An Incredible Skincare Line that Adds a Youthful Glow!
No matter your age, taking care of your skin should be a priority. At Seint, we want to highlight your natural beauty, and one of the biggest factors in feeling beautiful in your makeup is by taking care of your skin. Seint's skincare line is gentle, hydrating, and perfect for mature skin.
Seint's skincare line has milk based products that use Lactic Acid in its purest form. Lactic Acid helps gently exfoliate your skin and take off dead skin cells. This incredible 3-step skincare system contains a cleanser, toner, and creme! These hydrating and cleansing products help create a great base for any makeup routine. They will leave your skin softer, healthier, and even more radiant with a natural youthful glow!
#4: Why Seint Product is Better for Mature Skin: It Comes in One Easy Palette
For any skin type, I always recommend using 3 different highlight/foundation shades. These shades come in one easy palette, making doing your makeup that much easier. Mature skin benefits from using multiple shades of foundations because as we age, our skin has a wider range of tones and color variations that need to be addressed separately.
Learning how to use Seint makeup can feel overwhelming at first, but once you've mastered the basics, it can be done quickly and easily. I love that with Seint, all of my makeup can be found in a single palette. This helps keep my makeup organized and easy to use! I can put on my makeup and feel put together without having to spend hours in front of the mirror.
If you're worried about not being able to learn a new makeup technique, don't worry. I've got you covered with several tutorials and how-tos!
Here's one of my favorite tutorials about Seint IIID Foundation for Beginners! I go over everything you need to know here!
Seint Tutorial | Seint IIID Foundation for Beginners
#5: Why Seint Product is Better for Mature Skin: Demi Correctors Filter out Distractions
What are Seint Demi Correctors? Demi Correctors use color science to help filter out distractions on your skin. As we age, we all start to notice things about our face that we feel like distract from our natural beauty such as age spots, melasma, dark eyes, etc. With Seint Demi Correctors, you can filter out those troublesome spots without covering up your natural beauty.
If you're interested in using Demi Colour Collectors but still not quite sure how it works, you can read this blog post all about how Seint's revolutionary no-makeup makeup works!
READ MORE ABOUT SEINT DEMI CORRECTORS
Why is Seint's Cream Makeup Better for Mature Skin?
If you're looking to highlight your natural beauty, hydrate your skin, filter out distractions, add back your natural glow, and simplify your makeup routine, then Seint products are for you! If you're not quite sure where to start, then you can reach out to me for a FREE color match!
TAKE FREE COLOR MATCH QUIZ HERE!

If you're ready to dive in and know what you want, then you can SHOP ALL SEINT PRODUCTS HERE!