Does your eyebrow bone cover your eyelid? Because if so, you're not alone! This trait is a common facial feature known as hooded eyes. Having hooded eyes can lead to challenges when applying eyeshadow and can make your eyes seem smaller than their true size. But don't worry! I have the best tips that will be game-changing for anyone struggling with hooded eyes. If you use these 3 pro tips for applying eyeshadow to hooded eyes, then your eyes will look bigger and stand out the way you want them to!
Tip #1 for Applying Eyeshadow to Hooded Eyes: Contouring
The trick to making your hooded eyes really pop is by making the crease of your eyelid look higher than it actually is. This illusion can be created by contouring your eyebrow bone. So, what does contouring mean?
Contouring is using darker shades to mimic shadows on your face. By adding shadows to your brow bone, you are able to create the illusion that your brow bone is more pull-backed than it actually is. To do this, you need to start with a medium-toned shade and place it right above the crease directly onto the brow bone. Then, you can also take that same medium-toned eyeshadow shade and softly apply it to your bottom lash line.
As a bonus tip, when you contour your eyebrow bone, leave your eyes open. That way you are sure to get the correct placement.
Tip #2 for Applying Eyeshadow to Hooded Eyes: Use a Bright Color on Your Eyelid
Did you know that when you add light to your face, it pushes things forward? By using a bright, light color on your eyelid, you can make your eyes really stand out. Seint has a lot of great shimmery eyeshadows to choose from! One of my go-to shimmery eyeshadow shades is Bright Eyes. It's a universal shade that looks phenomenal on any eye color! For even lighter and brighter shades, check out Rome, Drift, Sabrina, Angel's Landing, Crush, Sis, and Soul Mate, just to name a few.
To apply eyeshadow on my eyelid and above my crease, I love to use the Eyeshadow Brush. It's double-ended and makes it easy to use multiple shades without switching brushes.
Tip #3 for Applying Eyeshadow to Hooded Eyes: Strategically Use Your Illuminator
Remember how making your eyes pop is all about creating an illusion? Well, by applying an illuminator to the corner of your eye, cheekbone, and browbone, it creates three points that make your eyes stand out and look bigger than they actually are!
Seint's Illuminators are beautiful, sheer creams and translucent powders that add shimmer to any look. You can easily add any illuminator to your eyeshadow palette for ease of use! With Seint's eyeshadow palettes, it's easy to have all your makeup in one place! Create your custom eyeshadow palette today and add an illuminator to it too here.
And of course, if you like eyeliner–you'll want to make sure that you have a papery thin application. A tight-line eyeshadow application can be a game-changer for anyone with hooded eyes. Learn how to apply eyeliner here and watch me put all these great tips into action and transform my hooded eyes! You won't believe the difference it makes!
Bonus Tip: Use the Right Eyeshadow for Your Eyeshadow Colors
Once you've mastered the art of flawlessly applying eyeshadow to your hooded eyes, then it's time to unlock the secret of choosing the most captivating shades for your eye color! To understand what colors work for your eye color, it's important to understand the fundamentals of the color wheel. You can learn more about the color wheel here.
Or you can check out my custom recommendations for each eye color that I've already put together for you below!
And if you're looking for more versatile shades that look stunning on any eye color, then this video is for you! These 4 colors are a MUST and will make anyone's eyes pop! You can get them here.
Keep Your Eyeshadows All in One Place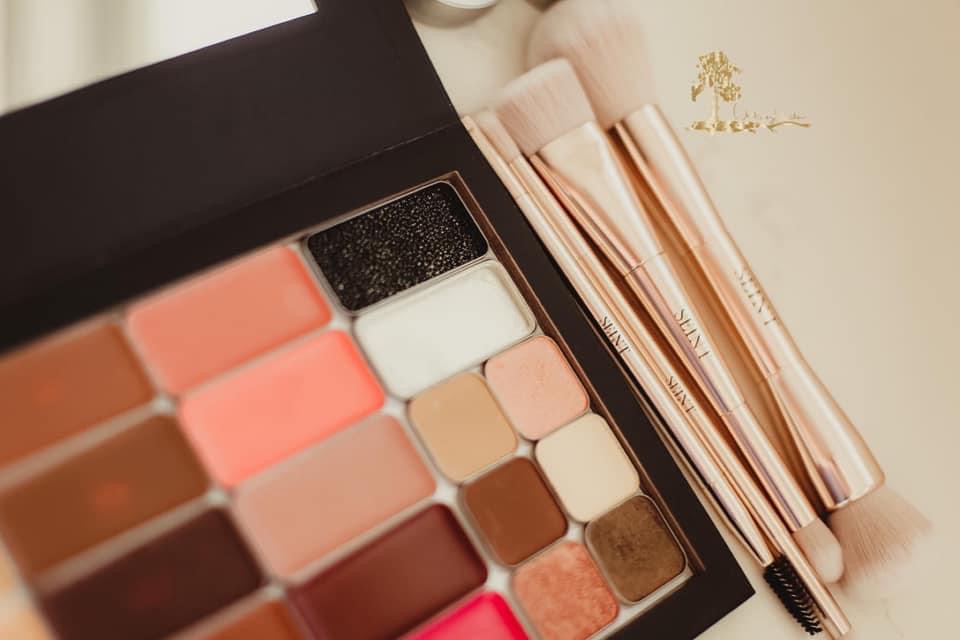 After mastering my 3 pro tips for applying eyeshadow to hooded eyes, then comes the best part–finding the eyeshadows you love so that you can build a custom palette to keep all your favorite eyeshadows in one place! You can also add other makeup favorites like contour, blush, illuminator, and more. This makes doing your makeup on the go or while traveling so quick and easy.
Plus, you can stop buying palettes with colors you'll never use! With Seint's customizable palette, you can get eyeshadows that you'll really love and use daily. It's time to stop wasting money and product and build the eyeshadow palette of your dreams here!
And if you're not sure where to start or what colors to use, reach out to me because I'd love to help. You can start by taking this FREE color match quiz today!